The heat is on for Leeds athlete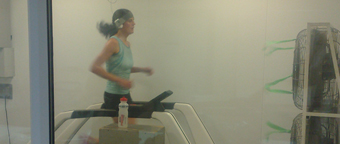 Susan Partridge in the environment chamber
Susan Partridge, a PhD student at the University of Leeds has been chosen to represent Great Britain in the marathon in the World Athletics Championships, Daegu, Korea.

Before she headed out to Korea I took the opportunity to speak to her.
I found Susan training in the environment chamber, in the Faculty of Biological Sciences, a key facility helping athletes acclimatise ahead of competitive races.
Susan said: "I am very lucky to have access to the excellent facilities at the University of Leeds for heat acclimatisation and I have used them on a couple of occasions to prepare for major championships in hot climates.
"In the chamber we are able to adjust the heat and humidity to replicate the predicted conditions at the World Championships in Korea. This helps my body adapt to these conditions to prevent me from overheating during the race and ultimately performing badly or not finishing at all! This is very important for the marathon as the potential to overheat is significant."
During training the heat chamber is set at 31 degrees celsius with 70% relative humidity. Dr Mark Hetherington, visiting Senior Research Fellow, to the University's Faculty of Biological Sciences, monitors Susan's heart rate, core temperature, fluid intake and sweat rate while she is training inside the chamber.
Susan said: "I used the chamber last year to prepare for the European Championships in Barcelona and I found that I coped well with the difficult conditions thanks to my sessions in the heat chamber at Leeds. It allows me to be able to compete on a level playing field with athletes from hotter climates or who have access to similar facilities."
Mark has lots of experience helping international athletes to acclimatise and prepare for tough conditions and has also worked with former Leeds Sports Science graduate Alistair Brownlee.
Susan said: "Mark's advice on exercise intensity and duration while in the chamber is invaluable. Without these facilities at Leeds University I would have to travel further afield in order to carryout heat acclimatisation, which would be difficult for me to fit around work and training."
Mark said: "Our aim is to help endurance athletes prepare for the 'worst case' conditions. By training in these extreme temperatures the body can begin to acclimatise and become more efficient at losing heat. There are many physiological benefits from undertaking the acclimatisation training. On completion of the training I can put together a fluid replacement plan to make sure Susan is drinking the right amount of fluid during the race."
Susan fits in her training sessions in before or after work. Susan said: "The Institute of Medical and Biological Engineering (iMBE) at the School of Mechanical Engineering has been extremely supportive. They have been flexible to ensure that I can fit in all of the required heat acclimatisation and training sessions. I am very grateful for their support as it allows me to pursue my athletics career without giving up a career in research. Our motto at the Institute is "50 active years after 50" so it is fitting that they would support an active lifestyle, although I don't think the plan is to have people running marathons when they're 100."
Susan is current studying part-time for a PhD in the School of Mechanical Engineering on the topic of wear of hip replacements. This involves analysing the wear on hip replacements that have been retrieved from patients as well as analysing wear that has been created artificially in simulators designed to replicate the conditions experienced by implants in the human body. The aim is to help develop materials, designs and implantation techniques with a view to improving the expected lifetime of an implant. This would allow patients to have active lifestyles for longer without having to undergo complicated revision surgery to replace an implant.
The Institute of Medical and Biological Engineering is partly based in the Faculty of Biological Sciences in Professor Eileen Ingham's lab where they carry out research on tissue regeneration.
15th August 2011