University Tops the Table for International Student Satisfaction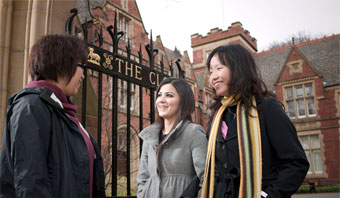 Students outside the Great Hall
The University of Leeds has recently been ranked 1st out of 15 participating Russell Group Universities for overall average satisfaction in a survey of international students (Autumn 2008).
Leeds took part, along with 80 other UK universities, in the International Student Barometer (ISB), the largest study of international students in the world (over 63,000 students). ISB is an online questionnaire run by I-Graduate, an independent external research company. The Barometer aims to provide education institutions with an understanding of the motivation, expectations and experience of international students at their institutions and bench-mark this against other institutions.
At Leeds over 1800 international students, of all levels, new and returning students were surveyed. They were asked questions relating to: application process; arrival / orientation; learning environment; living experience and support service.
The University scored the highest satisfaction score of any of the participating Russell Group Universities for its arrival and orientation. In particular the students were very satisfied with the University's 'meet and greet' service and the ease of access to e-mail and internet when they first arrived.
With such high scores it was therefore not surprising that a massive 86% of the University's international students who took part in the survey said they would recommend studying at the University of Leeds.
29th March 2010