Sports Science graduate in Team GB 2012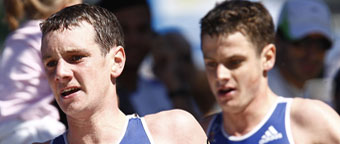 Alistair racing alongside his brother Jonathan
Alistair Brownlee has been confirmed as part of the six-strong triathlon team for the London Olympics. World champion Alistair graduated from BSc Sport and Exercise Sciences in 2009, after being the first Olympic scholar supported by the Sports Scholarships scheme.
Alistair will be competing in the Olympics this summer alongside his brother Jonathan, who has recently finished his History degree at the University of Leeds.
Congratulations Alistair, we'll all be rooting for you this summer!
Find out more about Leeds and the Olympics.
12th June 2012