It's official - Students love Biological Sciences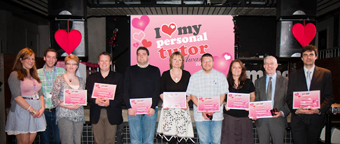 The winners of the competition
Our personal tutors were recognised for their dedication, hard work and support at the 'I Love My Personal Tutor' Awards recently.
Students across the University were given the chance to nominate their personal tutor for an award in acknowledgment of their positive contribution to University life.
The Faculty of Biological Sciences received three awards in total - the highest number across the University. Two of our personal tutors were chosen for an individual award, recognising their enthusiastic support, understanding, encouragement and overall contribution as personal tutors. The Faculty also received special recognition for the number of high quality nominations it received.
Feedback from students included:
"Optimistic and ever understanding, she definitely deserves this award!"
"She is passionate, inspires me and gives me a positive outlook. She is always concerned about my general well-being, and helping me achieve my full potential."
"From year one not only has he been warm and supportive, but his door has always been open. "
"In the first few weeks of fresher's term he was approachable and friendly and really helped in making me and my fellow tutees comfortable in our course and University."
"A very supportive tutor - who goes the extra mile to help in all aspects of university life."
"Interesting, very easy to talk to, understanding and reasonable - but still pushes you to produce the best work you can."
Now in its third year, the awards organised by the Students' Union received a record number of nominations this year.
Madeleine Harris-Smith, Leeds University Union Welfare Officer, said: "We had a truly overwhelming response, with nearly 650 nominations received, 150 personal tutors short-listed, and 10 final winners. This is a huge testament to the support and dedicated work of personal tutors at the University of Leeds, and we'd like to say a massive thank you to all those who were nominated."
The winning tutors:
Dr Sharon Elley - Sociology and Social Policy
Dr Peter Gardner - Psychology
Dr Claire Honess - Modern Languages
Dr Andrew Kennedy - Theology and Religious Studies
Dr Stephanie McBurney - Faculty of Biological Sciences
Dr Patrick McGowan - Chemistry
Dr David Pilbeam - Faculty of Biological Sciences
Dr Mark Smith - History
Gianluca Veronesi - Leeds University Business School
Dr James Worrell - Politics and International Studies
The winning schools:
Geography
Law
Faculty of Biological Sciences
Healthcare
Thank you to everyone who nominated and well done to our winners.
4th May 2010