Physiological Society Teaching Prize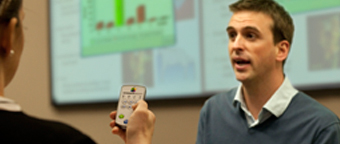 Dr Neil Morris using the latest interactive technology
Dr Neil Morris, Senior Lecturer in Neuroscience and University Teaching Fellow has been awarded the Physiological Society's Otto Hutter Physiology Teaching Prize for 2010.
The prize was awarded in recognition of Dr Morris's excellence in physiology teaching and, specifically, the work he has done to develop new teaching tools to enhance physiology teaching to science, medical and dental students at the University of Leeds.
Neil has introduced successful modules, teaching practices, and laboratory classes into the curriculum for biomedical science students. In particular, he has developed a range of problem-solving tutorials that use real data and encourage students to apply their knowledge to solve challenging and unfamiliar problems.
Neil's teaching makes innovative use of technology to enhance learning opportunities, including podcasts, video lectures and mobile assessments.
These resources have been commended by external examiners and external reviewers and Neil has published the studies in journals, institutional bulletins, and at international conferences.
Neil has developed innovative final year research projects enabling students to develop and test learning resources in controlled research studies, gaining research and teaching skills. Examples include online support for tutorials with formative assessment and online video lectures with blended learning resources.
Neil has also been a champion of the institutional VLE and the use of student response handsets and resources to support the transition to university. He also led the development of the personal tutoring provision, and helped to develop the institutional Leeds for Life resource, which includes online support for personal tutoring.
14th December 2010