Students take a bite out of e-learning with Apple iPad project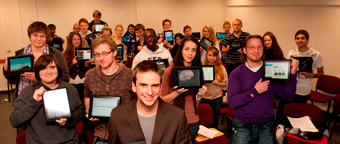 Dr Neil Morris with the iPad project students
A number of Biological Sciences students have been issued with an iPad as part of an innovative e-learning project.
The study, led by Dr Neil Morris, will monitor how students' use of iPad technology influences their learning. It will look into changes into their academic performance, study skills and overall student experience.
Dr Morris explained: "Undergraduate students are increasingly using mobile devices in all aspects of their lives. This ongoing research project is examining students' use of technology in learning and studying whilst in higher education. The project aims to find out whether undergraduate students could benefit from having access to a mobile device when studying for a degree."
The project began with focus groups of current undergraduate students to determine current use of technology in the Faculty. Each of the 48 students in the study were asked to complete a questionnaire to determine their study habits. A number of students were then chosen to work with the iPads for a three month period. Throughout the project students will record their usage of the iPad via a study habits questionnaire.
The iPads are preloaded with a number of educational apps and multimedia content including e-books, an online encyclopaedia and biological models such as the'3D brain' app – ideal for any budding neuroscientists.
Hager Kowash, a second year Biological Sciences student, said: "This is my first time using an iPad. It will be great for academic purposes as there are many apps available to help you study. It seems quite straight forward - so I'm looking forward to using it."
Fellow classmate, Tara Gray said: "It's my first time using an iPad and it seems easy to use with incredible apps and an amazing screen. I hope to use it during lectures. Having the internet available on the move will be really useful."
Greg Chadburn, a first year student, said: "I am really excited to use the iPad in my day to day work. I plan to use it primarily for note taking in lectures and storing lecture slides. I'm also hoping to record lectures via an app to listen back to later, which will be useful for revision."
The study will investigate if there are any changes to study and learning habits through use of mobile devices.
2nd February 2011