BSCB Science Writing Prize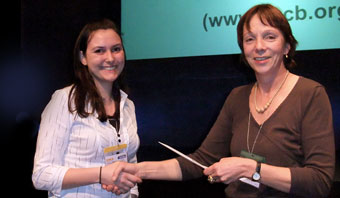 Susan Turrell has recently been award the 2010 British Society for Cell Biology Science Writing Prize. The competition was judged by freelance science journalist Vivienne Parry, and published in the BSCB Magazine.
"It's my ambition to be involved in science media and science journalism, so I entered BSCB Science Writing Prize competition as I saw this as a great opportunity to gain some experience of writing in an approachable style. I wrote most of the essay on a train after the Molecular Biology Away Day in November; I must have been inspired by all the stimulating talks. I received the prize at the BSCB Spring Meeting at Warwick University, where I got to attend the presentations on cellular and developmental biology, and chat with other members of the society. Overall, it was a very positive experience and hopefully this achievement will help me further my career in science communication."
11th March 2010