Innovative research group to enhance student experience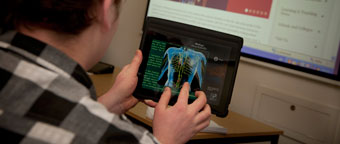 Technology enhanced learning is one area of research
A group of teaching and scholarship staff from the Faculty recently formed a new education research group, led by Dr Neil Morris. The University of Leeds Bioscience Education Research Group (ULBERG) will focus on education and scholarship in bioscience, researching a variety of aspects of learning and teaching in Higher Education. The group will undertake activities to enhance the quality of the student experience, as well as professional development opportunities for staff.

Current projects include the use of lecture podcasts, video feedback on assignments, the development of an open access archive of educational resources, and employability projects aiming to enhance the variety of opportunities available to undergraduates.

As well as projects based within the Faculty, the research group will also act as a regional hub for colleagues in other northern universities, organising regular events and an annual bioscience scholarship symposium.

To find out more, see www.fbs.leeds.ac.uk/research/ulberg
21st November 2011