Leeds for Life Citizenship Award Winner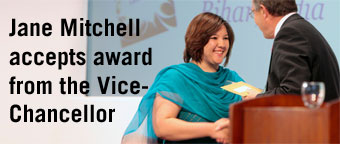 Medical sciences student Jane Mitchell received an Outstanding Achievement Award at this year's LeedsforLife Citizenship Awards Ceremony, which was attended by staff, students, alumni and public and private sector representatives.
Introducing the award, Vice-Chancellor Michael Arthur said, 'When I read the achievements of the students in this category, I do sometimes wonder how on earth they manage to achieve academically as well as offer so much of their time to helping others. They are truly outstanding young people.'
Jane was recognised for having spent six weeks last year working in a charity hospital in Bihar, India. She worked on the mother and child health wards; including the labour room, the theatre, and the nursery. The hospital in Bihar is the only secondary health referral centre working in the voluntary sector for over 5 million people. The majority of patients are from farming families, with a high illiteracy rate, who often don't know to come to hospital until they're in serious trouble.
Jane gained invaluable experience working in the labour room assisting women and midwives in labour, and taking care of newborn babies immediately after their delivery. She also helped out in the nursery, where she was responsible for feeding, washing and changing the babies, as well as monitoring their vital signs.
Speaking about her experiences, Jane said 'It is incredible how I am able to match up what I am learning in my modules with various cases I saw in India. I would like to thank LeedsforLife for giving me this amazing opportunity.'
Find out more about LeedsforLife
28th June 2011