Leeds pioneer recognised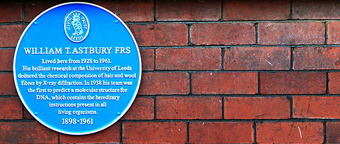 Astbury is recognised with blue plaque
As a former academic of Leeds, William Astbury is renowned in the Faculty of Biological Sciences, and beyond. Indeed many of the Faculty's staff and students are associated with the University's research centre named after the innovative scientist. Astbury has been an unsung hero, outside of academic circles. Not widely known by the general public, Astbury's work went towards one of the greatest scientific discoveries of the last century, discovering the structure of DNA.
Working with an unlikely ally – a hairdresser from Leeds, Astbury discovered how hair changes shape at the molecular level when heated and stretched. He was then able to apply his pioneering X-ray experiments to DNA, and was the first to suggest a structure based on experimental data in 1938.
In 1928 Astbury came to the University of Leeds as lecturer and in 1945 he was made its Professor of Biomolecular Structure. He remained at the university until his death in 1961. To mark his contributions to scientific development Astbury has been commemorated with a Leeds Civic Trust blue plaque. The plaque is located at 189 Kirkstall Lane, Headingley opposite the Yorkshire County Cricket Ground.
Discover more at the Astbury Centre website.

1st February 2011