Undergraduates discover more about the pharmaceutical industry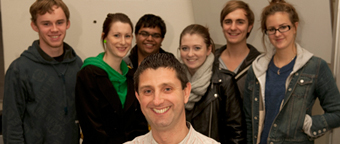 Geoff Holdgate, Principal Scientist in BioPhysics at Astra Zeneca with current biochemistry undergraduates
New biochemistry undergraduates got a firsthand account of working in drug discovery in a talk from Astra Zeneca last week.

Geoff Holdgate, Principal Scientist in BioPhysics at Astra Zeneca was on hand to discuss the drug discovery methods used and adapted by the company.
It costs in the range of £900 million to £1.4 billion to bring a new medicine to market and Astra Zeneca use a range of screening methods and high throughput analysis to drive their Drug Discovery Programs.

The talk was the first in a programme of four sessions from external speakers visiting the University from academia and industry.

Geoff Holdgate said: "This is a fantastic way for students to begin to associate what they learn in the lab and in taught sessions and how it can be applied in industry environments such as pharmaceuticals. I'm keen to promote links with the University and Astra Zeneca. It is important for students to tap into opportunities to gain extra experience such as the year in industry. In fact I did my year in industry at ICI which went onto become Astra Zeneca who I now work for – so I know how valuable hands on industry experience can be in terms of employability."

Details of careers at Astra Zeneca.
Visit our Biochemistry careers page.
10th November 2010