Faculty of Biological Sciences
Student Education News
Developing novel approaches for pest-resistant crops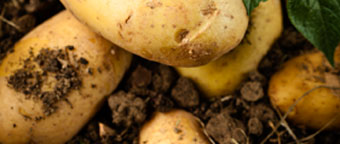 Protecting the worlds crops
The rapid increase in the population of the world puts increasing pressure on the production of sufficient food. It has been estimated that up to 25% of potential food production is lost through plant disease and pests. One major cause of pre-harvest losses are plant parasitic nematodes, which cause global crop yield losses of > $100b annually. Conventionally nematode damage is controlled through the use of chemical nematicides. However, these can cause harm to humans in their production and use. Furthermore, these chemicals cause severe environmental harm, and so nematicides are being withdrawn globally. This then leaves farmers without adequate means to control nematodes and the damage they cause. Professors Urwin and Atkinson of the Faculty of Biological Sciences and their co-workers have developed three novel technologies for nematode control through a long-term programme of research and development.
The technologies developed use targeted genetic modification of the plants to bring about resistance to the nematodes. One of the methods developed by Professors Urwin and Atkinson utilises cystatin, an inhibitor of the enzyme cysteine proteinase, an important digestive enzyme for nematodes. Transgenic expression in a crop plant of the cystatin confers nematode resistance to the plant. They have demonstrated that this approach has efficacy against all damaging nematodes in a wide of crop plants. The cytstatins have been shown to be non-alleegenic and non-toxic to humans and are already widely consumed in foods (e.g. maize and rice) where they are naturally produced.
Professors Urwin and Atkinson have secured financial investment into their research programmes from a number of global companies. The technology has been proven in five successful UK field trials with potato plants. The work is internationally distinctive as there are no other reports of GM field trials for nematode resistance in the scientific literature. It can take 15 years between proof of concept and commercialisation of new GM technologies, one of the partner companies is currently working towards commercialisation of nematode-resistant plants using these technologies.
29th October 2012
---
---
---
---
---
---
---
---
---
---
---
---
---
---
---
---
---
---
---
---
---
---
---
---
---
---
---
---
---
---
---
---
---
---
---