Student Education News
The future of diving in Leeds is in safe hands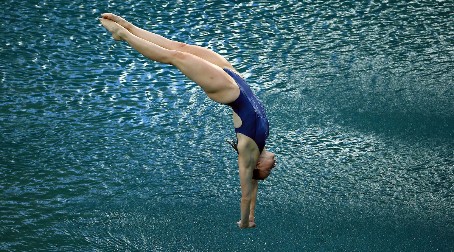 Sports Science alumnus and triple Olympian Rebecca Gallantree is interviewed in the Yorkshire Post.
A Leeds graduate is ensuring the future of British diving remains strong, with her work as a coach at the City of Leeds club based in the John Charles Aquatic Centre.
Rebecca Gallantree graduated from the University of Leeds in 2005, having studied Sports Science in the School of Biomedical Sciences.
Gallantree dived in the Beijing, London and Rio Olympics and won gold medals at both Commonwealth Games and World Championships level.
The Olympian told the Yorkshire Post, "There's a lot of change going on but there's still a lot of talent coming through.
"We've got Matty Lee and Lois Toulson who are experienced now in major championships, and, of course, Jack and Chris, who are real standard bearers.
"Plus, we've got quite a strong team below that which is really promising and will continue that flow of competitors."
Jack Laugher and Chris Mears became Britain's first-ever Olympic gold medallists in diving for 3m synchro in Rio.
Now retired, Gallantree is both a coach of the junior elite squad and a coach of a new talent identification squad which aims to find the next generation of world-class divers.
Having trained at the Leeds International Pool (LIP), the state-of-the-art John Charles Aquatics Centre was an impressive upgrade and a something that convinced Gallantree to stay in Leeds.
"I know there are some diving clubs around the country that don't have the facilities we have.
"The John Charles has played a massive role in all of our careers.
"When you're training twice a day, five or six days a week, it's really great to have a nice facility to come to that's got all the things you need.
"Before we moved to John Charles we didn't have any dry boards, we only had one trampoline and that was at pool side, we didn't have a sprung floor – all of which we have now."
Read the full interview on the Yorkshire Post
Image taken from swimming.org
30th November 2017