Student Education News
Scholarship Success in FBS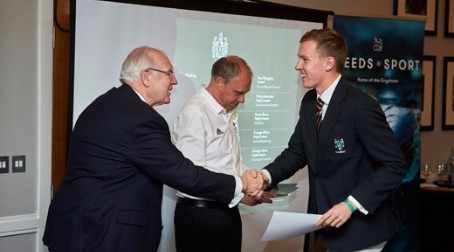 University of Leeds has presented 37 student athletes with Sport Scholarships for 2016/17. We are proud to say, 8 of those are based in the Faculty of Biological Sciences.
The University of Leeds Sport Scholarships are used to support students with aspirations to compete at the highest level in their chosen sporting discipline, as well as study for a degree. With former alumni including Alistair and Jonny Brownlee, Gavin Benson, and many other world class athletes, Leeds has always had a proud tradition of supporting sporting excellence.
The 8 Faculty of Biological Sciences students to receive the awards were:
Ellie Dooley – Athletics – Neuroscience
Georgia Malir – Athletics – Sport and Exercise Sciences
George Milton – Rugby League – Human Physiology
James Woodburn-Hall – Rugby League – Sport and Exercise Sciences
Sam Dickinson – Triathlon – Sport and Exercise Sciences
Greg Chambers – Triathlon – Sport Sciences and Physiology
Alastair Rogers – Triathlon – Sport and Exercise Sciences
Mary Hodgson - Triathlon - Biology
Each scholarship is tailor made to suit the individual needs of the athlete. They receive a personal mentor who guides them through their academic life, helping them balance their training, competing, and studying. In addition to this, they also receive specific strength and conditioning programmes, physiotherapy, free access to The Edge, and a bespoke financial bursary.
The scholarships were presented to the students by the University Vice-Chancellor, Sir Alan Langlands and the world renowned triathlon coach, Malcolm Brown.
Suzanne Glavin, Head of Sport & Physical Activity, said: "It was lovely to congratulate our scholars on being selected and to wish them all the best during their time as a Sports Scholar at Leeds."
We wish them success in both, their studies and competition.
20th October 2016