Student Education News
Biological Sciences careers fair hailed as a great success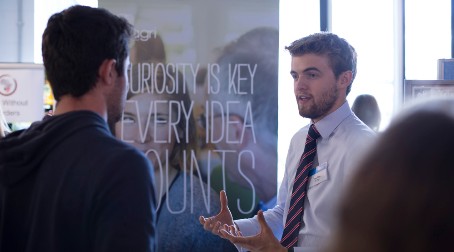 The annual Careers Fair here in the faculty was a great success with hundreds of FBS students attending.
On Thursday 20th October, we held our yearly careers fair here in FBS. This is a chance for all our students to come and find out what is available for them to do after their studies. It is an event where you can find out potential companies to work for, types of work you can do, places you can volunteer and much, much more.
There were 25 different companies represented at the fair. These included research organisations such as Covance, biopharmaceutical companies like AstraZeneca alongside the charitable foundations the Wellcome Trust, and the Yorkshire Wildlife trust.
Tim Goodall the Employability Officer here in FBS, and the organiser of the event, said, "It was wonderful to welcome representatives from 25 organisations to our Faculty of Biological Sciences Careers Fair, many of whom are graduates of this Faculty. Employers were busy for the whole day and they told me that they were impressed by how well prepared the students were."
Employers attending the fair were impressed by the quality of the students, commenting on their level of professionalism, motivation and focus on the importance of securing work experience as early as the first year of their degree.
With hundreds of students attending and many companies taking part the fair was a great success. With both students and organisations going away more informed, more motivated and more confident about their futures.
27th October 2016