Faculty of Biological Sciences
Student Education News
Novel treatment for early stage tooth decay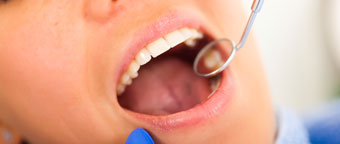 improving dentist procedure
Early stage tooth decay is a widespread problem in developing countries, and is conventionally treated by dental professionals monitoring the damage and then drilling out the decayed tooth material and filing with an inert substance. This is expensive for Health Services, and generally unpopular with patients. Professor Sheena Radford undertook research to determine how peptides (small sections of protein molecules) self-aggregate and form fibrils under certain conditions. These nanofibrils have distinctive properties which enable them to be used in a number of different applications.
Colleagues at the Leeds Dental Institute have taken the original research findings, and linking with their understanding of the re-mineralisation processes in teeth, have carried out further applications research and developed self-assembling peptides with applications in the repair of early stage tooth decay. After protection of the innovations through patents, the work attracted the attention of a business entrepreneur in Switzerland, who founded a company to commercialise these peptides.
The company has secured investment from a number of sources, and has been recognised as one of the as being among the top Swiss spin-outs in the 'Die Besten Schweizer Spinouts 2011 Top 100' ranking. The company has developed a formulation for the self-assembling peptides which can be applied in liquid form to an area of tooth decay. On contact with the tooth, the self-assembling peptides form nanofibrils, which function as a matrix to enable natural re-mineralisation of the tooth to occur, and hence repair of the decay. The product has received a CE mark as a medical device and the first early stage clinical trials in humans have been completed. Significant further investment has been secured to bring the product to market and to develop additional applications.
29th October 2012
---
---
---
---
---
---
---
---
---
---
---
---
---
---
---
---
---
---
---
---
---
---
---
---
---
---
---
---
---
---
---
---
---
---
---