Faculty of Biological Sciences
Student Education News
HE Teacher of the Year Award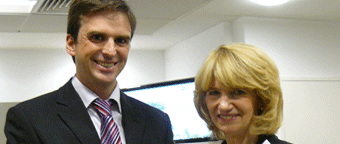 Dr Julia Buckingham, from Imperial College London, presented Dr Morris with his award.
Dr Neil Morris, a Senior Lecturer in the Faculty of Biological Sciences, has today been awarded the Higher Education Biology Teacher of the Year Award by the Society of Biology.
His innovative teaching methods include the use of podcasts, assessments completed by text message, virtual learning-environments, tablet computers, social media, voting handsets and videos.
Of the four shortlisted candidates for the award, two were from the Faculty of Biological Sciences at the University of Leeds.

Dr Morris says: "I was thrilled to receive the award in recognition of my work with bioscience students. I am delighted that this award is available for staff who focus on teaching and scholarship activities within universities."

Studies have shown that university students benefit from using technology. Dr Morris has conducted his own studies on the integration of video lectures, podcasts and mobile technology in his teaching. He found that students who listened to podcasts of their lectures and completed assessments by text message performed significantly better in an exam.

As Senior Lecturer at the Institute of Membrane and Systems Biology, Dr Morris lectures on neuroscience. He has researched areas of the brain involved with emotion, learning and memory, and motor control.

He says: "I believe strong partnerships between learners and teachers are extremely valuable. I have therefore been searching for effective ways to personalise my students' learning.

"For example, recording lectures for the students and using voting handsets makes the most of face-to-face contact. This frees students from slavishly copying down every word, allowing them instead to listen, think and interact. Audio recordings of tutorials have been valuable for students to make the most of feedback discussions. In tutorials and practical classes I use tablet computers to collect and analyse data and to annotate diagrams. For example, my students explored a 3D model of the brain on their tablets – an experience that traditional learning simply couldn't provide."

Rachel Lambert-Forsyth, Head of Education at the Society of Biology, was extremely impressed with the standard of the competition. She says: "The Bioscience Teacher of the Year Award recognises outstanding lecturers who develop creative approaches to teaching. As well as improving the education of his own students, Dr Morris influenced his colleagues and teachers in other universities, raising the standard of bioscience teaching in the UK.

"It has been a pleasure to organise the Award, which is part of the Society of Biology's aim to 'support and recognise excellence in biology teaching'."

University of Leeds Senior Lecturer Dr David Lewis was also on the shortlist. He researches how the brain controls the gastrointestinal system, hoping this will help find ways to cure and prevent obesity.

The Award is supported by Oxford University Press. Jonathon Crowe, Editor in Chief, of Science & Digital Development at OUP, was one of the judges. He says: "We warmly congratulate Dr Morris on receiving this year's award, and commend each of the finalists for all they achieve through their teaching, as their applications so clearly demonstrated."

Dr Morris was presented with the Ed Wood Memorial Prize of £1,000 along with one year's subscription to an OUP journal, and one year's free membership of the Society of Biology. Dr Lewis received £150 and a year's free membership of the Society of Biology.

4th May 2012
---
---
---
---
---
---
---
---
---
---
---
---
---
---
---
---
---
---
---
---
---
---
---
---
---
---
---
---
---
---
---
---
---
---
---
---
---
---
---
---