Faculty of Biological Sciences
Student Education News
Elite athletes and biological sciences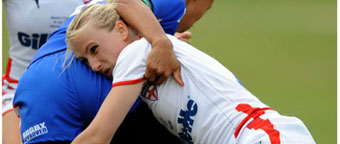 Jodie Cunningham is one of our current Sports Scholars
The Faculty of Biological Sciences has a history of supporting elite athletes with their sporting and academic ambitions. Previous Sports Scholars from the Faculty include include Alistair Brownlee, European Triathlon Champion, and Rebecca Gallantree, Olympic diver.
We currently have five Sports Scholars within the Faculty who are studying for undergraduate degrees in various subjects whilst pursuing their sporting careers. The University of Leeds Sports Scholarship Programme helps these students to balance their academic and sporting demands throughout their time at University. This includes a performance manager, access to our state-of-the-art training facilities, access to lifestyle support, and strength and conditioning coaching.

Jodie Cunningham, BSc Medical Sciences, plays rugby league at England Senior International level. She says: "The Sports Scholarship Programme is exceptional and the strength and conditioning support is perfect for my needs as an athlete. They are very flexible and work around my academic timetable and what is best for me."
Jodie hopes to secure a place in the England squad for the 2013 World Cup.
Laura Sugar, BSc Sport and Exercise Sciences, plays hockey for Wales. She says: "I am allocated a lifestyle officer who is my first point of call when I need advice on my sporting development as well as if there is a clash with deadlines/exams and a tournament, and any problems are always sorted quickly."
In addition to our Sports Scholars, we also have Olympic Scholar Susan Partridge undertaking a PhD in the interdisciplinary Institute of Medical and Biological Engineering. Susan regularly uses the facilities in the Faculty of Biological Sciences to aid her training, such as the environment chamber to prepare her for major championships in hot climates.
Find out more about the University of Leeds' involvement with the Olympics:
8th March 2012
---
---
---
---
---
---
---
---
---
---
---
---
---
---
---
---
---
---
---
---
---
---
---
---
---
---
---
---
---
---
---
---
---
---
---
---
---
---
---
---