Faculty of Biological Sciences
Student Education News
Success for Biological Sciences at PhD Showcase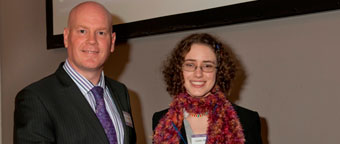 Lizzie Glennon was awarded first place for her Three Minute Thesis
Two postgraduate students from the Faculty gained notable success in this year's annual University of Leeds postgraduate researcher conference, 'Showcase 2011'.
Lizzie Glennon, supervised by Professor Nigel Hooper won the '3-minute thesis' competition for her work on Alzheimer's. Lizzie said of her award: "I was absolutely delighted to win the '3-minute thesis' competition. I think it's very important to be able to explain my research to non-scientists.

My project is funded by a charity called Alzheimer's Research UK; if people are going to donate to a charity then they have a right to know what their money is being used for. Although we are still a long way from finding a cure for Alzheimer's, research like mine helps us to understand the disease process and so better understand how we could treat it. I really enjoy my work in the lab; it is very exciting to be working on a problem to which nobody yet knows the answer and has the potential to help so many people."
Nicole Timms, supervised by Professor Alan Berry, was joint 3rd in the 'PGR Researcher of the Year' competition. Nicole's project title was 'Understanding the impact of enzyme design and engineering.' Nicole explained: "The whole experience of the PGR Researcher of the Year competition was great. It gave me an opportunity to look over the work I've done throughout my PhD and consider the impact this has had on society. My PhD concentrates on understanding and manipulating enzymes at a molecular level. It was particularly challenging to give a presentation which was suitable for a non-specialist audience and I relished the challenge. It great to hear all the other competition entries and to win a prize was a real bonus."

The conference is an annual showcase of postgraduate research and a celebration of the significant contribution postgraduate researchers make to the research profile of the University.

The event aims to engage the academic community across a wide range of subject disciplines and celebrate the success of postgraduate research. Other prizes awarded at the event included Postgraduate Research Image of the Year and Postgraduate Research Poster of the Year.

Here is the full list of winners

Postgraduate Researcher of the Year 2011
1st Nick West (Faculty of Medicine and Health)
2nd Aisling Dolan (Faculty of Environment)
3rd (Joint) Kevin Macnish (Faculty of Arts)
3rd (Joint) Nicole Timms (Faculty of Biological Sciences)

Three Minute Thesis
1st Lizzie Glennon (Faculty of Biological Sciences)
2nd Ruba Khamam (Faculty of Arts)
3rd Fraser Mann (Faculty of Arts, York St. John University)

Postgraduate Research Poster
1st Michael Finn (Faculty of Arts)
2nd Charlotte Nixon (Faculty of Mathematics and Physical Sciences)
3rd Nick West (Faculty of Medicine and Health)

Postgraduate Research Image of the Year
1st Alexander Wright (Faculty of Medicine and Health)
2nd (Joint) Ian Scales (Faculty of Arts)
2nd (Joint) Amanda Edmondson (Faculty of Medicine and Health)

11th January 2012
---
---
---
---
---
---
---
---
---
---
---
---
---
---
---
---
---
---
---
---
---
---
---
---
---
---
---
---
---
---
---
---
---
---
---
---
---
---
---
---
---
---