Student Education News
DNA 'science busking' at July's Kirkstall festival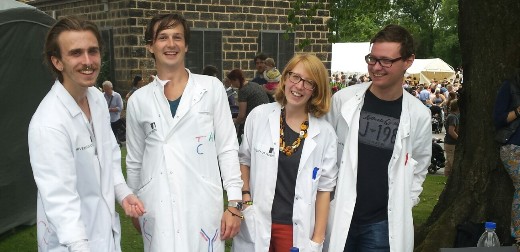 At this year's Kirkstall Festival a group of scientists from the Faculty of Biological Sciences went 'science busking', to talk to members of the public about DNA.
The event attracts around 25,000 people in one day and was a great place to go and speak to the public about DNA, and the work that is done within the faculty.
Science busking is taking science demonstrations away from labs and out into the public, to be shown face-to-face and without the need for a table or stall.
Our scientists were Jack Goode (a biomedical sensor researcher), Emma Steer (a cardiovascular researcher), Ollie Purnell (a masters student in Medical Sciences), Daniel Davis (a second year undergraduate in Neuroscience) and Gerard Murphy (a first-year Zoologist). All of them use in-depth knowledge of DNA function (genetics) in their work and wanted to communicate why DNA is so important for their area. They used several 'games' to talk about DNA structure, and how errors and mutations in it can cause illness.
On the day the team directly engaged with over 400 people and spoke to many more, from all age groups. As well as talking directly with members of the public, on Twitter nearly 2000 people saw our activities and comments.
The work was funded by the Wellcome Trust, and the University of Leeds' Faculty of Biological Science and Educational Engagement department.
25th August 2015