Student Education News
The Discovery Zone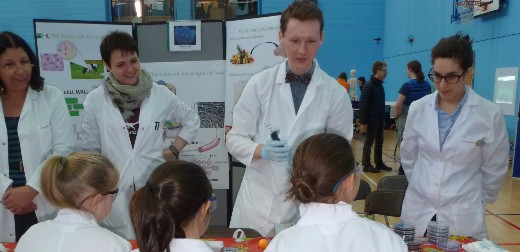 The Discovery Zone - a highlight of the annual Leeds Festival of Science - proved to be a huge success.
The Faculty of Biological Sciences and STEM at the University of Leeds welcomed nearly 500 school children to the campus this week to inspire, excite and educate them in the world of Science.
As a result of the enthusiastic efforts of more than 70 FBS staff and members from the Cancer Research Group at St James's hospital, there were 23 interactive stalls of hands-on science where pupils could don a lab coat and be scientists for the day. Activities included exploring the habitat of crayfish, creating their own pop rockets, experiencing the change in heart rate during exercise, and much more!
Key visitors included Helen Steers and Jane Swallow from the Higher Education Directorate at the Department for Business, Innovation and Skills, who were impressed by the variety of activities, the efforts to make each stall interactive, and the way in which staff were able to communicate their science at an appropriate level for each age range.
But the real praise came from the pupils themselves, with 8 year old Ruby Taylor sharing her experience of the Discovery Zone with the 9 million listeners of BBC Radio 2's breakfast show. When asked to rate the day out of 10 she responded with "a billion out of 10!". The Faculty of Biological Sciences and STEM at Leeds are now working on how to beat this score for next year's Discovery Zone, and how to continue to excite the next generation of scientists.
You can listen to Ruby's full review here (at 59 min 33 sec): http://www.bbc.co.uk/programmes/b05mplhb
27th March 2015