Student Education News
Number 1 in the UK for Sports Science!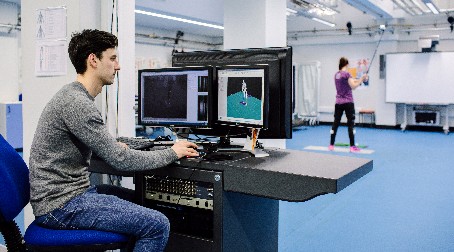 The Guardian University Guide 2019 have scored us 100/100 for Sport Science in their recent ranking.
The Guardian University Guide ranks universities on factors most important for students such as; teaching satisfaction, course satisfaction, feedback satisfaction and career opportunities. For the first time this year they have also added a continuation score which shares the percentage of first-year students that continue onto second year.
We are extremely proud to announce our top position for Sport Science, in the Guardian University Guide 2018 we were number 3 in the UK which was already a fantastic result and now we have reached the top spot which is testament to our teaching staff who work very hard to ensure our students have best experience possible.
Head of School for Biomedical Sciences, Karen Birch, comments on this ranking; "Being placed first is fantastic news. This comes as a result of huge efforts from the staff and students to collaborate in providing excellence in both teaching and research. It is a tribute to striving for our goal of an exciting and rewarding student experience here at the University of Leeds."
You can view our ranking and individual scores here.
Here's what some of our students have been saying;
"I have been working towards the strength and conditioning career pathway, and the Uni has been brilliant in guiding me towards my goals. The careers and placement staff supported me through the application phase, and made the link between my placement and the Uni. I am hoping to work in professional sport, but I am also hoping to have a varied career as I like to push my comfort zone and keep challenging myself. I think the sport science course and abundance of support has and will continue to help me pursue this."
- Ben Bealey, BSc Sport and Exercise Sciences
"It's really engaging as your practicals match up with the theory that you learn in lectures and you get to use different equipment to test theories. The staff are really friendly and helpful when you have questions about the course as well as pastoral queries. There are many opportunities to adjust your course to suit your interests as you can take discovery modules including those in outdoor activities. Ultimately Leeds is a great place to study Sports Science as it is research-led with great staff and you can tailor your studies to suit you."
- Emily McClintock, BSc Sports Science and Physiology
"When looking at league tables, the University of Leeds consistently ranks amongst some of the best universities in the UK. Similarly, Sport and Exercise Science at Leeds is highly regarded in comparison to other universities. I loved the fact that the Leeds is such a big university, yet it is confined to one campus. This means lectures, seminars and university social spaces are just walking distance apart. Finally, Leeds is a great city!"
- Robin Layton, BSc Sport and Exercise Sciences
30th May 2018