Faculty of Biological Sciences
Student Education News
Leeds Biology student wins University of Leeds Business Plan Competition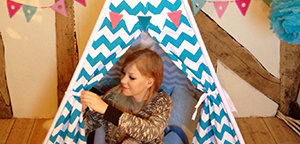 Alice with one of the teepees
Alice Colligan (BSc Biology) won the 'pre-trading' prize at the University of Leeds Business Plan Competition for her range of children's indoor teepees recently.
The business, 'Youmi & Teepee', was set up by Alice and produces a range of indoor playhouse teepees for children. Her work was recognised at the annual competition, organised by Spark, the University's business start-up service.
Alice came up with the idea when discussing ways to encourage children to read for pleasure with her mother who works in a primary school. "I've been approached by local boutiques to stock the teepees and I'll start selling in May 2014 when my website goes live," she says. Alice was awarded an Enterprise Scholarship from the University in November 2013 and also received Proof of Concept funding in January this year. She will be using her prize money to create more designs as well as work on ideas for accessories. "I absolutely love being creative, and winning this prize is a great boost to my business. With ongoing help from Spark I've got the support I need to move forward."
The awards were presented on Wednesday 12 March at an event attended by more than 100 guests, including Leeds alumnus, serial entrepreneur and Enterprise Scholarship benefactor Martin Penny, and members of the business community from across the Leeds City Region.
Kairen Skelley, business start-up expert at SPARK, says: "We are working on embedding an enterprise strategy across the whole University and we're seeing the results with greater numbers approaching Spark for advice on starting their own business every year. The entrepreneurs keep in touch with Spark and their businesses are showing a two year sustainability rate of 80%, which is outstanding, and testament both to their ingenuity and tenacity and the University's dedication to enterprise."
Spark's annual Business Plan Competition is open to current students and graduates of University of Leeds. Prizes are awarded in two categories: Pre-trading and Trading up to 24 months. First place in each category receives £2,000; second place, £1,250 and third place, £750.
This year, prizes were awarded as follows:
Pre-trading:
1st: Youmi & Teepee (Alice Colligan)
2nd: Wolfhound Brewing Company (Oliver Peel and Mickey Lynch)
3rd: Cheps Entertainment (George Biddle and Ben Williams)
Trading up to 24 months:
1st: JumpIn (Sam Ryan, James Gupta and Barney Williams)
2nd: LVNDR (Emma Sheldon and Adam Sheldon)
3rd: Tour Outdoor (Andy Green and Robert Conway)
17th March 2014
---
---
---
---
---
---
---
---
---
---
---
---
---
---
---
---
---
---
---
---
---
---
---
---
---
---
---
---
---
---
---
---
---
---
---