DNA Tumour Virus Research Group
Dr Andrew Macdonald
Associate Professor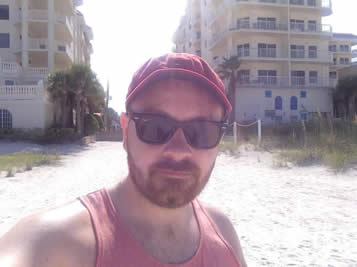 Andrew obtained a first class degree in Medical Microbiology from the University of Leeds in 1998. After meeting Mark Harris, a newly appointed lecturer, he decided to stay at Leeds and pursue his studies on a poorly characterised protein of hepatitis C virus called NS5A. What came next was a highly successful and enjoyable five years (PhD and a 2 year post-doc) in the Harris lab, generating nine publications, winning the Promega Young Microbiologist of the Year Award and making great progress on our understanding of this protein. Andrew then decided it was time to leave Leeds and gain greater skills in the study of cell biology. This resulted in a move to Dundee and a post-doc position at the world-leading MRC Protein Phosphoryation Unit with Dr Simon Arthur. Whilst there Andrew studied protein kinases and their roles in immune cell development and function. After 30 months in Dundee and five papers, Andrew wanted to get back into virology. He was awarded an RCUK fellowship in December 2006 to establish his own research group, focussing on chronic viruses and the immune system. As of November 2011, Andrew was given tenure and a lectureship in Viral Oncology. In January 2013 he was promoted to Associate Professor. In his spare time Andrew enjoys running, socialising and is still determined to rekindle his love of Ju-Jitsu.
Dr Chris Wasson
Post-Doctoral Fellow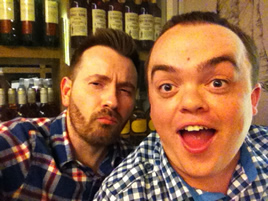 Andrew and Chris marvelling at the latest scientific findings on a lab social event
Chris is a graduate of the University of Glasgow (BSc in Virology) and St-Andrews (PhD) and joined the Macdonald group to establish the primary cell culture models. In collaboration with Dr Sally Roberts (University of Birmingham), Chris now utilises a number of model primary cell lines in order to increase our understanding of HPV biology. He works on a number of projects and has identified novel functions for the E5 protein and in addition has uncovered a range of novel host factors necessary for HPV infection.
Dr Eleni-Anna Loundras
Post-Doctoral Fellow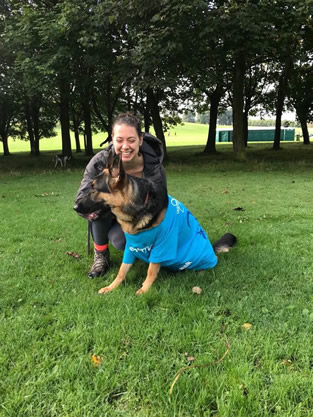 Eleni-Anna completed her BSc in microbiology with virology at the University of Leeds in 2013 and went on to undertake her PhD in molecular and cellular biology also at the University of Leeds, under the supervision of profs. Nic Stonehouse and Mark Harris, focusing on better understanding the replication process of foot-and-mouth disease virus in order to develop novel therapeutics and vaccines. She competed her PhD in 2017 and was offered a KRUK-funded post-doc position with the Macdonald group focusing on better understanding the roles of ion channels in BK polyomavirus replication in order to develop better clinically-relevant antiviral therapeutic strategies. When she's not in the lab, you can find her hiking on the Yorkshire Moors with her dog.
Margarita Panou
KRUK funded PhD student
Margarita is a PhD student studying the contribution of host factors to BK polyomavirus infection. Following a degree in Greece, Margarita undertook Masters study at the University of Leeds, including a research project with Dr Jamel Mankouri. In 2014 Margarita began a three year KRUK-funded studentship to identify host factors controlling BK replication. Her work focusses on host ion channels and the repurposing of clinically available drugs for use in BK-associated diseases.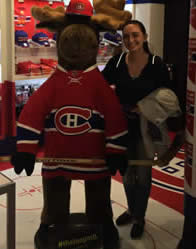 Margarita and her new friend in Montreal, 2016.
Ethan Morgan
Wellcome Trust funded PhD student
Ethan obtained an Industrial BSc HONS in Biochemistry from the University of Leeds. As part of the degree he undertook a final year laboratory project in the Macdonald group, where he established a cell culture system for the JC polyomavirus. Now as a Wellcome Trust PhD student Ethan has switched viruses and now studies host factors associated with HPV replication and transformation. In 2016 Ethan was nominated as the virology division candidate for the Young Microbiologist of the Year competition, which will be held in London in September.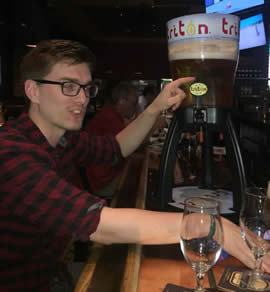 Ethan providing drinks (from a beer keg labelled Triton!) in Montreal, 2016.
Daniel Hurdiss
Wellcome Trust funded PhD student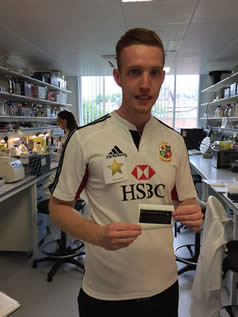 Dan obtaining his Gold Star for Cloning award (with Margarita hiding in the background)
Dan is a Leeds graduate with a degree in Microbiology. As part of that degree, Dan undertook a laboratory project in the Macdonald lab studing the polyomavirus agnoprotein. Dan is now studying for a PhD in structural biology, co-supervised by Macdonald. Dan is using the magnificent electron microscopy facilities at Leeds to understand polyomaviruses in unprecendented structural detail.
David Kealy
BBSRC-funded PhD student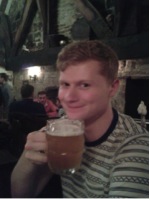 David enjoying a beer - he will fit in well with the group!
David studied Biochemistry with a year in industry at the University of York, graduating with a first class degree in 2015. As part of his degree he undertook an industry placement with the Genetics and Genomics group at The Pirbright Institute, working on a novel chicken cytokine binding protein. Now as a BBSRC White Rose PhD student David is investigating the role of HPV E5 protein in virus lifecycle.
Gemma Swinscoe
Wellcome-Trust funded PhD student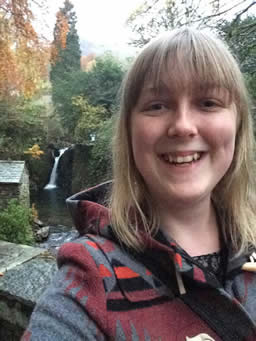 Gemma graduated from Leeds University with a BSc MBiol in Biochemistry. As part of her integrated masters she undertook a project in the Macdonald group looking at activation of signaling pathways during BK polyomavirus entry. Now as a Wellcome Trust PhD student, Gemma is studying the function of BK polyomavirus Agnoprotein, particularly its novel function as a viroporin.
Michelle Antoni
KRUK-funded PhD student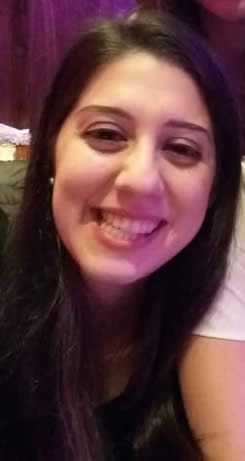 Michelle graduated from Imperial College London with a First Class Honours degree in Biochemistry before undertaking a Masters level degree at Kings College London in Infection and Immunity. During that time she spent time in the lab of Matthew Reeves studying interactions between CMV and host immune cells. She joined the lab in 2016 as a KRUK-funded PhD student with a project focussed on understanding interactions between BK virus and the host innate immune system.