DNA Tumour Virus Group
Lab News
July 2019
Conference fun!
Those from the lab who attended the 50th DNA tumour virus meeting in Trieste, Italy, had an amazing time. The quality of the science on show was fantastic and our group held their own amongst the great and the good of DNA tumour virology. We made some new collaborations, obtained reagents critical to our science and came away from the meeting buzzing with new ideas for our work. We are also significantly heavier due to the wonderful food and drink on offer. Looking forward to DNATV2020 in Montreal.

Ethan, Michelle and David taking in the sights in Trieste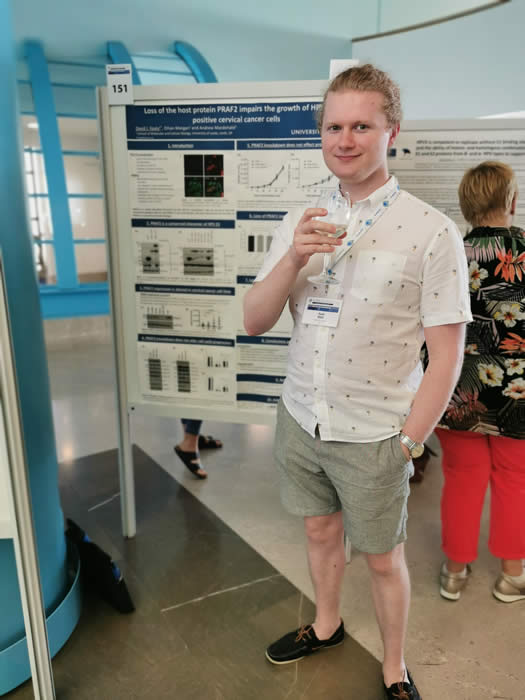 David looking relaxed before his poster presentation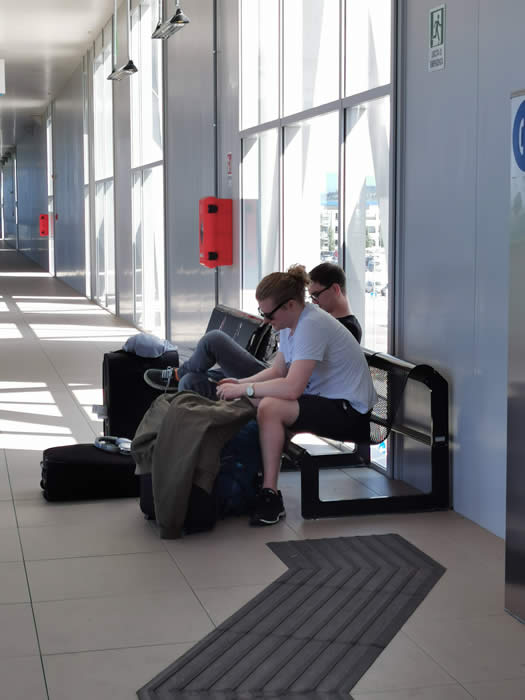 Not so happy waiting in the airport!
June 2019
Latest findings on how the HPV coded E6 oncoprotein activates STAT3 are published in PLoS Pathogens
Ethan's latest studies showing that E6 switches on a pathway in cells resulting in release of the pro-inflammatory cytokine Interleukin-6 (IL-6) are now published in PLoS Pathogens. We previously showed (Morgan et al., 2018) that HPV activates the proto-oncogene STAT3 in primary keratinocytes. Ethan has now performed a biochemical and cell biological tour de force to dissect the pathways that are necessary for STAT3 activation in HPV positive cancer cells. It turns out that E6 activates a small G protein called Rac-1 and that this results in IL-6 production, which is absolutely essential for STAT3 activation in cancer cells. Blockade of this pathway reduces cancer cell growth. These findings highlight that targeting of this pathway may have therapeutic potential in treating HPV positive cancers. This is Ethan's second publication in PLoS Pathogens in the last year, we are now working on his third!!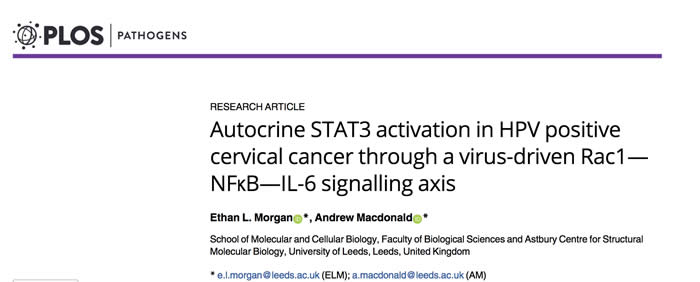 May 2019
Conference abstract success
Congratulations to Michelle, Gemma, David and Ethan who have all had their abstracts accepted and will be presenting their work at the 50th International DNA tumour virus (DNATV) meeting in Trieste, Italy in July. The DNATV is the major international meeting in which researchers working on the fundamental biology of papillomaviruses and polyomaviruse are able to talk shop. It will be a great opportunity to showcase our science and forge new networks (the food will also be very good!).
January 2019
Wellcome Diego and Yigen
This month the lab was joined by our new post-doc Yigen and research technician Diego who are employed on the MRC project grant which aims to understand the role of the E5 protein in the HPV life cycle. Yigen hails from a PhD in London and Diego flew in from Spain (so a bit of a change in the weather). We have great plans for them both and hopefully they will start popping up on the web site later in the year as their projects get going.
December 2018
Christmas fun!
It's the end of another fantastic year in the group. The group has worked really hard and we've had some successes; firstly congratulations to Margarita, Dan and Ethan who all successfully completed their PhD studies. Secondly, we received MRC project grant funding to continue our exciting work on the HPV E5 protein and finally there are a lot of amazing unpublished projects currently bubbling away in the lab. So watch out 2019!! From the Macdonald lab, have a restful and happy Christmas and a prosperous 2019!!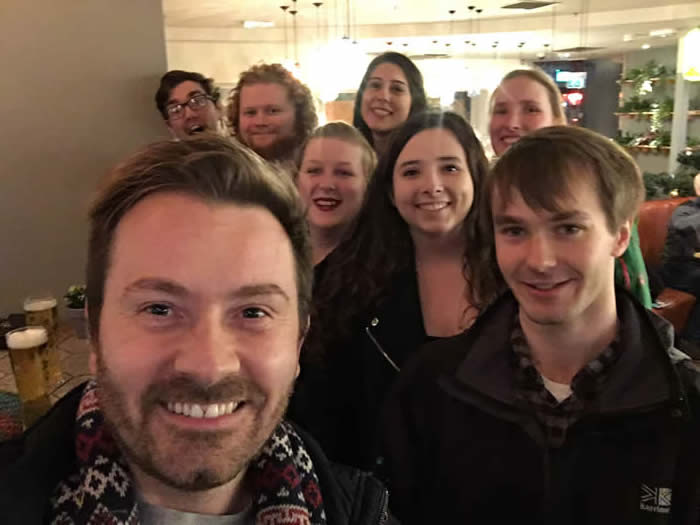 Ho, Ho, Ho............
PhD viva success for Ethan Morgan
Ethan Morgan successfully defended his PhD studies by viva examination. His examiners were Prof. Massimo Tomassino from IARC in Lyon and Prof. Richard Bayliss from Leeds. Ethan had an increedibly successful PhD, publishing a numebr of manuscripts including a first author paper in PLoS Pathogens in 2018. He was also a runner up in the Microbiology Society Young Microbiologist of the Year competition in 2016. Ethan is currently funded by a Wellcome ISSF grant to initiate his independent studies into the functions of deubiquitylating enzymes (DUBS).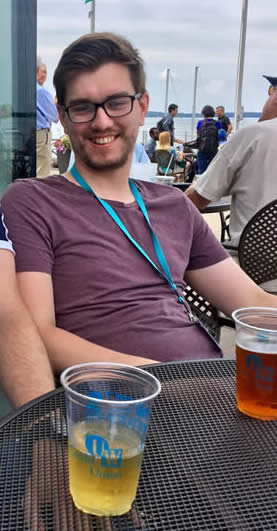 Ethan relaxing after his presentation at the DNATV meeting in Madisson, USA in 2018
Dan Hurdiss awarded an EMBO Fellowship
Dan Hurdiss, a former Wellcome Trust funded PhD student in the Ranson and Macdonald labs, has been awarded a prestigious EMBO Fellowship to undertake research in Utrecht aimed at using structural biology to further understand the complex biology of picornaviruses. At Leeds, Dan pioneered use of our Titan Krios electron microscopes and solved a number of virus structures. This is fantastic news for our grou, and the Wellcome programme at Leeds. We wish Dan the very best of luck!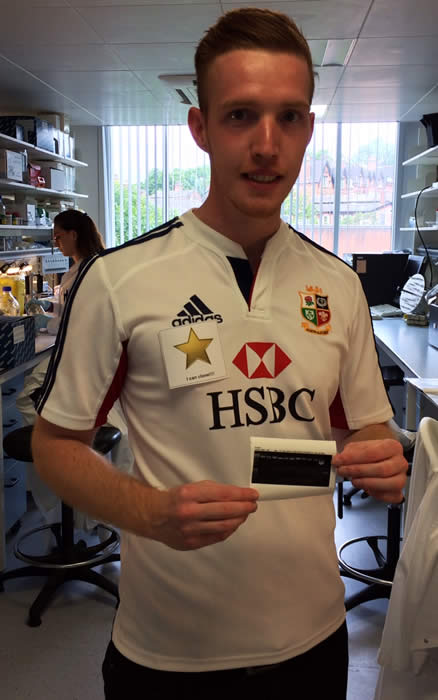 A youthful Dan when he joined the lab in 2014 - even then he was a star student
November 2018
More BK PhD success - well done Dr Hurdiss!
Following hot on the heels of Margarita, Dan Hurdiss successfully defended his PhD thesis from examiners Prof Dave Stuart (University of Oxford) and Prof Ade Whitehouse (University of Leeds). Dan was jointly supervised by Neil Ranson and Andrew Macdonald as part of the Wellcome Trust PhD programme. Graduating with a degree in Microbiology (University of Leeds), Dan embraced the more mechanistic and structural aspects of the Wellcome programme and has matured into a bona fide electron microscopist. During his time in Leeds he solved the highest resolution structure of BK polyomavirus in solution and bound by a physiologically relevant receptor molecule, leading to two first author publications. Further, he collaborated extensively with virologists around the world and played an integral role in understanding the structures of a number of picornaviruses. Dan's superb data and his natural presentational skills were put to good use when he was awarded the Young Microbiologist of the Year awardin 2017. Dan is currently undertaking post doc work in the lab of Prof Frank van Kuppeveld in Utrecht.

Andrew, Dan and Neil
Congratulations Dr Panou!
Margarita Panou successfully defended her thesis, which described her three years of study to identify the roles of host ion channels in the BK polyomavirus life cycle. She was funded by Kidney Research UK and quickly became an integral member of the group. Margarita set up many of the assays we now routinely use to study BK virus in the lab, and through her perseverance and dedication we produced a significant degree of data that allowed the BK group to expand. Her work contributed to two manuscripts (Hurdiss et al., 2016 and Panou et al., 2018) with a third in preparation. She was examined by Professor Ugo Moens from the University of Tromso, Norway and Dr Andy Tuplin from Leeds. Margarita plans to continue in science back home in Greece, and we wish her well!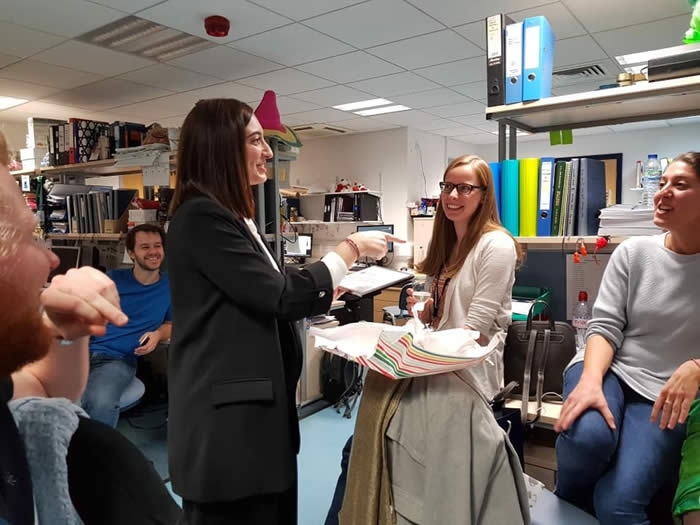 The group gives Margarita a joke "thank-you card" from a past undergraduate project student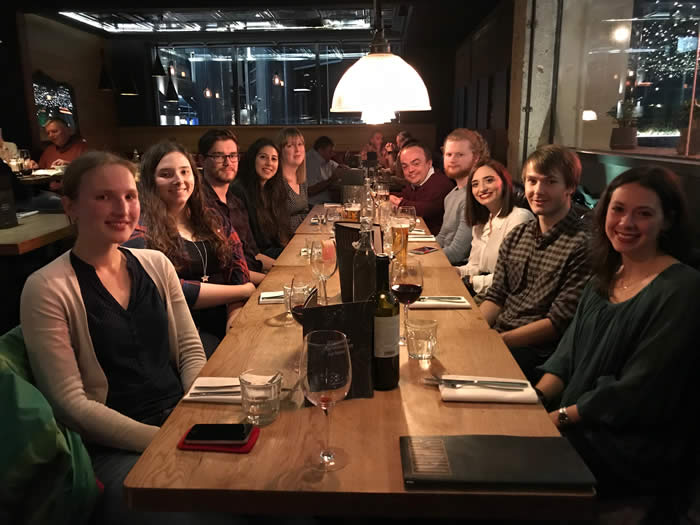 Celebration meal (L-R): Corinna, Molly, Ethan, Michelle, Gemma, Chris (alumni), David, Margarita, David and Eleni
September 2018
Are you an ambitious, hard working scientist looking for a post-doctoral or research technician position in DNA tumour virology?
We are looking for an exceptional post-doctoral research fellow Vacancy to work on an MRC funded project (Human papillomavirus hijacking of the epidermal growth factor receptor via its oncogenic ion channel, the E5 viroporin: a new mechanism of virus-driven pathogenesis) studying the third oncoprotein of HPV called E5. This protein is less understood in comparison to E6 and E7, although work from our group has shown that E5 plays roles in the virus life cycle and is a member of the virus coded ion channel family of viroporins. This position aims to increase our understanding of how E5 regulates critical host processes in keratinocytes. It will make significant use of established primary cell culture models and will develop new models in oral keratinocytes. The post-doctoral fellow will be assisted by a technically excellent research technician vacancy. Candidates for both positions must be passionate about virology and have the drive to generate data, publish manuscripts and to increase our knowledge of this critical human pathogen. The deadline for application is 5th October 2018 and shortlisted candidates will be called to interview soon afterwards. Informal requests for further information should be submitted to a.macdonald@leeds.ac.uk
Manuscript providing key insights into metastatic potential of Merkel cell polyomavirus driven cancers published in PLoS Pathogens
The results of our most recent collaboration with the Whitehouse and Mankouri groups has been published in PLoS Pathogens. In this project we idenitfied that host sheddase enzymes - which are responsible for cleaving extracellular proteins such as components of the extracellular matrix - are the targets for the virus coded small tumour antigen (ST). ST increases expression of these cancer associated sheddase factors, and subsequent blockade of their activity hinders the migration of merkel cell carcinoma cells. Importantly, increased levels of the sheddase proteins are readily detectable in tumours from patients with merkel cell carcinoma. Our work concludes that sheddase expression may be a novel biomarker for this cancer and that inhibitors targeted at impairing sheddase function might serve as a therapeutic option for treating merkel cell polyomavirus associated cancer. This is the 3rd manuscript to be published in 2018 on merkel cell polyomavirus from our collaborative groups in Leeds, and in each case the major contribution came from PhD students in our groups.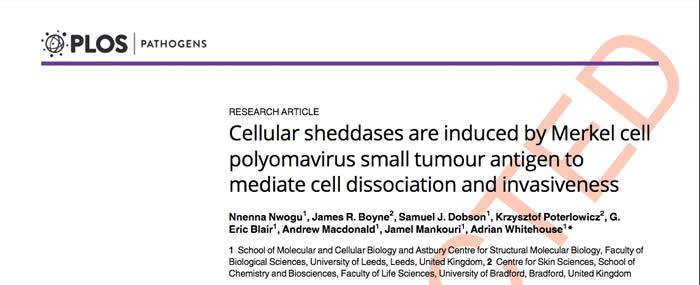 August 2018
Manuscript identifying Imino Sugars as novel E5 inhibitors accepted in Antiviral Research
Ever since we demonstrated that E5 functions as a virus-coded ion channel - or viroporin - we have searched for effective small molecule inhibitors that serve to block this function. These inhibitors could function in two key ways; firstly they may form potential anti-viral compounds targeting HPV infected cells, and secondly they could serve a more fundamental purpose to uncover how E5 functions in cells. In a manuscript accepted in AntiViral Research we now show that both long and short chain imino sugars are potent inhibitors of E5 channel activity in vitro and that they block the E5-mediated activatin of epidermal growth factor receptor (EGFR) signalling in keratinocytes. This is the first study to directly link E5 viroporin function with EGFR activation and given the importance of this pathway in the productive stages of the virus life cycle it implies that blocking E5 channel activity might be a viable therapeutic strategy for maladies where HPV is not integrated. This project will be continued upon appointment of our new MRC-funded post-doctoral researcher.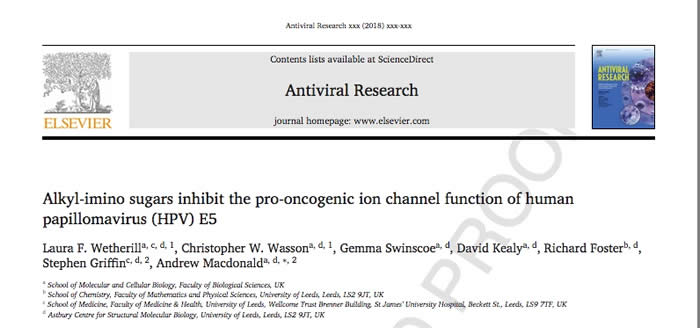 Conference success
Sam Dobson (Whitehouse lab) and Ethan Morgan enjoying the delights of Madison
Once again we had an amazing time at the DNA Tumour Virus conference in Madison, Wisconsin. The group was represented by Ethan and Andrew, who between them gave 3 talks! Overall the science was excellent and only matched by the quality of the local beers. New ideas were formed, collaborations were kindled and we teased the research community with our latest data. Next years' meeting will be held in Trieste Italy, and will be very special as we celebrate 50 years of the meeting.
July 2018
A busy month for manuscript submissions
The group has been busy busy busy this month! As well as re-submitting an E5 manuscript to Antiviral Research in which we describe the inhibitory effect of novel viroporin inhibitors on E5 function, we have also submitted two new manuscripts. The first manuscript describes our new project studying the link between HPV cancers and deregulation of the Hippo signalling pathway. Hippo is an essential pathway controlling organ size and cell proliferation. It is often subverted during cancer. Work from Ethan in the group - with excellent help from two MBiol students - highlights how HPV oncoproteins suppress expression of a critical regulator of Hippo in order to maintain cell proliferation in cervical cancer cells. The second manuscript is the culmination of a long term collaboration with the Griffin lab at the University of Leeds. The Griffin group focusses on Hepatitis C virus (HCV) a major cause of liver cancer. In this manuscript we show a novel function of the p7 viroporin and furthermore describe the generation of potent small molecule inhibitors of this ion channel. Both manuscripts have been uploaded as Pre-prints to the Biorxiv, as part of our ongoing commitment to communicating our science in a timely and transparent manner.


Manuscript linking infection with BK virus and HPV to bladder cancer accepted in Scientific Reports
A collaborative project headed by colleagues at the University of Birmingham has undertaken the largest virus screening to date in urothelial bladder carcinomas to test the hypothesis that these cancers might have a virus origin. Our data found that the presence of HPV DNA sequences is extremely rare in these cancers, whilst the presence of BK polyomavirus was more common, but was still only detected in less than 10% of cases. Whilst our data do not discount that hypothesis that oncogenic viruses might contribute towards bladder cancer, they are unlikely to be a common causative agent. This study is incredibly important given the increased interest in linking oncogenic virus infection with a number of malignancies including bladder cancer. Our study highlights the need for more research in this area.
Research on the HPV E5 oncoprotein funded by the MRC
The poorly understood E5 oncoprotein has been a major focus of research in the Macdonald group over the last 6 years. Our group has made a number of critical discoveries which have illuminated the role of E5 both in the HPV life cycle and in pathogenesis. These include the first description of E5 as a virus coded ion channel (viroporin) and dissecting that a major target of E5 is the epidermal growth factor receptor (EGFR), through which E5 deregulates a number of critical host pathways. In recognition of our work we have recently received funding from the Medical Research Council (MRC) to continue these studies for a further 3 years. The grant will fund the salaries of a post-doctoral research fellow and a research technician for 3 years and also provide considerable consumables funding to allow us to expand our studies into head and neck cancers and to generate primary cell culture models in oral keratinocytes. Expanding our studies into oral keratinocytes is a critical expansion of our work given the alarming increase in HPV associated oral cancers. Despite this increase, there is a lack of understanding of the molecular virology of HPV in this important anatomical niche.

June 2018
Congratulations Ethan Morgan on your Wellcome Trust ISSF award
Ethan Morgan, a final year PhD student in the group has just been awarded a prestigious ISSF award from the Wellcome Trust to allow him to transition to independence and to establish his own research niche. Ethan will continue his studies in the group for a further year, taking advantage of our excellent models for study of HPV associated cancers, to develop his interest in novel host factors that contribute to transformation. At the end of the ISSF funding, Ethan should be in an excellent position to apply for longer and larger sources of funding for his new research. This fellowship was built on Ethan's exciting recent findings that help to elucidate how HPV transforms cells.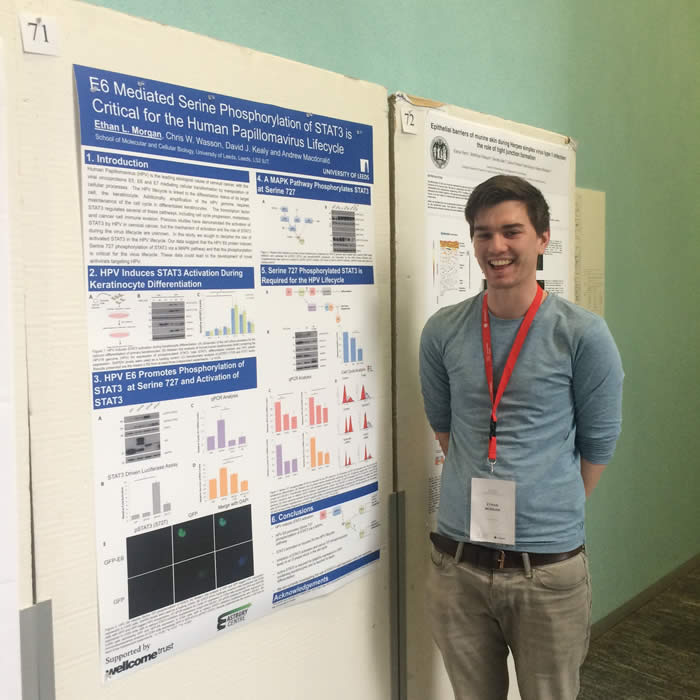 Ethan presenting his work at the Viruses meeting in Basel, Switzerland
April 2018
New PhD student in the group
We have just heard the exciting news that James Scarth has been awarded a Faculty of Biological Sciences Scholarship to undertake his PhD in the group. James hails from Leeds and has recently completed a degree in Natural Sciences at the University of Cambridge. He will join the group in September to work on novel host oncogenes that are targeted by cancer-associated HPV.
Microbiology Society success!
The group had great representation at this years' Microbiology Society Spring meeting in Birmingham, UK. In all we had a bumper number of talks with Eleni, Michelle, Ethan and Gemma all giving talks in the DNA virus workshop and Molly presenting the results of her MBiol project at the poster session. All the talks were well-received with some excellent advice provided by colleagues from far and wide. Amongst the excitement of the event there was some sadness as this is Andrew's last meeting as a member of the Virus Division, which lasts for 3 years.
Amongst the attendees we noted past lab member Suki, who now works with Mark Harris in Leeds, who appears to have been rapidly promoted to an Editor of Journal of General Virology!
March 2018
Identification of STAT3 as a critical host factor in HPV replication and in HPV-positive cancers published in PLoS Pathogens
Using a phosphorylation analysis array Ethan Morgan, a Wellcome Trust funded PhD student in the group, observed that the oncogenic transcription factor STAT3 was highly phosphorylated in primary keratinocytes containing the cancer causing HPV18. Based on these data Ethan decided to focus his PhD studies on deciphering the importance of STAT3 for the HPV life cycle. Using a combination of primary culture models and cancer cell lines he demonstrated that active STAT3 is required to maintain a cellular environment conducive for HPV replication, and that loss of active STAT3 cripples HPV replication. Moreover, using a large panel of cervical cancer cytology samples he showed that active STAT3 correlates with cervical disease progression. This tour de force involved Chris and David from the Macdonald lab as well as collaborators from Dundee, Cambridge and Birmingham and is now available as an uncorrected proof on the PLoS Pathogens website. Ethans next tasks are to understand how STAT3 is activated by HPV and to demonstrate a requirement for STAT3 in HPV-mediated transformation.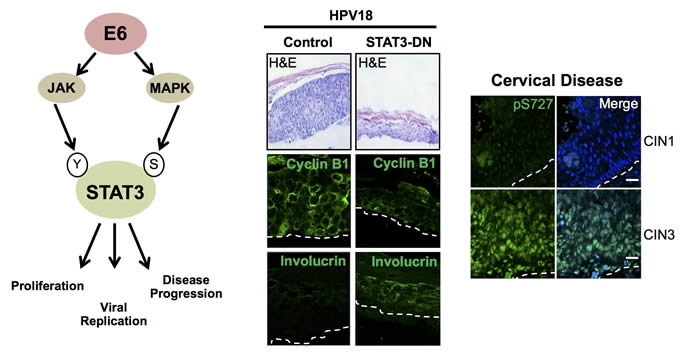 Manuscript describing critical role of agnoprotein in BK virus release published
Our work describing a critical role for the agnoprotein in release of BK virus from kidney cells has been published in the International Journal of Molecular Sciences. This work was funded by Kidney Research UK and work was mainly undertaken by Margarita Panou and Emma Prescott in the group. Using a knockout strategy we generated a BK virus lacking agnoprotein expression. Whilst this virus replicated to normal levels, we noted a profound reduction in the level of virus released from infected cells. Upon further analysis we determined that virus particles were being generated but were trapped in the nucleus. Moreover, an interaction between agnoprotein and a host protein termed alpha SNAP was essential to allow BK virus release from cells. This work was a collaboration with colleagues in EM in Leeds (Ranson) and in Cambridge (Crump). Future studies will aim to understand the mechanisms of agnoprotein function in BK release.

February 2018
Our first pre-print
We have just ventured into the brave new world of academic pre-prints by submitting our work on the BK virus agnoprotein to Preprints.org whilst it is out for peer review. Hopefully this will give us an opportunity to share our research with a global audience whilst the data is being reviewed for publication. The project itself highlights that the small auxillery protein called agnoprotein, which is expressed by a minority of polyomaviruses, is essential for the release of infectious BK virus particles during the BK virus life cycle. Loss of agnoprotein results in a build up of infectious virus within the host cell and a significant loss of the virus from the media. Specifically, agnoprotein appears to be necessary for mediating the release of virions from the nucleus of an infected cell. This was an excellent collaboration between the Macdonald and Ranson labs in Leeds and Colin Crump's lab at Cambridge.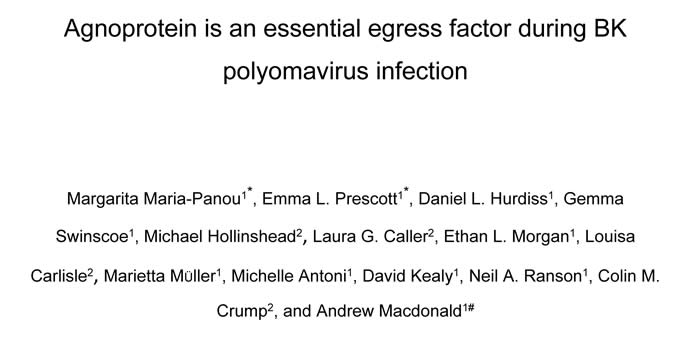 Dan Hurdiss selected to represent the University of Leeds at the 2018 Lindau Nobel Laureate Meeting
Congratulations to Dan on being selected to attend such a prestigious event. Dan was nominated to attend by the University of Leeds and the Royal Society. The event allows brighht young scientists from around the globe to interact with Nobel prize winners. This is a remarkable opportunity for Dan and very well deserved. News like this really makes me happy as a supervisor!
Dan Hurdiss and a bear!
Study demonstrating a role for host chloride channels in Merkel cell carcinoma published in Journal of Biological Chemistry
This research was part of a collaboration with the Mankouri and Whitehouse groups demonstrating that CLIC channels are necessary for the cell motility phenotype observed in Merkel cell carcinomas. These channels are integral to the host pathways regulated by the Merkel polyomavirus small Tumour Antigen and their blockade reduced oncoprotein-mediated cell motility.

Farewell Sofie!
The lab says a fond farewell to Sofie Trummer, who has now completed her Internship in the lab. Sofie will now return to Germany to continue her studies. During her time with us Sofie produced a substantial amount of data. More importantly she developed a taste for fish and chips (with vinegar) and curry! We are pleased to have provided Sofie with a taste of the cosmpopolitan lifestyle available in Leeds.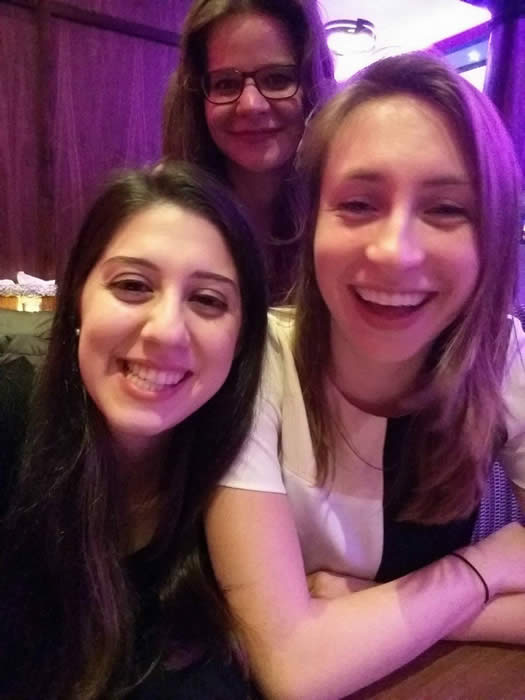 Front left - Michelle, Aniek and at the back is Sofie
January 2018
Welcome to Aniek Meijers!
Aniek is a student in the Masters programme (Infection and Immunity) at the Utrecht University in the Netherlands. She is funded through an Erasmus Scholarship to work in the lab for 6 months to understand the molecular mechanisms of a host oncoprotein that we believe might contribute to HPV pathogenesis. We hope that you enjoy your time in the UK Aniek!
Our studies on the mechanisms of Merkel cell polyomavirus metastasis are published in Journal of Virology

December 2017
Our E5 manuscript is published in Oncotarget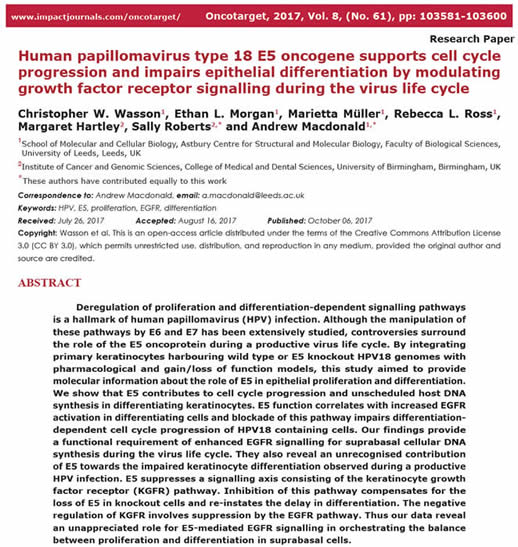 November 2017
Welcome to Eleni!
Eleni-Anna Loundras joins the group as a new KRUK-funded Post-Doctoral researcher. She will spend the next three years studying the role of host ion channels in the BK virus life cycle. In particular she will determine whether drugs that block these channels are viable candidates as anti-viral therapeutic agents. Eleni is a Leeds alumnus and undertook her PhD studies with Nic Stonehouse and Mark Harris focussing on the Foot and Mouth Disease virus (FMDV). Therefore she doesnt have to move far - literally to the other side of the lab and office!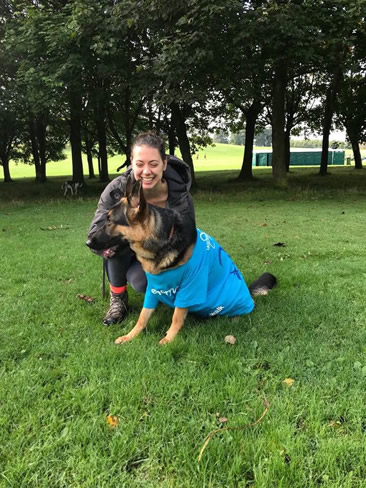 Annual Yorkshire Kidney Research Fund Ball
Members of the group attended the annual YKRF fund raising ball in Leeds for the usual mix of food, wine, auctions and silly games! The ball is of tremendous importance as it serves as the major fund raising event for YKRF. Our group has been fortunate to receive significant funds from YKRF to pursue our analysis of polyomavirus biology.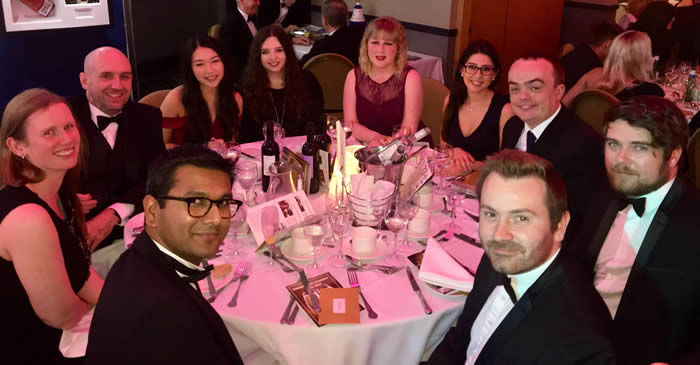 October 2017
Welcome to Molly Paterson!
Molly is a final year Integrated Masters student based at the University of Leeds. She will be undertaking her extended laboratory project in our group analysing the mechanisms by which HPV inactivates tumour suppressor proteins in cancer cells. Welcome to the madhouse Molly!

Left to right - Suki (last year's MBiol student and now a BBSRC PhD student with Prof. Mark Harris (Leeds), Molly, Gemma and Michelle.
Welcome to Sofie Trummer!
Sofie is an undergraduate student from Brandenburg University of Technology in Germany. She is funded on an Erasmus Scholarship to undertake a 4 month research project in the group. She will be working with Chris exploring how HPV oncoproteins activate mitogenic signalling pathways in HPV cancer cells. We hope you enjoy your time in the UK Sofie!
Manuscript accepted in Journal of Virology provides mechanism for Merkel cell polyomavirus induced cancer metastasis.
A manuscript authored by Gabriele Stakaityte "Merkel cell polyomavirus small T antigen drives cell motility via Rho-GTPase-induced filopodia formation" provides important new evidence for the mechanisms by which Merkel cell polyomavirus induces metastasis. It provides insights into how the small tumour antigen of Merkel polyomavirus is able to deregulate filopodia formation in Merkel cells. These fundamental biological insights are important because they may help to explain the unusually high metastatic potential of cancers caused by this oncogenic virus. This work was performed as part of a long running collaboration with the laboratoties of Adrian Whitehouse and Jamel Mankouri at the University of Leeds.
September 2017
Kidney Research UK funded Post-Doctoral position available
The Macdonald group has been awarded £199,824 for a three year project grant to study the role of host proteins in BK virus entry and infection. In particular, the project will focus on identifying existing clinically available drugs to repurpose for the treatment of BK virus associated disease. The advertisement for the position can be found at vacancy and the deadline for application is 27th September 2017. If you are interested in applying please contact Dr Macdonald directly (a.macdonald@leeds.ac.uk).
Dan Hurdiss wins the UK Young Microbiologist of the Year competition!!
Congratulations to Dan Hurdiss on winning the Young Microbiologist of the Year competition 2017. This prize is awarded annually by the Microbiology Society, which is the leading learned society forMicrobiology. The Society's judging panel awarded the prize for his talk 'High-resolution cryo-EM as a tool to study virion assembly and cellular entry of BK polyomavirus, a major cause of kidney transplant rejection'. Dan is a final year Wellcome Trust funded PhD student in the lab and has been working on a collabroative project with Neil Ranson, a world leading expert in electron microscopy. Dan's success follows on the footsteps of Ethan Morgan, another PhD student in the group, who was runner up in 2016! For more information on the prize daniel-hurdiss-wins-the-2017-young-microbiologist-of-the-year-prize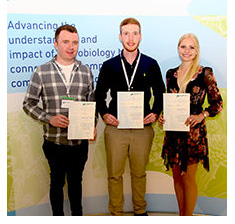 Dan in the centre of the picture receiving his winners certificate, with the two runners up.
August 2017
Manuscript accepted in Oncotarget demonstrates the importance of E5 during the HPV18 life cycle
A manuscript authored by Chris Wasson "Human papillomavirus type 18 E5 oncogene supports cell cycle progression and impairs epithelial differenitation by modulating growth factor receptor signalling during the virus life cycle" provides important evidence that the E5 oncogene plays a critical role during the productive HPV18 life cycle. It provides the first evidence for upregulation of the epidermal growth factor receptor in keratinocytes during a HPV18 infection. Previous to this a number of publications highlighted the importance of EGFR for E5-mediated transformation but little was known of the role of EGFR during a normal HPV infection. Our data not only provides a key role for E5 mediated EGFR activation in driving keratinocyte proliferation but also identifies a novel role for this pathway in delaying the onset of keratinocyte diferentiation. It is our hope that this manuscript reinforces the need for further study into this poorly characterised oncogene and future work in our laboratory will focus on identifying the molecular mechanisms by which E5 regulates the EGFR pathway. This work forms part of a fantastic collaboration with Dr Sally Roberts at the University of Birmingham and was funded by the MRC and CRUK.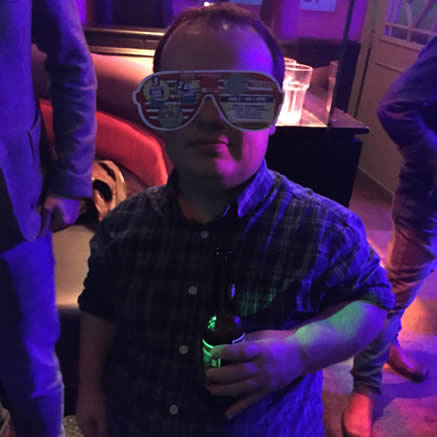 Dr Wasson living the high-life at a Microbiology Society conference in 2015!
July 2017
Grant Success!
The Macdonald group has been awarded project grant funding from Kidney Research UK. The money will provide funding for a post-doctoral fellow for three years to further investigate host factors critical for the BK virus life cycle and in particular test clinically available drugs for their ability to present BK infection. It builds on successful research by a KRUK funded PhD student, Margarita Panou. The advert will be available on the University of Leeds web site very soon. If you have recently graduated from your PhD studies and wish to enquire, please email Andrew directly (a.macdonald@leeds.ac.uk).
Dan Hurdiss receives International Papillomavirus Society prize at the DNA Tumour Virus meeting in Birmingham
This is the second prize for Dan in the last 3 months! Dan presented his most recent findings on BK virus entry at the DNA Tumour Virus meeting, the most important meeting for tumour virologists, and his presentation was chosen by a panel of experts as the best of the conference. Dan received a 500 Euro prize and a certificate from Professor Denise Galloway at the banquet to mark the end of the conference. The prize highlights that research in the Macdonald group is considered of a high standard within our community. Well done again Dan!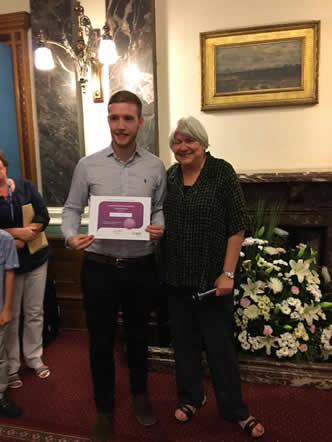 Mohammed Haider graduates with a PhD in Immunology!
Mohammed was one of the first undergraduate project students in the Macdonald group. He worked on the immune evasion strategies of HPV and contributed to a publication in 2015 (Richards et al., 2015). Since graduating from Leeds with a First Class Honours in Microbiology, Mohammed has undertaken Masters study and has now graduated from the University of Aberdeen with a PhD in Immunology. Mohammed's success is testament to the quality of undergraduate students trained in the Macdonald group.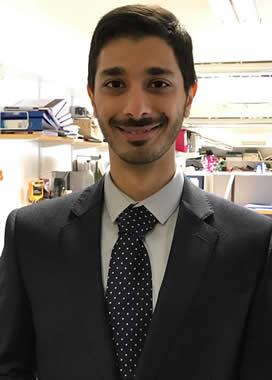 June 2017
David Kealy wins the FBS Post-Graduate Poster Prize!
David Kealy, a second year student in the group, presented his work on the novel HPV E5 binding partner PRAF2 during the annual post-graduate symposium.
April 2017
Dan Hurdiss nominated for Young Microbiologist of the Year award
Dan Hurdiss, a third year PhD student in the group, has received the virus division nomination for the Microbiology Society Young Microbiologist of the Year competition. The prize recognises and rewards excellence in science communication by a Microbiology Society member who is a postgraduate student or postdoctoral researcher, having gained their PhD in the last two years. Dan will present his recent findings on the structural biology of BK virus entry to a panel of microbiology experts in September 2017. This is the second year in a row that a member of the Macdonald lab has been nominated for this prize. In 2016, Ethan Morgan received third prize for his studiies on the deregulation of STAT3 signalling by HPV. Good luck Dan!
February 2017
Andrew gives seminar in Cambridge
This month Andrew had the opportunity to present some of our unpublished work on host factors required for the HPV life cycle and pathogenesis to colleagues at Cambridge University. This was an excellent day and Andrew had lots of opportunities to discuss the work. Apart from missing his train home, because he was too busy talking to people about keratinocyte differentiation, the day was a success!!
Chris Wasson to present his work at the British Society of Dermatology meeting in Manchester.
Chris will present some of his latest work on Melanoma skin cancer to the Society. Chris submitted two abstracts to the meeting and he was accepted for both of these. This is an exciting opportunity to opresent some of our most recent work on novel avenues of research being pursued in the group.
January 2017
Abstract success at the Spring Microbiology Society meeting.
Congratulations to Ethan, Dan, Margarita, Gemma and David who have all secured oral presentations at the upcoming Spring Microbiology Society meeting in Edinburgh. Such a large number of presentations is testament to the hard work of the group and the exciting science being undertaken on HPV and BK viruses.
Well done Hussein on the acceptance of your paper in Oncotarget.
Congratulations go to Hussein Abdul-Sada, who was a PhD student in the group until 2016, on the publication of his latest work in the cancer journal Oncotarget. Hussein was funded by the Iraqi government for three years to undertake a PhD studying the oncogenic Merkel polyomavirus. Hussein focussed on the immune evasion abilities of this virus, and his latest publication details a biochemical analysis of the molecular basis for inhibition of the NF-kappa B pathway by the small tumour antigen of Merkel polyomavirus. This is the latest in a list of papers from Hussein, and will not be the last! The work was performed in collaboration with Prof. Adrian Whitehouse at Leeds and Dr Simon Arthur at Dundee.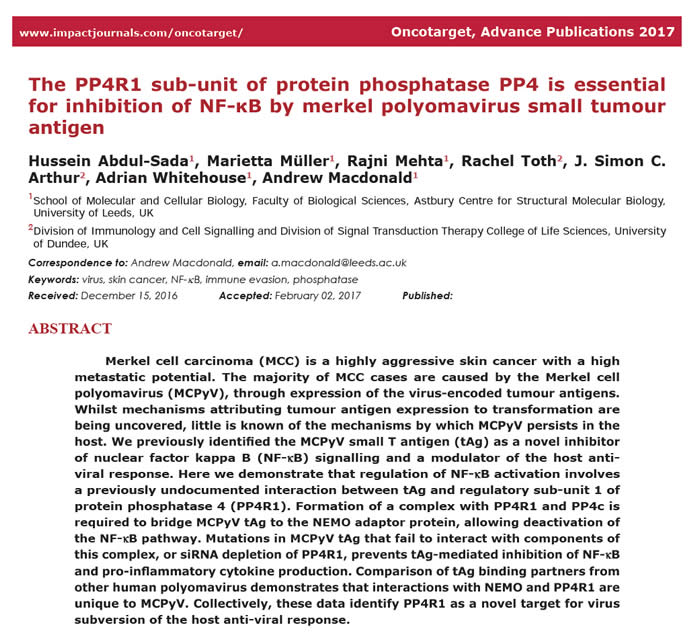 September 2016
Ethan Morgan receives third prize in the UK Young Microbiologist of the Year Competition.
Well done to Ethan Morgan (pictured below at a recent conference in Montreal, Canada), a first year Wellcome Trust funded PhD student in the group for securing third place in the recent Microbiology Society competition. This is a trememndous accolade for Ethan, who presented his recent findings on the activation of the proto-oncogene Stat3 by human papillomavirus to an audience of Microbiologists from around the UK. Ethan competed against nine other finalists in London, who had all been nominated from the hundreds of eligible candidates at the Spring Society for Microbiology meeting in Liverpool. The finalists spanned research in all areas of Microbiology ranging from eukaryotic microbes to viruses. Ethan follows in a long line of finalists from the University of Leeds, including his supervisor, Andrew Macdonld, who won the competition in 2002.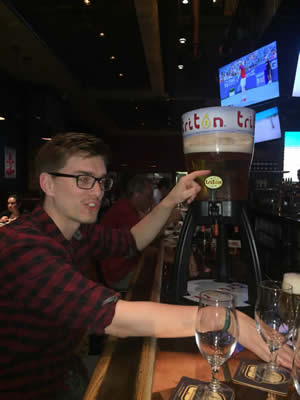 August 2016
Congratulations to Adam Dale on your award of a Wellcome Trust Research Training Fellowship.
Adam was an intercalating medical student studying Microbiology and one of the first to join the Macdonald group as a Wellcome Trust funded summer placement student in 2008. He pioneeered some of our early work on the immune modulator Optineurin. Since graduating, Adam has paved a career in medical research and this latest funding success is testament to his abilities. The project titled "Defining the immune response to nasopharyngeal colonisation by the commensal Neisseria lactamica", is based at the University of Southampton and aims to understand how we might in future be able to manipulate carriage of nasopharngeal commensal bacteria (some of which are potential pathogens), through immune modulation and follows on from Adam's earlier published work[Clin Infect Dis. 2015 May 15;60(10):1512-20]).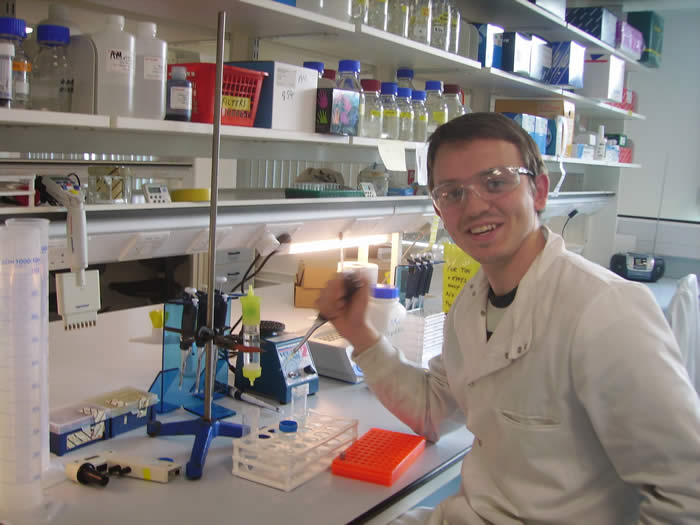 Adam, back in the early (clean) days of the lab!
July 2016
Congratulations Ainaa!!!!!!!!!!
Well done to Ainaa who has just passed her MRes viva examination. Ainaa worked on a project to better understand the minor capsid proteins of BK polyomavirus. These two structural proteins are very poorly understood. During her one year project, Ainaa identified a number of host proteins that bind to the minor capsid proteins and ongoing work in the group aims to decipher their contribution to the BK life cycle. Ainaa was always happy, despite the usual lab set backs, she will be missed as she heads back to Malaysia to continue her career in research.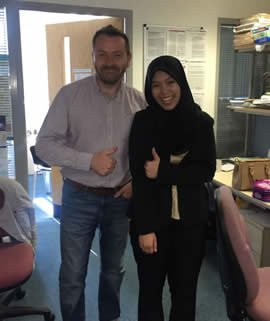 Conference success!
Well done to Ethan and Margarita who both gave superb presentations at the International DNA Tumour Virus meeting in Montreal Canada. This is the most important conference in our field and is attended by a wide array of researchers studying aspects of DNA tumour virus biology. This year the group had a record number of presentations - 4 talks and a poster - and received extremely positive feedback from our peers. Well done everyone!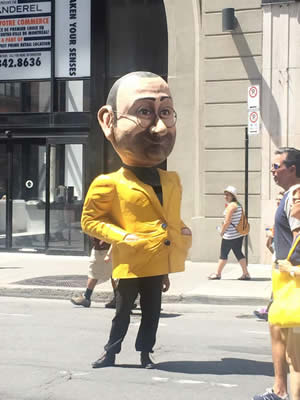 One of the many sights of Montreal!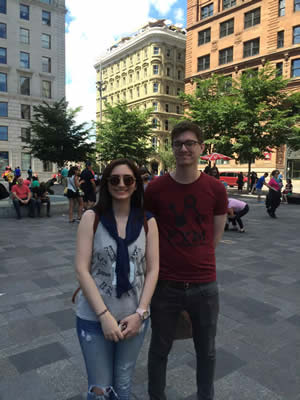 Ethan and Margarita in down-town Montreal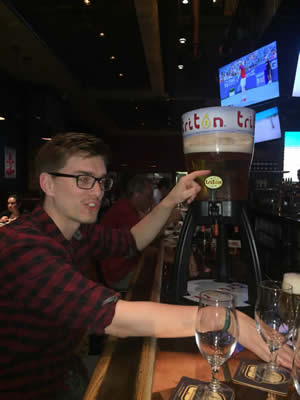 Ethan in charge of essential liquid nourishment!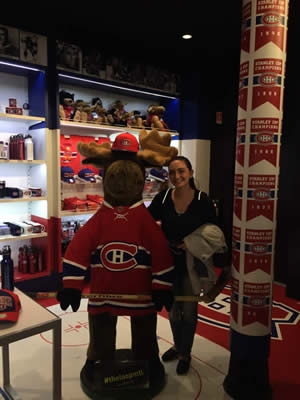 Margarita has a new friend!
June 2016
Congratulations to Hussein and Ainaa
Who submitted the final, corrected version of his thesis to the University of Leeds Graduate School this month. Hussein has completed a three year PhD, funded by the Iraqi Government, aimed at understanding the immune evasion strategies of Merkel cell polyomavirus - the causative agent of an aggressive skin cancer. Hussein, proudly provided Andrew with a copy of his thesis to add to the collection. Andrew has now successfully supervised three PhD students (Laura, Marietta and now Hussein) - a 100% success rate! Congratulations also go to Ainaa in the group who has submitted her Masters by Research thesis and now awaits her viva examination.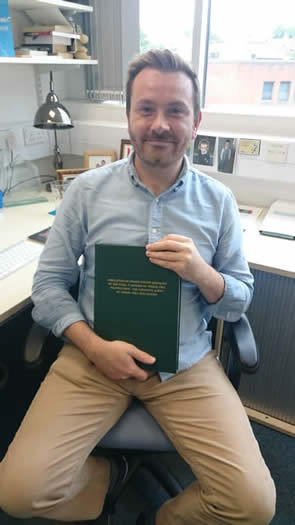 May 2016
Opportunity for two PhD studentships in the lab.
The group has been awarded a KRUK funded studentship to work on a project called Identification of host and virus factors necessary for BK virus infection. This three year studentship is funded to start in September 2016 and the applicant will join our growing polyomavirus research group. For a project description please see:
https://www.findaphd.com/search/ProjectDetails.aspx?PJID=58578&LID=735
Informal inquiries should be sent to Dr Andrew Macdonald a.macdonald@leeds.ac.uk. Deadline 3rd of June 2016.
A second studentship, titled Molecular basis of transformation by tumour viruses: revealing the mechanism of E5 ion channel activity, is one of six projects available for the annual CRUK Centre studentship competition: https://www.findaphd.com/search/phddetails.aspx?CAID=2806&LID=2639 
One studentship will be funded. Details of the project are available at: http://medhealth.leeds.ac.uk/info/1450/scholarships/1749/cancer_research_uk_funded_phd_studentship and informal enquiries should be sent to Dr Andrew Macdonald a.macdonald@leeds.ac.uk. Deadline 3rd of June 2016.
Congratulations to Ethan Morgan on his nomination for the Young Microbiologist of the Year prize!
Ethan is a first year Wellcome Trust funded PhD student in the group, working on the interactions between HPV and keratinocytes that are required for virus replication and pathogenesis. His recent presentation at the Microbiology Society meeting in Liverpool earned him the nomination for the award. Ethan will compete against other young, talented microbiologists in a final round of the competition in September. If Ethan is successful, he will be the fourth recipient of the award from Leeds Virology. Andrew Macdonald was the first winner from Leeds, way back in 2002 (when he was young!)..........
March 2016
Our first BK paper is now available online!
The lab's first structure of a human pathogen, with Daniel Hurdiss, Ethan Morgan, Margarita Panou, Emma Prescott and in collaboration with Neil Ranson's lab. This is BK polyomavirus - a major cause of kidney transplant rejection. Just out in "Structure". 10.1016/j.str.2016.02.008.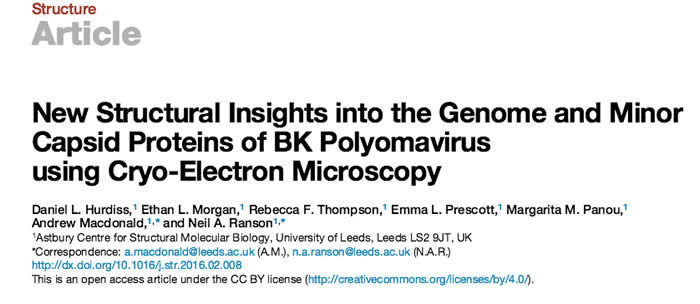 Well done Hussein on submitting your thesis!
Hussein Abdul-Sada has successfully submitted his thesis, which detailed a comprehensive analysis of the mechanisms by which Merkel cell polyomavirus small T antigen is able to down-regulate inflammatory signalling. He will be examined by Dr Matthew Reeves (UCL) and Professor Eric Blair (University of Leeds). I think the photos demonstrate how happy Hussein is to have written the thesis!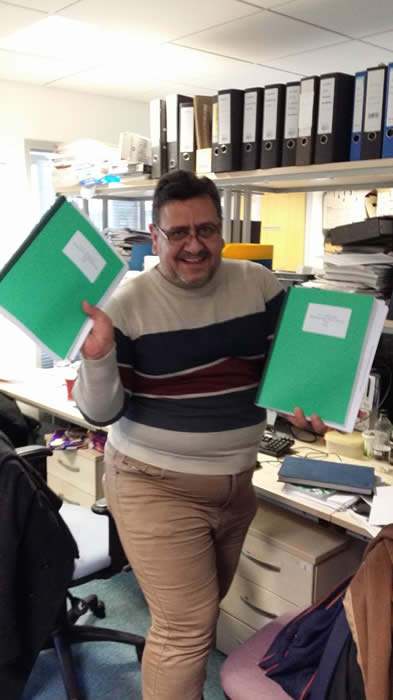 February 2016
Congratulations to Jamie and Rob on their new jobs!
Well done to Jamie Royle and Robert Ward, two final year MBiol students in the Macdonald lab, on their job offfers. Jamie will be taking up a highly competitive PhD studentship at the MRC and University of Glasgow Virus Centre, whilst Rob takes up a graduate position in the city! This is excellent news. Both Rob and Jamie worked very hard this last year in the group and should graduate with very good degrees. We wish them both the very best of luck in the future.
January 2016
First BK publication from the group!
Congratulations to Dan Hurdiss, Ethan Morgan, Margarita Panou and Emma Prescott from the group as our manuscript is accepted by Structure. In this manuscript we describe the highest resolution cryo-EM structure of any polyomavirus and define the first structural information on the minor capsid proteins and viral genome. This is a collaboration with Dr Neil Ranson at Leeds and heralds the first of what we hope are many joint publications. The work originated from a successful Wellcome Trust PhD rotation project by Dan Hurdiss, which produced a model for the native BK virion. This was followed by a successful rotation by Ethan, where he obtained a model for a VP1 only BK virus like particle. Using this information we were able to identify areas of density corresponding to the virus minor capsid proteins and assign interactions between the capsid proteins and genome.
BK work featured in Kidney Research UK report to the House of Lords
Work from the group plays a prominant role in a report delivered to the House of Lords by Kidney Research UK. The report details the importance of research into kidney diseases and highlights the continued need for support into the understanding of both the causes of disease and identification of therapies. The report will be delivered to the House of Lords on 19th January by a delegation from Kidney Research UK and Andrew Macdonald. This report highlights the importance of the work undertaken in our group on BK virus associated kidney disease and is a great testament to the hard work of the team!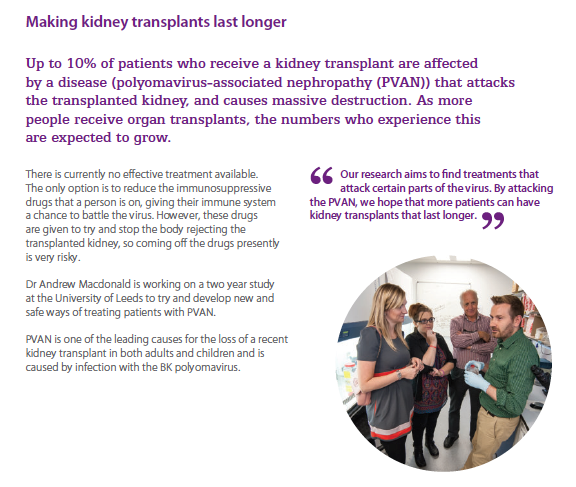 PhD opportunity in the DNA Tumour Virus Group!
DiMeN Doctoral Training Partnership: Unraveling the role of Hedgehog (Hh) signalling in the human papillomavirus (HPV) life cycle and HPV-associated cancers
University of Leeds MRC DiMeN Doctoral Training Partnership
Dr A Macdonald, Dr N.A. Riobo-Del Galdo
Application Deadline: 22 January 2016
See FindaPhD for project details
DiMeN (Discovery Medicine North) DTP studentships are funded for 3.5 years and include the following annual package of financial support over the duration of the studentship:
•A tax-free maintenance grant set at the UK Research Council's national postgraduate rate
•Full payment of tuition fees at the Home/EU rate
•A research training support grant (RTSG) to support your research studies (managed through the host institution)
•Opportunity to apply to our Flexible Fund to enable you to attend training workshops and visit research groups to advance your skills training.
Deadline 22nd January 2016
November 2015
Andrew Macdonald appointed as external examiner for the BSc Biomedical Sciences programme at the University of Birmingham.
Andrew has been appointed to this position for the next four years. The role involves ensuring academic rigour and quality are employed on the BSC Biomedical Sciences programme and that teaching quality standards are adhered to.
October 2015
Sam Dobson successfully defends his thesis!
Well done to Sam to Sam for passing his MRes degree! Sam spent a year in the lab researching aspects of the function of the agnoprotein from BK polyomavirus. He successfully defended this work in a viva exam with external examiners Dr Alain Kohl (University of Glasgow) and Professor Eric Blair (University of Leeds). A suitable amount of drink and food was present for the celebrations and Sam received some excellent gifts that i am sure he will make full use of! Sam has now left the group and has begun the next phase of his career by undertaking a PhD with Professor Adrian Whitehouse at Leeds.
Congratulations to Jamie, Marietta and Sam on the publication of their review article in Viruses!
Their article, titled" Emerging Roles of Viroporins Encoded by DNA Viruses: Novel Targets for Antivirals?" was published in the journal Viruses today. Lead author Jamie Royle is a final year MBiol in Biochemistry student undertaking his extended laboratory project in the Macdonald group. This publication is testament to the work ethic of the students that work in the Macdonald group and we hope to see many more publications coming from our MBiol students.

PhD studentship opportunities.
We are advertising for a BBSRC funded studentship on the White Rose DTP programme. The project available is titled "Manipulation of proliferation and differentiation signalling pathways by the human papillomavirus (HPV) as a mechanism to deregulate keratinocyte gene expression" and is in collaboration with Adrian Whitehouse at Leeds. This is a three and a half year position and is fully funded for UK students. Anyone interested should take a look at the FindaPhD page http://www.findaphd.com/search/ProjectDetails.aspx?PJID=58578.
Applicants are also invited to apply for our prestigious Wellcome Trust PhD programme on mechanistic Biology. This 4 year programme offers the opportunity to pursue high impact science at the interface between structural and cellular biology. Interested parties should contact Andrew Macdonald for further information and should look at the PhD opportunities web page on the Astbury Centre web page.
Welcome to David Kealy.
David joins the group as a BBSRC funded PhD student to work on the E5 protein and its roles in the HPV life cycle. A biochemistry graduate from York, David kindled his love of viruses whilst on an industrial placement at the Pirbright animal health institute. David's profile picture indicates a love of beer! We are keen to test this.
September 2015
Congratulations to Holli!
Holli Carden has just been appointed as a Research Technician in the group to work on a project in collaboration with Dr Eric Hewitt on interactions between BK virus and the immune system. She will join the lab in Leeds on 1st October 2015.
Jamie and Rob join the group
Jamie Royle and Rob Ward have joined the group to undertake their extended lab projects for the MBiol degree in Biochemistry. Rob will be working on novel host factors that regulate the HPV life cycle with Chris Wasson, whilst Jamie will work with Ethan to initiate our studies of the JC polyomavirus.
Welcome Naureen.
The lab welcomes Naureen Ilahi, an IRSIP Fellow from Pakistan, who has joined the group for 6 months to work on a collaborative project on the HPV E5 protein. We wish Naureen every success in her time with us.
August 2015
Oncotarget Commentary accepted for publication!
Our recently submitted commentary to the cancer journal Oncotarget - Stathmin drives virus-induced metastasis - has just been accepted for publication. August is turning into an excellent month for publications in the group.
Kathryn's paper is also published!
More publication success. Kathryn Richards' work uncovering a novel Toll-like receptor (TLR)-independent mechanism by which the immunostimulatory drug imiquimod activates inflammation in keratinocytes and how this is targeted by the HPV E7 oncoprotein has just been published in Nature Scientific Reports. Kat was funded by Yorkshire Cancer Research to study immune evasion strategies of HPV and this is her second first author publication on that topic. It follows on from her article published in Journal of Virology in 2014, in which she demonstrated that E7 increases the expression of the anti-inflammatory cytokine binding protein IL18-BP, and that this is able to effectively dampen a localised inflammatory responses (Richards et al., 2014 4173). Together, these two publications highlight the impressive immune evasion capabilities of E7 and once again help us to understand how HPV is able to establish a persistent infection in humans. They also remind us of the power of team work. The recent publication was as a result of a successful collaboration between Andrew's group, with substantial input from Professor Eric Blair (FBS, Leeds) and Dr Miriam Wittmann (FMH, Leeds/Bradford).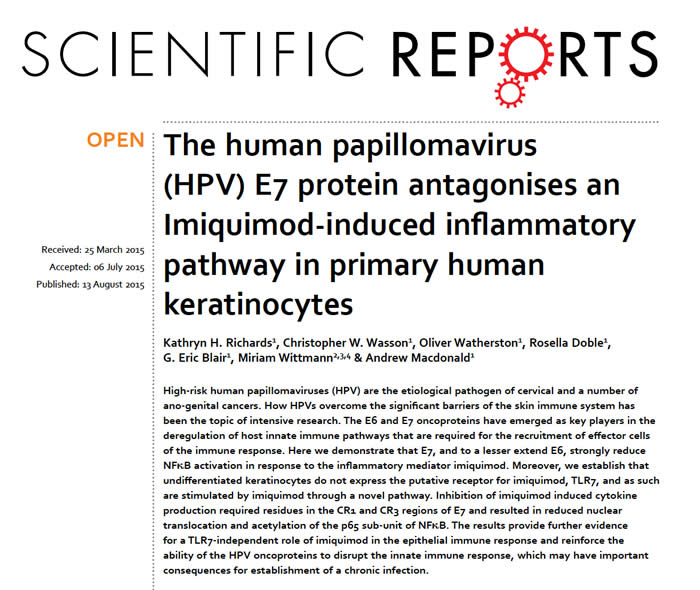 Marietta's paper is published!
Marietta's identification of the novel E5 binding partner, YIPF4, is now published in Nature Scientific Report. The article is Open Access and so can be accessed from any University.

July 2015
DNA tumour virus meeting in Trieste.
Once again it was an amazing DNA tumour virus meeting in the beautiful city of Trieste in Italy. Hosted by Lawrence Banks from ICGEB, we had a bumper crop of talks from Leeds including two given by Andrew. This meeting is a great opportunity to meet up with researchers in the field, discuss the latest research findings and to take numerous outlandish selfies!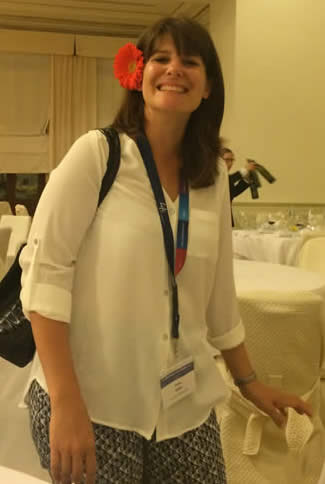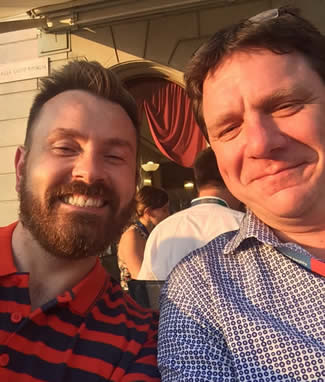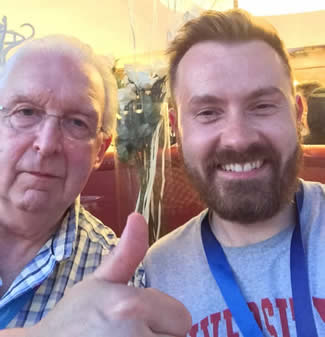 Top; Dr Jo Parish (Birmingham); right Andrew with Dr Neil Ranson (Leeds); bottom Andrew with Prof Eric Blair (Leeds).
Andrew nominated for an Inspirational Lecturer Award
Each academic year the University of Leeds hosts the Partnership Awards, which are an opportunity for the University to celebrate student and staff achievement and form a mechanism to enbolden our commitment to partnership in the student experience at Leeds. Andrew was very proud to hear that he had been nominated for an Inspirational Lecturer Award in recognition for his commitment to providing high quality teaching on the courses he is associated with. Andrew's commitment to teaching is as strong as he desire to undertake world class research and so it was very gratifying to hear that this was appreciated by the students. The transcript from the nomination form is below.
"As a final year student I have been exposed to Dr Macdonald's lectures over three years and each year I have spoken to students across the School, as Course Rep and School Rep, about how well he engages with students in lectures. Dr Macdonald teaches on a vast range of subject areas in the School of Molecular and Cellular Biology including cell signalling, immunology and virology. Regardless of the subject he is teaching he is able to cast the attention of an entire lecture theatre and delivers his message in a clear and encapsulating manner. He has also championed the use of lecture capture across many modules in the school and is someone students feel they can easily approach. I believe Dr Macdonald is a worthy winner of the inspirational teaching award as he leads the way in high quality teaching in the School of Molecular Cellular Biology and visibly practices The Partnership.' "
More publication success!
A study by Kathryn Richards, which defines a Toll-like receptor (TLR) indepednent mechanism by which keratinocytes respond to the inflammatory agent Imiquimodand how this inflammatory pathway is subverted by the HPV E7 oncoprotein has just been accepted for publication by Nature Scientific Reports. Kat's project was at the interface between virology and innate immunity and helps to explore novel pathways that can be activated by clinical compounds such as Imiquimod. Her work increases our understanding of the profoundly immunosuppressive functions of E7 and should lay the foundations for future work in this area. This comes hot on the heels of Marietta's E5 manuscript and is the second publication from the Macdonald group within a month. The project was a collaboration between the Macdonald, Blair and Wittmann groups at Leeds. Congratulations to all!
Publication success!
Congratulations to Marietta who has just had her PhD studies on the novel E5 binding protein YIPF4 accepted for publication in Nature Scientific Reports. This work represented most of Marietta's three years of PhD study and revealed new information concerning the functions of HPV E5. A very well deserved paper and hopefully the first of many for her this year.
May 2015
First BK polyomavirus manuscript submitted to Journal of Virology
The first manuscript on BK polyomavirus has just been submitted. This work, authored by Daniel Hurdiss, a Wellcome Trust rotation student, describes the highest resolution structure of a human polyomavirus using electron microscopy. It stems from a collaboration with Dr Neil Ranson, also at University of Leeds and will hopefully be the first of many BK publications coming from the Macdonald group over this coming years.
Dr Marietta Muller recruited to re-join the Macdonald group
June 1st will see the return of a familiar face to the Macdonald group. Marietta Muller will take up a YKRF funded post-doctoral position to work on the BK polyomavirus. Marietta was a PhD student in the lab from 2011-2014, working on the HPV E5 protein. After leaving the lab she journeyed to South Africa to work on neuroviruses of horses. Her return is very wellcome and we wish her the best of luck with her project.
April 2015
Welcome to Ainaa Adilah who has just joined the group from Malaysia.
Ainaa will be studying for a Masters by Research (MRes) degree at Leeds and will undertake a research project studying aspects of the BK polyomavirus life cycle.
Congratulations to Laura Wetherill on obtaining a Wellcome Trust ISSF Fellowship!!
Laura was Andrew's first PhD student and pioneered the early HPV E5 work in the lab. Amonstg her highlights was the discovery that E5 is a viroporin and the development of the first generation of small molecule inhibitors against the channel activity of E5. She is currenrtly working in Graham Cook's lab at Leeds studying how NK cells respond to virus infection. ISSF funding will allow her to venture into a new field of DNA damage in lymphocytes and to begin her independent research career. Laura's rise to independence has been very rapid and is a testamony to her hard work. We are so very proud of her!
February 2015
More studentship success!
In the long tradition of undergraduate project success stories coming from the Macdonald group, we can once again report success in PhD applications! To date David Busse (3rd year BSc project student) has accepted a place on the prestigious Infection and Immunity Wellcome Trust programme at Imperial. Congratulations Dave! Gemma Swinscoe (MBiol final year extended project student) has accepted a position on the equally prestigious Structural insights into biological systems Wellcome Trust programme here at Leeds. Both students worked very hard to get on these programmes, which are incredibly competitive. Lastly, Sam Dobson (Masters by Research graduate student) has been offered a place on the MRC DTP at Leeds to work with our long time collaborator Professor Whitehouse on RNA processing.
This excellent news is testament to the quality of students that undetake projects in the Macdonald lab. It follows the success of last years cohort of project students who all successfully enrolled on Wellcome Trust studentship programmes in the UK and Ireland.
Funding success!
Once again we have received funding from Yorkshire Kidney Research to continue our efforts to understand the BK polyomavirus. This one year pilot grant will allow us to address a long standing question in BK biology, namely how does the virus travel from the potential infection sites of the respiratory epithelium to take up home in the kidneys. In collaboration with colleagues at University College London, we will address the tissue tropism of BK virus and in particular determine whether the virus can replicate in cells of the immune system. It is hoped that this project will provide another level of detail about this still poorly understood, but medically important, pathogen. So, if you are just finishing your PhD and have an interest in virus-host interactions watch this space for the job advert!
January 2015
The lab welcomes Ethan Morgan
Ethan is a Wellcome Trust rotation student who will be working over the next couple of months to develop novel systems to study interactions between papillomaviruses, polyomaviruses and their host cells.For Ethan this is deja vu since he was last in the Macdonald lab in 2013 undertaking his final year undergraduate project. During that time Ethan established cell systems to study the entire JC virus life cycle in cell culture. We hope that he is equally as productive in this latest project!
December 2014
PhD opportunities within the Macdonald group
Studentship positions are now available to work in the Macdonald group on papillomavirus and polyomavirus biology. Positions are available on the Wellcome Trust scheme and the BBSRC Doctoral Training Programme. These are competition funded positions and will be awarded to the very best students that apply. Applications are through the Faculty of Biological Sciences Graduate School and deadlines are early January 2015.
October 2014
New Undergraduate Project Students join the group
Welcome to our 2014 intake of undergraduate students! This year we have students from a mixture of programmes, with Gemma and Jack undertaking an extended lab project as part of their 4-year MBiol degrees. Gemma will be identifying novel host factors needed for JC virus infection, whilst Jack will be following up on our recent published work by dissecting the impact of Merkel cell polyomavirus small T antigen expression on host inflammatory pathways. We also welcome David Busse, one of our BSc Microbiology students. David joins us after completing a year in industry at Novartis. He will be working on a project to decipher novel host factors necessary for the HPV life cycle and normal keratinocyte differentiation. All three students will play an active role in the group and contribute to publications. We wish them the same success as last year, where all three Macdonald lab students were awarded prestigious Wellcome Trust PhD studentships (Leeds and Dublin).
The lab welcomes Margarita Panou and Sam Dobson
The lab welcomes two new members, Margarita and Sam. Both are part of the rapidly expanding polyomavirus group within the lab and will be working on aspects of BK and JC polyomavirus biology, with the intention of identiying novel anti-viral therapeutics. Margarita is starting a three year Kidney Research UK funded PhD studentship whilst Sam is working towards a Masters by Research degree. We wish them both the best of luck!
More publication success!!
This time for Marietta, with the acceptance of her comprehensive review article on the HPV E5 oncoprotein. Marietta's article will bring readers up to speed on the latest findings concerning this enigmatic oncoprotein. This will hopefully be the first of several publications for Marietta, with the imminent submission of her first research article describing a novel E5 binding partner. The review article "Human Papillomavirus E5 oncoprotein: function and potential target for anti-viral therapeutics" was co-authored by fellow lab members Emma Prescott and Chris Wasson and will feature in an upcoming issue of Future Virology.
Second Merkel Polyomavirus manuscript accepted by Journal of Virology
A second manuscript detailing our analysis of the functions of the small T antigen of Merkel cell polyomavirus has just been accepted by Journal of Virology. This publication was a collaboration with Prof. Ade Whitehouse's group at Leeds and details how this virus oncoprotein subverts a cellular protein called Stathmin in order toderegulate the cell cytoskeleton. Importantly, this work provides a model to explain the highly metastatic nature of this cancer. Congratulations to Hussein, a final year PhD student in the lab, who was an author on the paper. This is Hussein's third publication in less than two year. Hussein plans to publish at least two more papers before he leaves the lab next year!
August 2014
Marietta starts her new job!
Marietta Muller, a PhD student in the group from 2010-2014, has just started her first post-doctoral position in the University of Pretoria in South Africa. It makes me extremely proud to see members of the group doing well! Everyone in the group wishes Marietta the very best of luck with her new life in South Africa and we hope to see lots of papers appearing with her name on them.

July 2014
Chris gives an oral presentation at the International DNA Tumour Virus meeting in Madison, Wisconsin.
Dr Chris Wasson, a PDRA in the group, gave an offered oral presentation at the leading international conference in the field this month. His talk describing his latest findings analysing the role of E5 in the HPV virus life cycle was met with great interes. Chris got to liaise with other leaders in the E5 field, gained useful reagents and met useful colleagues in the field. This is the second year running that Chris has been chosen to present his work at an international conference. Well done Chris!
Andrew to give two invited Plenary presentations at the 19th World Congress on Advances in Oncology and17th International Symposium on Molecular Medicine.
This annual conference takes place in Athens and Andrew has been invited to present work from his lab both on Papillomaviruses and also his most recent work dissecting the virus-host interactions of the cancer-causing Merkel cell polyomavirus. In addition, Andrew will chair one of the sessions.
Congratulations to Margarita-Maria Panou who has just been offered a Kidney Research UK PhD studentship to join the group to work on the BK polyomavirus.
Margarita is currently a Masters student at the University of Leeds, completing a research project on Rabies virus under the supervision of Dr Jamel Mankouri. Margarita will formally start her PhD studies in September 2014 and will undertake work to dissect the role of novel host factors, identified in the Macdonald lab, in the BK virus lifecycle. Margarita now joins a growing contingent of lab members working on polyomaviruses at Leeds and it is hoped that during her time with us she will obtain plenty of data and publish a number of papers!
Congratulations to Hussein on publication of his Merkel cell polyomavirus review article in Cancers.
This publication is in collaboration with colleagues in Ade Whitehouse's lab and is the second Merkel publication from our labs in the last 6 months. Well done Hussein! To see the paper follow the link 24978434
The lab gets a mascot (Meg)!!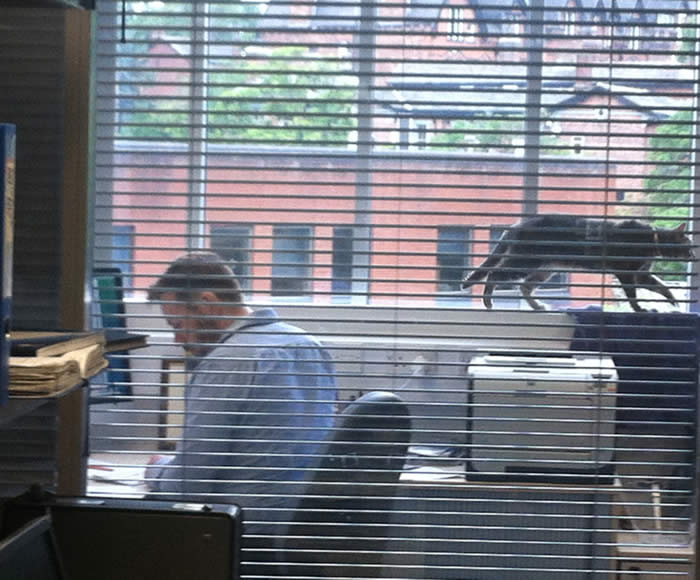 June 2014
Andrew Macdonald is appointed to the Society for General Microbiology (SGM) Virus Division .
The SGM is able to directly influence government, and hence research council policy, for example playing a significant role in the recent antibiotics strategic funding call. Our division is also directly involved in the planning of the annual Spring Meeting, which serves as a strategic means of fostering international and UK collaboration. As such, Andrew is looking forward to taking an active part in helping to shape UK virology.
Dan Hurdiss joins the lab.
Dan is an undergraduate Microbiology student who will be joining the University of Leeds prestigious Wellcome Trust PhD scheme in October 2014. He has joined the group for a summer placement to continue work on the human polyomaviruses. He has already got stuck in and has begun to clone the open reading frames of BK virus.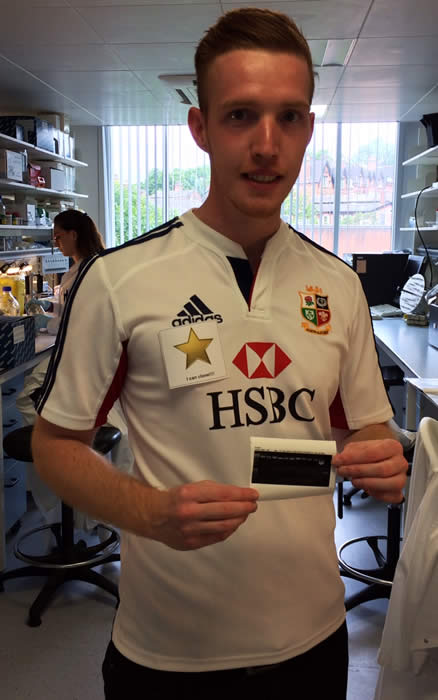 April 2014
Funding success
The group has received funding from Kidney Research UK for a PhD studentship to study interactions between the BK virus and host proteins. We therefore seek to recruit an academicallyt talented, motivated young scientist, who will be funded for three years of their PhD. More details to follow.
Hussein gives his first conference presentation.
Congratulations to Hussein, who gave his first conference presentation on the immune evasion properties of Merkel Polyomavirus small T antigen. Hussein presented at the DNA virus workshop session of the Spring Society for General Microbiology conference in Liverpool. Well done Hussein! Hussein also kindly took a sneaky pic of Andrew giving a talk on the E5 protein in the STI session of the same conference!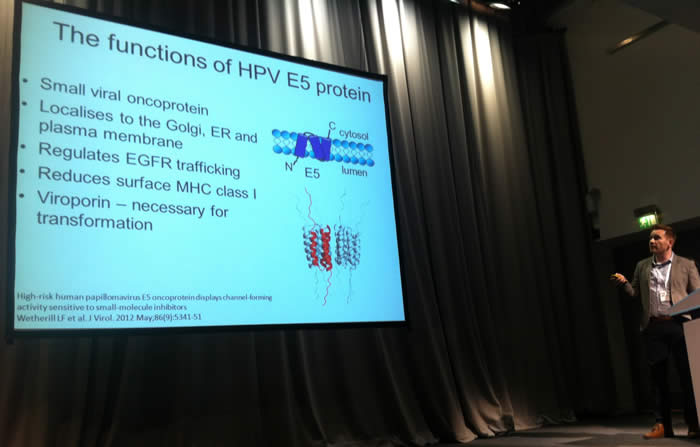 March 2014
Congratulations Dr Muller!
On Friday 7th March, Marietta successfully defended her thesis with Dr Lawrence Banks (Trieste) acting as external examiner. Marietta's viva defence lasted 3.5 hours and she passed with flying colours (minor typographical errors). Marietta was studying the interactions between HPV E5 and novel cellular binding partners and during her time in the group she presented at numerous national and international meetings and has co-authored two publications. Marietta is now remaining in the group for a further month to finish off experiments for more publications.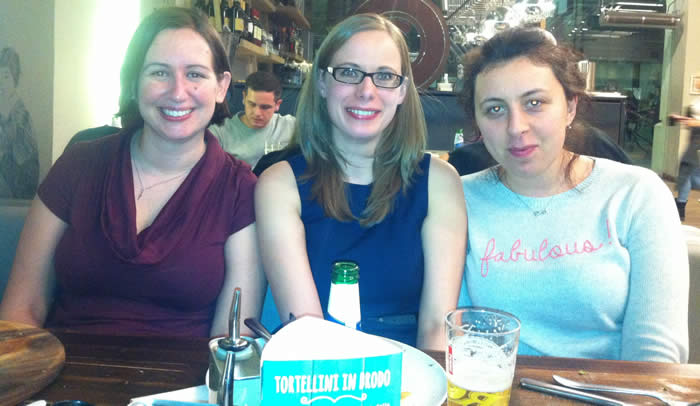 Emma, Marietta and Ozlem celebrating in the restaurant during the viva celebrations
Applications invited for self-funded PhD students
International or domestic self-funded or scholarship/fellowship PhD students are always welcome to apply for a place in the Macdonald laboratory.  You must be in possession of, or are predicted to get, either an upper second or first class honours degree from a internationally renowned university. In addition, international students must have a good command of both written and spoken English. Most importantly, bench fees will be required if you are self-funded. Under this scheme you would spend either three or four years in the Macdonald laboratory.
January 2014
Publication success!
An excellent start to 2014 - Kat Richards' work on the upregulation of a key anti-inflammatory protein IL-18BP by the E7 oncoprotein of HPV has been accepted by Journal of Virology. Since Kat left the group, the work has been carried out by Chris Wasson in close collaboration with Rosie Doble from Miriam Wittmann's skin immunology group here at Leeds. Well done to everyone!! If all goes according to plan, this will be the first of many publications for 2014.
December 2013
We invite applications for MRC and Wellcome Trust funded studentships to join the Macdonald group.
Candidates should have an outstanding academic record and show interest in carrying out research on viruses and disease biology. Successful applicants will receive training in cutting-edge molecular and cellular techniques and will have access to a wide range of facilities available in the School of Molecular and Cellular Biology and Astbury Centre for Structural Molecular Biology. All of the students from my group have published at least one research paper and often more. Some of these papers have caught the attention of the world's media!!
Please contact Dr Macdonald directly for more information.
October 2013
Publication success!
Congratulations to Hussein, Emma and past lab member Kat Richards who are all authors on our first polyomavirus publication. We studied the immune evasion strategies of this human pathogen and focussed on the early protein called Small T antigen (ST). We found that this protein recruits cellular phosphatase enzymes to a critical protein kinase complex involved in switching on the host innate immune response to virus infection. The project was a result of a successful collaboration with a second Leeds based virology group led by Prof. Ade Whitehouse and has just been accepted by Journal of Virology, the leading virus specific journal. We hope that this will be the first of many joint publications on this important virus. Indeed, we are now busy writing a follow up manuscipt. The article "Merkel cell polyomavirus small T antigen targets the NEMO adaptor protein to disrupt inflammatory signalling" is available ahead of print JVI.02159-13.full
The lab welcomes new members
This month we were joined by four new lab members. Alina Zaplatina is a Wellcome Trust funded PhD student and is based in the group for her first of three rotation periods in the first year of her studies. Our Wellcome programme is a flagship doctoral training programme that focusses on Structural and Molecular Biology and has recently been renewed by the Trust. In addition, we are joined by three undergraduate final year project students; Ethan Morgan, Tristan Russel and Daniel Hurdiss. This year all of the students have recently returned from a year in industry and we have high hopes that they will have a successful time in the lab and contribute to ongoing projects!
September 2013
The Lab welcomes Ethan Morgan, a Medical Biochemistry with Industry student, to the lab on a summer placement. Ethan will be working with Chris for four weeks studying the role of host factors in the HPV life cycle. After that he will rejoin the group as a final year project student, where he will establish systems to study the JC virus life cycle.
August 2013
More funding success
The Macdonald group have just received project grant funding from Kidney Research UK. This is a national charity that funds research into the causes and prevention of kidney disease. The £127,000 funding will employ a post-doctoral fellow for two years to continue our research into BK virus and the development of novel anti-viral compounds to aid in the prevention of virus-related kidney transplant rejection. This is the third successful funding application awarded to the Macdonald group in 2013 and follows on from a successful 2012.
July 2013
Andrew successfully runs the Leeds 10K race on behalf of Yorkshire Kidney Research Fund.
On an extremely hot Sunday morning, Andrew along with 9000 other runners, participated in the Jane Tomlinson Leeds 10K race for Yorkshire Kidney Research Fund. This local charity funds research into the causes and prevention of kidney disease and provided the Macdonald group with pilot funding to begin their studies on BK polyomavirus. It only seems fair that we try to give something back. Andrew successfully raised £450 for the charity and enjoyed running so much that he has now signed on to run in the Leeds Abbey dash in November.
The group have an excellent DNA Tumour Virus meeting.
Chris and Emma gave exceptional talks and gathered a lot of interest in their work, Marietta's poster on novel E5 binding partners drew interest from the HPV and polyomavirus community. Despite being nervous, i managed to chair a session without any major disasters! Its Madison Wisconsin next year - cant wait! Hussein even managed to get a few emabarrsing pics!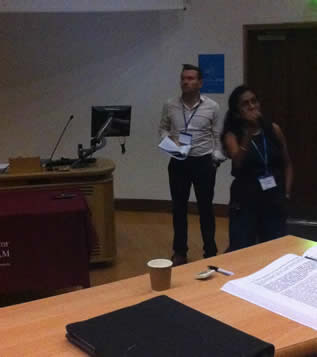 Andrew chairing the Pathogenesis session
Andrew with Ade Whitehouse (Professor of Virology, University of Leeds) having a well-deserved coffee during a break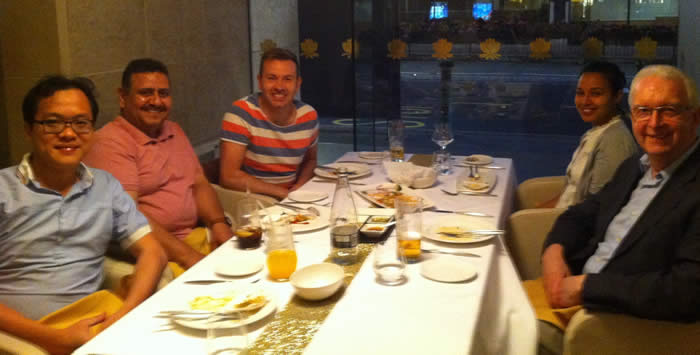 Curry with the Leeds lot (from left to right; Adam (GEB lab), Hussein (AM lab), Andrew, Irene (GEB lab) and Eric Blair
June 2013
We are currently looking to recruit motivated, first rate international students to work in the Macdonald group on a variety of projects related to small DNA viruses and host cell interactions.
International or domestic self-funded or scholarship/fellowship PhD students are welcome in the laboratory. However, you must have a good command of the English language both written and spoken and be in possession of, or are predicted to get, either an upper second or first class honours degree (or equivalent) from a reputable University! Most importantly bench fees will be required if you are self-funded so please do not apply unless you have these. Under this scheme you would spend three years in my laboratory.
Congratulations to Emma and Chris who have been selected to give oral presentations at the upcoming International DNA Tumour Virus meeting in Birmingham. This is the leading forum for dissemination of work in the papillomavirus and polyomavirus field and a great opportunity for them to showcase their exciting research results (and to network extensively at the bar!). Marietta has been selected for a poster presentation to show her latest findings on the YIPF4 host protein. Andrew was nominated to be on the International Scientific Board for this conference and will chair the Pathogenesis session. Congratulations to all! A great showing for Team Macdonald!
May 2013
Welcome to Rajni Bhardwaj who is funded by the MRC and will work on increasing our understanding of the role of the HPV E5 protein in the virus life cycle and pathogenesis. Rajni will work very closely with Emma and Chris for the next three years and its hoped that her work will lead to several publications.
Kartika Shetty has joined the lab as a visiting Post-Doctoral researcher to work on the cellular requirements for Polyomavirus replication and infection. Kartika has expertise in structural biology and has joined the group to learn cell biology techniques.
April 2013
Congratulations to Andrew, who has just been promoted to Associate Professor in Viral Oncology (back dated to January 2013). The promotion was in recognition of Andrew's excellent research record and his significant teaching and administrative duties. This promotion means that Andrew spent only one year as a lecturer after the completion of his five year independent fellowship. Next step is full Professorship!
March 2013
Kat Richards' manuscript on a novel mechanism of immune evasion by HPV E7 has just been returned from Journal of Virology for corrections. It is out hope that with a few weeks of extra work we can address the reviewer comments and send it back to Journal of Virology for publication.
February 2013
SGM presentations. Congratulations to Chris and Marietta who have just found out that they have been invited to discuss their research at the upcoming SGM in Manchester in March. Marietta will give a poster presentation and Chris an oral presentation in the Pathogenesis workshop. Well done to you both!
Congratulations to Joe Lattimer who was a final year project student in the laboratory. Joe has been offered a four year BBSRC funded PhD studentship at Leeds to work with Prof. Mark Harris on canine hepaciviruses. Joe's project was a resounding success and this PhD offer is testament to his hard work. Joe is the fifth project student from the Macdonald group to have gone on to PhD studies. An excellent record that we want to improve upon!
November 2012
PhD studentship available. We are advertising an MRC-funded PhD studentship to work on the Polyomaviruses that cause human disease for four years at Leeds. The work would take place in the Macdonald group, which consists of two Post-Docs and three PhD students plus a technician and four affiliated PhD students. This group is well funded and publishes regularly in high impact journals. The project focuses on a completely novel aspect of Polyomavirus biology and promises to provide the student with some excellent opportunities to discover new aspects of the life cycle of these important pathogens. This is a competition funded position with a deadline in January 2013. Competition will be fierce so the applicant must have at least a higher second class degree and if possible experience of industry or working in a laboratory. Informal requests for information can be made to Dr Macdonald or alternatively look up the project on FindaPhD.com. Application are made to the Faculty of Biological Sciences Graduate Office.
Further grant success! We have just been awarded £570,000 by the Medical Research Council to continue our ground breaking studies into the E5 oncoprotein of human papillomavirus (HPV). This money will fund Emma Prescott for three more years and will also employ a full-time research technician for three years. If you are a recent graduate or will graduate in 2013 and are interested in working in a research intensive environment with a friendly group then please contact me or apply for the position when it is advertised in Spring 2013.
HPVUK 2012. We have just returned from a very successful first HPV UK meeting at Rydal Hall in Ambleside, the Lake District. Marietta, Chris and Emma all gave excellent presentations and we had two days of excellent science, good company and even better beer!!! We are looking forward to organising the next HPVUK meeting in November 2014.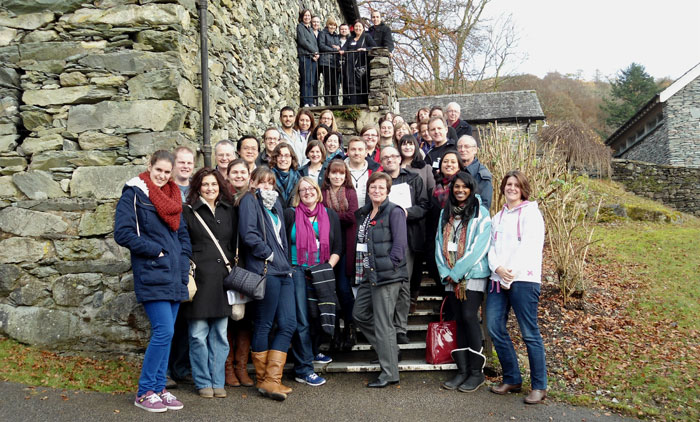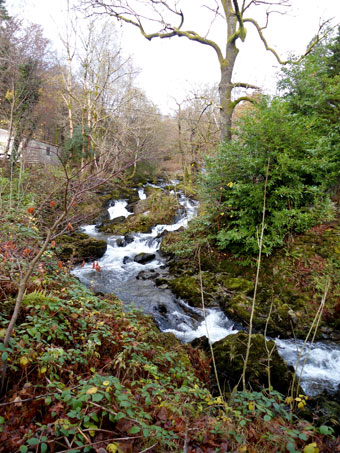 October 2012
Grant success!! Good News!! We have just received the news that our research into polyomaviruses is being supported by a generous grant from Yorkshire Kidney Research Fund. This local charity helps to support research into kidney related diseases in the hope of developing novel treatments. The Macdonald group will be supporting this local charity by attending their annual charity ball in November 2012. To learn more about YKRF and how they support patients with kidney diseases see www.ykfr.co.uk
Welcome to Ashlea Rowley who was awarded a University Scholarship to pursue a PhD in the Macdonald group. Ashlea will be join Hussein in working on polyomaviruses that cause diseases in humans. This represents a new focus within the group to expand our understanding of the pathogenesis of this class of viruses in the hope that we can develop novel antiviral treatment options. We wish Ahlea the best of luck with this study and know that she will have a great time in the group over the next three years.
Welcome to the two third year undergraduate project students in the group, Joseph Lattimer and Bruno Torres. Joe and Bruno will be working with Emma to study two proteins found in polyomaviruses in the hope that we can inhibit their activity. Best of luck guys for your projects!
June 2012
Congratulations to Laura Wetherill who successfully defended her PhD thesis in a two hour viva examination. Laura discovered that the HPV E5 protein functions as a viroporin and her thesis detailed her efforts to characterise this protein. Her examiners were Prof Dennis McCance (Queens, Belfast) and Dr John Barr (Leeds). Dr Wetherill is now a post doc at LIMM. Laura is the first PhD graduate from the Macdonald and we all wish her the best of luck for what will be a very bright future!
April 2012
Congratulations to Elizabeth Benedicz and Michael Ioannou, who have both been offered PhD studentships to start in October 2012. Mike (Microbiology with Immunology) and Lizzie (Biochemistry) were both undergraduate project students in my lab in 2011-2012. It is good to know that despite these hard times, students who work hard in the group can reach their research goals! We wish them the best of luck and hope to see them in the future at conferences!
Congratulations to Callum Sharp, an undergraduate Biochemistry volunteer in my lab, who has just received an SGM-funded studentship to research aspects of the E5 viroporin function over summer. Callum has worked extremely hard during his time in the group and this studentship is a great reward for that hard work. No doubt, Callum will also make a large contribution to the social aspects of the group over summer!
Welcome to Hussein our new PhD student. Hussein will be working on the virus-host interactions of polyomaviruses that cause disease in humans. We all look forward to some happy times and great science over the next three years!.
March 2012
Marietta and I attended the Spring Society for General Microbiology meeting in Dublin. Lots of Guiness was drunk and we both presented our work to the virology community. Well done to Marietta on an excellent presentation.
February 2012
Congratulations to Laura Wetherill, our manuscript identifying the HPV E5 protein as a novel viroporin has just been accepted by Journal of Virology. Well done Laura on all of your hard work!
Welcome to Dr Emma Prescott, who has just joined the lab as a CRUK funded Post-Doc. Emma did her PhD in Birmingham, with Dr Sally Roberts, on the E4 proteins of various papillomaviruses. We all look forward to some happy times and great science with Emma.
January 2012
PHD POSITION AVAILABLE - DEADLINE 18th FEBRUARY 2012!
A CRUK/YCR funded studentship is available on the project titled "Understanding the molecular mechanisms by which human papillomaviruses (HPVs) cause cancer". This is a competition funded place and as such you should only apply if you have or are predicted to gain a high upper second class or first class honours degree (or have a Masters qualification). It may also help if you have additional experience such as an industry/lab placement. This is only open to UK and EU citizens and provides fees and a generous stipend. To apply please see FindaPhD.com and complete the correct application forn, which should then be submitted to our graduate office. Please contact me for informal discussions a.macdonald@leeds.ac.uk
Great start to the year, some of my old work from my time as a PDRA in Dundee has just been published in Biochemical Journal. During this project we analysed the cellular effects of a novel kinase inhibitor, in collabration with industry. Finally got the green light to published in 2011.
Dr Emma Precott will be joining the lab next month as a PDRA on a Cancer Research UK funded project titled "Validation of the HPV E5 as a novel therapeutic target". She will be continuing much of Laura's work to further characterise the channel activity of E5. We are looking forward to her joining the lab.
December 2011
Our paper describing the finding of a novel open reading frame within the murine norovirus genome, the protein product of which is required for persistence and modulation of the host innate immune response, has just been accepted in PLoS Pathogens. This is the result of a successful collaboration with Dr Ian Goodfellow at Imperial College London.
More paper successes, a paper in collaboration with Drs Hiscox and Barr looking at the immune modulation by different strains of respiratory syncitial virus (RSV) has just been accepted!
Sadly, this is the last month for Laura in the lab. Time for her to attach herself to a computer and start writing that thesis.
November 2011
Laura's paper showing the first description of the HPV E5 protein as a viroporin has just come back form Journal of Virology for further revisions. Better get in the lab to sort it out!
The new Small DNA Tumour Viruses book has been released. We have a chapter in there on the HPV E5 protein. Looks pretty good, even if i say so myself.
October 2011
Sadly, Dr Kathryn (Kat) Richards has left the lab at the end of her three year YCR-funded post-doc. Kat made great progress analysing the immune evasion strategies of HPV E7 and we are hoping to submit her work for publication in the new year.
Dr Chris Wasson joins the lab on a YCR funded one year Pump Prime project to generate new detection reagents against HPV E5.
Laura has submitted her manuscript to Journal of Virology - fingers crossed!