DNA Tumour Virus Lab
Lab Alumni
Post-Docs
Dr Kathryn Richards 2008 - 2011.
Kat was a YCR funded post-doc working on a project to understand the mechanisms by which the HPV E7 protein deregulates the host immune response to infection. Kat developed several new assays whilst in the lab and identified an exciting new inflammatory pathway induced by the anti-cancer drug Imiquimod. Kat published five articles during her time with the group. Prior to moving to Leeds, Kat was a PhD student in Paul Clapham's lab in the States.
Dr Rebecca Ross 2009 - 2010.
Beccy joined the lab as a newly minted post-doc to work on a one year position to establish the organotypic raft culture system in the group. She successfully achieved this aim and the production of these three dimensional skin models is now routine in the lab. This allows us to analyse the entire replicative HPV lifecycle in tissue culture and broadens what we can achieve. Beccy has now returned to her PhD lab to undertake a three year post-doc looking at the role of PI3-kinases in cancer.
Dr Marietta Müller 2010-2013 and 2015-2016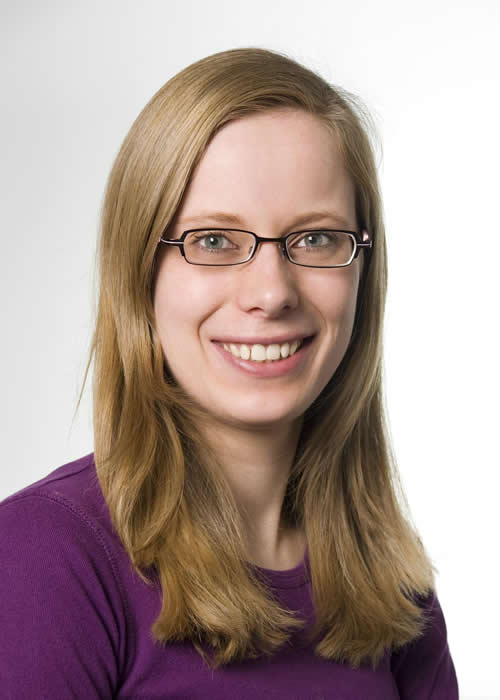 Marietta studied Molecular Biomedicine at the University of Münster in Germany, before moving across the channel in 2009 to study for an MSc in Biosciences at Leeds, where she was awarded a distinction. It was at this point that she fell into the clutches of HPV and decided to study for a PhD. Marietta was funded by Yorkshire Cancer Research to unravel the molecular mechanisms by which the HPV E5 protein is able to regulate transformation and immune evasion. During her PhD Marietta identified the E5 binding partner, YIPF4 and studied both the basic biology of this poorly understood membrane protein and also analysed its contribution to HPV biology (Muller et al., 2015). Marietta successfully defended her thesis and after that moved continents to pursue post-doctoral studies in South Africa on haemorrhagic horse viruses. However, Andrew was able to lure her back and in 2015 she returned to the group to undertake a one year YKRF-funded post-doctoral position studying BK polyomavirus.
Dr Emma Prescott

2011-2016
Emma obtained her PhD under the tutelage of Dr Sally Roberts (University of Birmingham), where she studied the HPV E4 protein and its regulation of host splicing factors. Emma moved to Leeds to take up an MRC-funded Post-doctoral position to study the ion channel functions of proteins encoded by DNA tumour viruses. She has developed a number of virus life cycle systems and routinely uses knockout viruses in order to understand the function of poorly understood virus proteins.
PhD students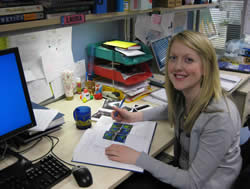 Laura Wetherill 2008-2012. Laura was the first PhD student in the Macdonald group. Her studies focussed on the enigmatic E5 transforming protein encoded by all carcinogenic human papillomaviruses (HPVs). Few grpups have studied this membrane protein due to the low levels of expression and lack of suitable reagents for detection. During her time in the group Laura developed the first system to express and purify native recombinant E5 protein from bacteria and she was able to show that E5 is a new member of the viroporin family of virus encoded ion channels. Laura's hard work and dedication resulted in a first author publication in the Journal of Virology, the premiere virology journal, two co-authored publications and a book chapter in the latest edition of Small DNA Tumour Viruses. Laura successfully defended her viva in the spring of 2012 (Prof. Dennis McCance, University of Belfast was external examiner) and is now a post-doctoral fellow at the Leeds Institute of Molecular Medicine (LIMM) and St-James University Hospital.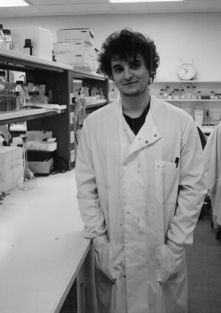 Dan Williamson 2010-2014. Dan was an EPSRC-funded student, jointly supervised by Andrew and Bruce Turnbull/Michael Webb in Chemistry. The remit of his work was to develop novel protein cell delivery reagents and to generate modifications to these proteins in order to target them to discrete regions of the cell. Dan was highly successful, authoring a number of publications and is now a post-doctoral fellow with Mike and Bruce.
Samuel Dobson 2014-2015. Sam was a Masters by Research (MRes) student in the lab. His project studied the host requirements for BK polyomavirus egress. Working closely with Emma, he was able to identify a number of host factors critical for virus exit and to further characterise the role of the agnoprotein in this process. His viva examination is in October and after that he will take up and MRC funded PhD studentship with Professor Adrian Whitehouse at Leeds.
Hussein Abdul-Sada
Iraqi Government funded PhD student
Hussein was a PhD student working on the ST-antigen of Merkel cell polyomavirus. His work uncovered immune evasion strategies of this virus and also contributed towards our understanding of the mechanisms by which the virus can drive cancer metastasis (Griffiths et al., 2013)(Knight et al., 2014). Hussein also extensively analysed the cellular phosphatase binding properties of ST and shown the importance of these interactions for ST function.
Ainaa Adilah
Ainaa was a Masters by Research (MRes) student between 2015-2016, funded by the Malaysian government. Her one year project provided more information on the poorly charactersed minor capsid proteins of polyomaviruses.
Undergraduate students
Each year the group hosts a small number of dedicated undergraduate project students. These students work on a specific project as part of their final year dissertation module. A number of these students have gone on to successful careers in research. Some of these are highlighted below.
2015-2016.
Jamie Royle. Jamie starts an MRC-funded PhD position at the University of Glasgow Virology Centre in September 2016.
Robert Ward. Robert will start a graduate position at Teach First in summer of 2016.
2014-2015.
David Busse. Dave is now a PhD student at Imperial College London.
Gemma Swinscoe. Gemma is a Wellcome Trust funded PhD student at Leeds.
Jack Fuller. Jack graduated with a First Class Honours MBiol in Microbiology and wishes to undertake PhD training in the future.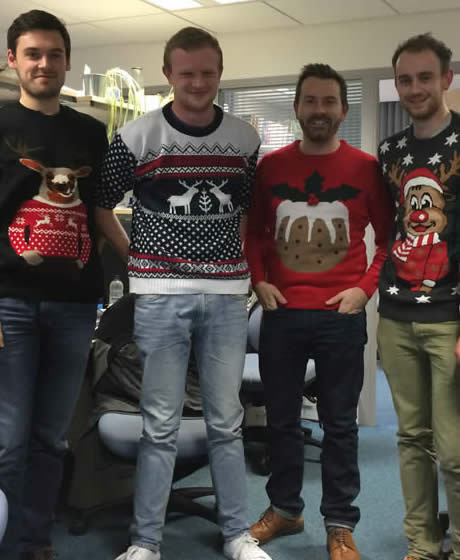 Dave, Jack, Andrew and Sam enjoying the Christmas jumper season.
2013-2014.
Ethan Morgan. Ethan is now a Wellcome Trust funded PhD student in the Macdonald group.
Daniel Hurdiss. Dan is a Wellcome Trust funded PhD student co-supervised by Andrew and Neil Ranson (Leeds).
Tristan Russell. Tristan is studying for a PhD on the Wellcome Trust Computational Biology programme at Trinnity College Dublin.
2012-2013.
Joseph Lattimer. Joe is now part way through a BBSRC PhD studentship in Professor Mark Harris's laboratory at Leeds, working on horse homologues of hepatitis C virus.
John Short 2008-2009. John was a summer student and undergraduate project student in my lab. John made some of the early progress on our optineurin projects and studied virus immune evasion strategies for his undergraduate project. John's dissertation was first class and we published his work as a review article in BioScience Horizons. John has recently graduated from the University of St-Andrews with a PhD in Paramyxovirus immune evasion.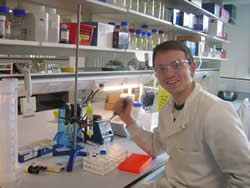 Adam Dale 2008. Adam was an intercalating medical student who gained a summer studentship from the Wellcome Trust to work on structural analysis of optineurin. The studentship allowed Adam to establish his interest in research and i am pleased to say that after graduating from medical school, Adam has obtained a research registrar position at the University of Southampton.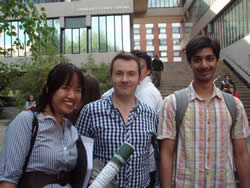 Ying "Grace" Goh and Mohammed Haider 2010-2011. Grace and Mohammed were undergraduate project students who both worked on HPV projects. Grace worked on a novel protein called YIPF4, whilst Mohammed studied cytokine levels in cells expressing E7. Both have now graduated (first class honours) and gone onto research. Mohammed is undertaking a Masters in Immunology in London, whilst Grace has moved to Canada to pursue a PhD in yeast trafficking mechanisms. The work from both of their projects has been published.