Student Education News
Leeds named 'Entrepreneurial University of the Year' at the Times Higher Education Awards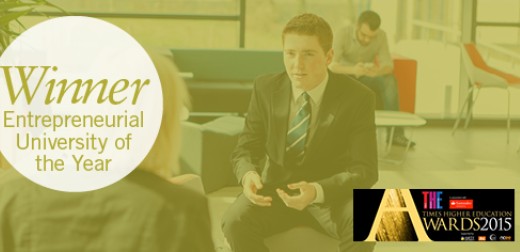 Seen as the 'Oscars' of the higher education sector, the award recognised the University's role in offering opportunities for student entrepreneurship.
Further commendation is given to the University for the support provided for small businesses in the region and its significant innovation and IP commercialisation work.
Professor Nigel Lockett, Director of Enterprise Learning, said: "This award is the ultimate accolade for any enterprising university and the culmination of years of hard work across the whole university.
"From student start-ups to university spin-out companies and from exceptional enterprise education to supporting high-growth firms in the region, what differentiates Leeds is our commitment to commercialising world leading research and enabling enterprise students and graduates to make economic, social and cultural impact.
"Building this sector leading enterprise offer is the result of the support and collaboration of staff, students, alumni and entrepreneurs - a winning team."
The title of Entrepreneurial University of the Year is one of many honours and awards the University has been nominated for this year for its enterprise initiatives.
Leeds also won The Duke of York Award for University Entrepreneurship at the 2015 Lloyds Bank National Business Awards in November, which recognised the University's role in encouraging and enabling student entrepreneurship and supporting high growth small businesses in the region.
In September, Kairen Skelley, head of the University's student start-up serviceSpark, was also named as the Higher Education Enterprise Champion at theNational Enterprise Educator Awards. Professor Nigel Lockett also received a prestigious teaching award in June, a National Teaching Fellowship, marking his success in helping students, graduates and growing businesses develop their entrepreneurial skills.
The Times Higher Education Awards 2015 are open to all UK higher education institutions and showcases best practice in universities.
The University was also shortlisted in two other categories - 'Outstanding Employer Engagement Initiative' in recognition of the University's collaboration with Marks & Spencer - and Dr Luke Burns from the School of Geography was nominated as 'Most Innovative Teacher of the Year' for use of technology in his teaching, such as live voting via mobile phone in lectures, social media, e-learning folders and videos.
The results were announced at a ceremony on Thursday 26 November.
Find out more about combining your Science degree with a Business degree in FBS

Undergraduate degrees
For undergraduates we offer degrees where you will gain a comprehensive knowledge and understanding of a specialist subject along with aspects of business and entrepreneurship.
Enterprise modules
The Centre for Enterprise and Entrepreneurship Studies also runs a number of interesting and stimulating credited undergraduate modules, which you can take as electives on your degree. The modules, which are delivered as part of the Enterprise and Innovation discovery theme, aim to help you enhance transferrable skills such as commercial awareness, creative problem solving and team working, which will make you stand out to potential employers.
Undergraduate modules are offered at levels one, two and three and are divided into two categories: "enterprise and entrepreneurship", "enterprise and employability" and "enterprise and society".
To find out more visit: www.leeds.ac.uk/enterprise
Further information
Contact the University of Leeds press office on 0113 343 4031 or email pressoffice@leeds.ac.uk.
27th November 2015