Overview
Biology is the study of life and living organisms. It's a fascinating subject that answers key questions such as how life first began, and which offers developments and solutions to major social and ethical challenges. It has offered an advanced understanding of serious threats to human populations, conservation and habitats.

This course allows you to gain a broad understanding of molecular, cellular, organismal and population biology, as well as giving you the chance to specialise in areas that suit your interests through a wide range of optional modules. You'll gain a broad understanding of genetics, immunology, microbiology and other key disciplines, while you could also choose to explore plant growth, conservation biology, population genetics, bioinformatics and many more.
If you are unsure of the difference between Biological Sciences and Biology? Check our guide to help you decide which is right for you.
Course highlights
Biology is a wide-ranging subject that Leeds is well equipped to deliver through one of the UK's largest and most diverse biology teaching groups.
The degree is popular - for some it's the breadth of the subject that appeals, for others it's a path to specialisation.
The common first year provides you with a broad foundation as a scientist, flexibility, and the opportunity to specialise in your chosen area in Years 2, 3 and 4.
In each year you will choose modules from our specialist degrees across the biology area (Biology with Enterprise, Genetics, Ecology and Conservation Biology, and Zoology), allowing you to follow your own biological interests.
You'll learn from experts in world-class facilities, and you can apply your knowledge and skills outside the lab – we offer a variety of exciting field courses from North Yorkshire to Kenya.
Accreditation
Both our Integrated Masters (MBiol) programme and BSc with Industrial Placement Year programme has been awarded advanced accreditation by the Royal Society of Biology for the purpose of meeting in part the academic and experience requirement for the Membership and Chartered Biologist (CBiol).
Related courses
Biology with Enterprise MBiol, BSc
Genetics MBiol, BSc
Zoology MBiol, BSc
Ecology and Conservation Biology MBiol, BSc

Student Profile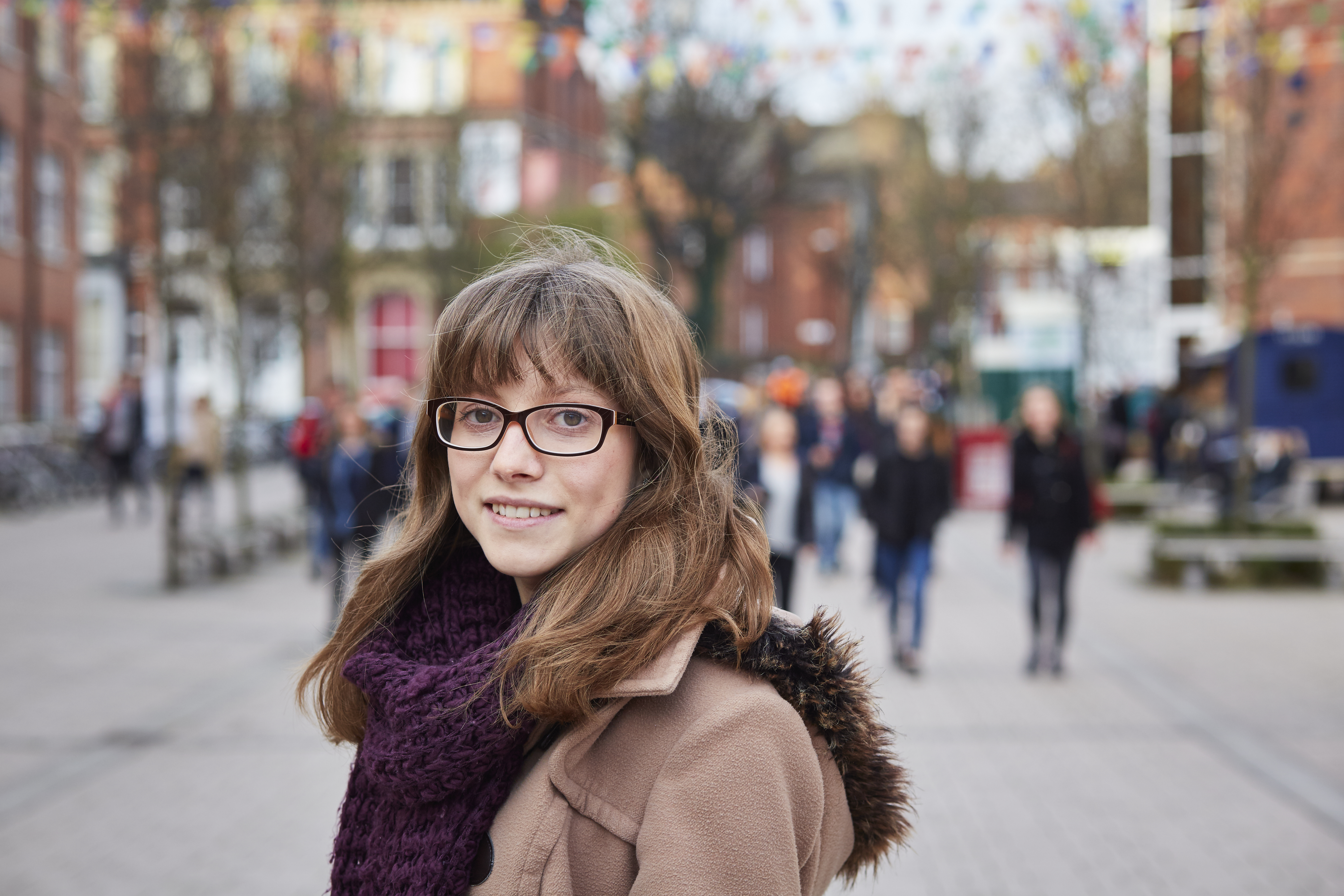 "During my year in industry I was able to carry out proper field-based research that is going to help towards the conservation of two bird species in the UK."
Read more
Leah Kelly , BSc Biology
Course content: Biology MBiol, BSc
The MBiol offers students an excellent breadth and depth of knowledge plus the exceptional experience of advanced research.
Compulsory modules in year 1 will give you a broad foundation as a scientist. You'll be introduced to cell biology, genetics, ecology and the application of biology to agriculture. You'll also develop your research skills through extensive practical work in our labs and apply them to field work in North Yorkshire. An optional module of your choice will allow you to gain specialist knowledge in a topic that interests you, such as the chemistry underpinning biological processes or immunology.
In the following year, you'll deepen your understanding of plant and animal biology through evolution in core modules, as well as building your skills in research and examining experimental design. This year also allows you to begin tailoring your degree to your interests and career ambitions. You'll be expected to maintain a spread across modules related to the areas of genetics and organisms, but you'll be able to study topics such as genetic engineering, bioinformatics, sustainable food production and animal nutrition. A choice of field courses will be among the optional modules open to you.
Year 3 will give you more scope to work independently, as a research project, literature review and poster allow you to focus on a biological topic in depth. This work is supported by a wide range of choice. You'll select optional modules from the fields of genetics, ecology, and animal and plant organisms. Topics could include population genetics, plant growth and resource acquisition, evolution and conservation biology, and a field course in South Africa is also on offer.
By the time you reach your final year, you'll be able to select from a variety of Masters-level optional modules that are informed by our tutors' leading research. You could build your skills in statistics or study medical diagnostics among others, while the African Field Ecology module gives you another chance to apply your knowledge to fieldwork. However, most of the year is devoted to a research project, allowing you to work alongside our experts to explore a specific topic in biology. This helps to develop the high-level research and professional skills that will serve you well in your future career.
Course structure
Details of typical modules/components for this course will be published on May 1st. These may change from time to time. Read more in our Terms and conditions.
Broadening your academic horizons
At Leeds we want you to benefit from the depth and breadth of the University's expertise, to prepare you for success in an ever-changing and challenging world. On this course you broaden your learning through core and/or optional modules. Find out more on the Broadening webpages.
Learning and teaching
Ourdegrees are delivered through a combination of lectures, tutorials andpracticals, while you'll also benefit from our range of online resources suchas Virtual Labs @ Leeds.
Year1 is likely to include around 10-12 hours of lectures, a tutorial and twothree-hour practical classes, followed by 8-10 lectures, a six-hour practicalsession and tutorials in Year 2. In your final year you'll spend more timeworking independently with around three days per week devoted to your researchproject, mainly in Semester 1, supported by lectures.
Independent study and research are also crucial toevery year of the course. We have excellent library and computing facilities tosupport your learning, and the University Library offers training to help youmake the most of them.
Assessment
We use a variety of assessment methods to helpyou develop a broad range of skills. These include practical work, datahandling and problem-solving exercises, multiple-choice tests, group work,online and face-to-face discussion groups, computer-based simulations, essays,posters and oral presentations.
Entry requirements, fees and applying: Biology MBiol, BSc
Entry requirements
A-level: AAA
Including Biology and another science or science-related subject. General Studies and Critical Thinking excluded
We accept the following science subjects: biology, human biology, chemistry, mathematics, physics. Science-related subjects: computing, environmental science, food science, geography, geology, PE, psychology, science in society, statistics, use of mathematics.
Applicants taking a Science A-level (in England) will be required to achieve a pass in the practical element in addition to the standard A-level grade requirement.

GCSE:
Typically Grade B or above at GCSE Maths and Grade C or above at GCSE English.
Alternative Qualifications
Access to HE Diploma
We do not accept Access to HE.
BTEC
We do not accept BTEC qualification.
Cambridge Pre-U
D3/D3/D3(individual programme requirements apply)
International Baccalaureate
35 (with 18 at higher level) including 6 in higher level Biology and another science or science-related subject at higher level.
Irish Highers (Leaving Certificate)
AAAAAB including an A in higher level Biology and another science or science-related subject at higher level.
Scottish Highers / Advanced Highers
Advanced Higher: AAA from 3 Advanced Highers including Biology and another science or science-related subject. General Studies and Critical Thinking excluded.
Scottish Higher: Scottish Highers not accepted on their own.
Welsh Baccalaureate
AAA including Biology and another science or science-related subject. General Studies and Critical Thinking excluded
We accept the following science subjects: biology, human biology, chemistry, mathematics, physics. Science-related subjects: computing, environmental science, food science, geography, geology, PE, psychology, science in society, statistics, use of mathematics.
Read more about UK and Republic of Ireland accepted qualifications or contact the School's Undergraduate Admissions Team.
Alternative Entry
We're committed to identifying the best possible applicants, regardless of personal circumstances or background.
Access to Leeds is an alternative admissions scheme which accepts applications from individuals who might be from low income households, in the first generation of their immediate family to apply to higher education, or have had their studies disrupted.
Find out more about Access to Leeds and alternative admissions.
International
We accept a range of international equivalent qualifications.
English language requirements
IELTS 6.0 overall, with no less than 5.5 in any component.. For other English qualifications, read English language equivalent qualifications.
International students who do not meet the English language requirements for the programme may be able to study an English for Academic Purposes pre-sessional course with a progression route to the degree programme. For information and entry requirements, read Pre-sessional programmes.
How to apply
Apply to this course through UCAS. The institution code for the University of Leeds is L23. Check the deadline for applications on the UCAS website.
It is also possible to study this programme part time. The programme content is the same but you will study at a lesser intensity. Find out more about how to apply, support available and the part-time student experience at the Lifelong Learning Centre.
International students apply through UCAS in the same way as UK/EU students. Our network of international representatives can help you with your application. If you're unsure about the application process, contact the admissions team for help.
Read about visas, immigration and other information in International students. We recommend that international students apply as early as possible to ensure that they have time to apply for their visa.
Admissions policy
Faculty of Biological Sciences Undergraduate Admissions Policy
Fees
UK/EU: See fees section below
International: £19,750 (per year)
For UK and non-UK EU full-time students starting in 2018, the fee for 2018/19 will be £9,250.
The fee for undergraduate students starting in 2019 will be confirmed in September 2018.
The fee may increase in future years of your course in line with inflation, and as permitted by law. For example, the increase of 2.8% in 2017/18 was based on the government's forecast for the RPI-X measure of inflation.
The UK government has confirmed that non-UK EU students in 2018-19 will have home fee status and be eligible for UK government student loans. The UK government has not confirmed the situation for future years, so keep checking our website for updates.
If you take a study abroad or work placement year, you'll pay a reduced tuition fee during this period. For more information, see Study abroad and work placement tuition fees and loans.
Read more about paying fees and charges.
Part-time fees are normally calculated based on the number of credits you study in a year compared to the equivalent full-time course. For example, if you study half the course credits in a year, you will pay half the full-time course fees for that year.
Additional cost information
There may be additional costs related to your course or programme of study, or related to being a student at the University of Leeds. Read more about additional costs
Scholarships and financial support
If you have the talent and drive, we want you to be able to study with us, whatever your financial circumstances. There is help for students in the form of loans and non-repayable grants from the University and from the government. Find out more in our Undergraduate funding overview.
The Faculty of Biological Sciences offer a range of scholarships for UK, EU and International students. Find out more about our scholarships
Career opportunities: Biology MBiol, BSc
Our biology students graduate into many different careers, including the pharmaceutical industry, agribusiness, conservation, environmental consultancy and education. The MBiol is good preparation for PhD study which can lead to a research career in academia, industry or biological research. It offers a solid foundation for postgraduate entry to a scientific career.
Career destinations in the field of biology are wide-ranging and employment prospects are excellent, with 91% of recent graduates having secured jobs in a multitude of roles relating to the subject of Biology or in further study within six months of graduating. Recent graduates can be found working as for example:
Research Bioscientist
Wildlife Film Maker
Biocontamination Technician
Senior Species Ecologist
Senior Plant Health and Seeds Inspector
Policy Adviser: International
Biodiversity
Epidemiologist.
Careers support
Faculty Employability team
We take personal development and career opportunities very seriously and the Faculty has a dedicated Employability Officer who works closely with the Careers Centre. We offer a host of additional opportunities beyond core course content, including volunteering and placement opportunities. The team also organises regular careers workshops designed especially for biological sciences students to develop their career opportunities. These include our annual biological sciences and sport sciences careers and networking fairs attracting graduate employers such as AstraZeneca, Covance, GSK, Nuffield Health, RSPB, Yorkshire Wildlife Trust, UK International Soccer, CP+R (Clinical prevention and rehabilitation) and Opta Sports offering you the chance to meet bioscience employers, speak to alumni, attend workshops and get masses of information.
The team works closely with the University's Careers Centre, which is one of the largest in the country. The Careers Centre work with the Employability Team to provide high quality professional support and advice for all our students and access to thousands of opportunities for graduate employment, placements and internships.
We encourage you to prepare for your career from day one. That's one of the reasons Leeds graduates are so sought after by employers.
Leeds for Life is our unique approach to helping you make the most of University by supporting your academic and personal development. Find out more at the Leeds for Life website.
The Careers Centre and staff in your faculty provide a range of help and advice to help you plan your career and make well-informed decisions along the way, even after you graduate. Find out more at the Careers website.
Study abroad and work placements
Study abroad
On this course you have the opportunity to apply to spend time abroad, usually as an extra academic year. The University has partnerships with more than 400 universities worldwide and popular destinations for our students include Europe, the USA, Canada, Australia, New Zealand, Singapore, Hong Kong, South Africa and Latin America.
Find out more at the Study Abroad website.
If you choose to undertake a study abroad option, you will spend the fourth year of the MBiol studying abroad. This will extend your studies by 12 months.
Work placements
Practical work experience can help you decide on your career and improve your employability. On this course you have the option to apply to take a placement year module with organisations across the public, private and voluntary sectors in the UK, or overseas.
Find out more about work experience on the Careers website.
Industrialplacements are typically taken between your third and final year. This willextend your studies by 12 months. For your work placement in industry, staff atLeeds will help you with your CV and application letters and provide a list oforganisations which may offer industrial placements.
Placementsabroad are possible. We work together with your industrial supervisors to makesure you get the most out of this year. A year working in industry gives you anexcellent opportunity to get used to the demands of the world of work, todevelop new skills and to augment your CV.