Overview
Microbiology is the study of microorganisms, including bacteria, fungi and viruses, and embraces numerous disciplines including immunology, biochemistry, genetics and molecular biology. Microbiology affects almost all aspects of medicine and is essential for the environmental cycles that regenerate the planet.
From the microbes that caused the foot and mouth epidemic to the photosynthetic microorganisms in the oceans that help alleviate global warming, microbiology offers the chance to study the organisms that affect so many aspects of our lives. By choosing to study this course not only are you choosing to develop a wide range of technical and transferable skills, but you will also gain an understanding of the how microbes interact, alter and influence the world around us.
On our microbiology course you will develop an understanding of the importance of microorganisms to all aspects of our lives, whilst developing the key skills and knowledge that puts microbiologists in such high demand.
Each programme is designed to provide you with a broad foundation in the diverse topics that constitute modern microbiology, with a particular emphasis on infectious disease. Leeds has the expertise to teach these at the highest level.
All our degree programmes allow you to undertake a placement year and study abroad year as part of your degree.
Accreditation
This programme has been accredited by the Royal Society of Biology. Advanced degree accreditation by the Society recognises academic excellence in the biosciences, and highlights degrees that educate the research and development leaders of the future. The advanced accreditation criteria require evidence that graduates from the programme meet defined sets of learning outcomes, including gaining a substantial period of research experience.
Related courses
Biochemistry MBiol, BSc
Biological Sciences (Biotechnology with Enterprise) MBiol, BSc
Biological Sciences MBiol, BSc
Medical Biochemistry MBiol, BSc

Student Profile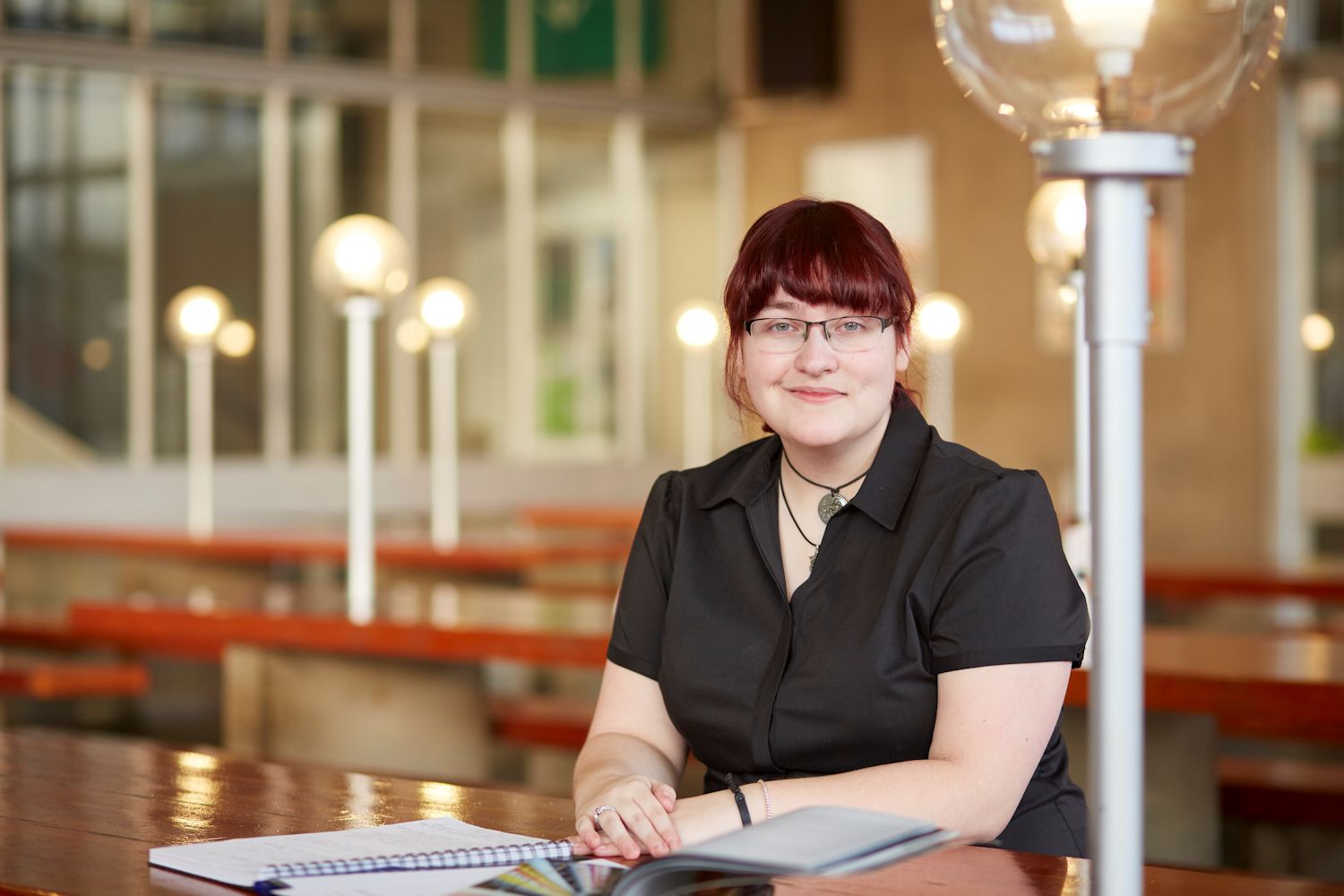 "The highlight of my time at Leeds has definitely been my course - both the lectures and the practical modules have been endlessly fascinating to me."
Read more
Amy Roe , BSc Microbiology with Immunology
Course content
As well as familiarising you with core practical and theoretical skills within microbiology, year one will also introduce you to broader themes within the biological sciences including genetics and immunology. Through practicals, tutorials and lectures you will develop the key foundations needed for success at degree level.
In second year you will begin to specialise in your preferred topics whilst building on your practical and research skills from first year. With a selection of modules from 'Cell Biology of Disease' to 'Medical Virology' you will continue to develop a broad understanding of key themes within biosciences, whilst also focusing on the areas that interest you most.
Year three will offer specialist topics such as the study of emerging viruses or an in depth study of the hepatitis viruses. Alongside this, a considerable part of your final year will involve an in-depth research project in which you will take all the skills you have developed in your degree and apply them to your own independent research whilst under the supervision of a leading academic. The culmination of your third year will be a portfolio of skills, knowledge, and experiences that will allow you to pursue your graduate career aspirations.
Course structure
These are typical modules/components studied and may change from time to time. Read more in our Terms and conditions.
Year 1
COMPULSORY MODULES
| | |
| --- | --- |
| Introduction to Genetics | 10 credits |
| The Basis of Life | 20 credits |
| Molecular Physiology | 20 credits |
| Introduction to Microbiology | 20 credits |
| Skills for Microbiologists | 40 credits |
Year 2
COMPULSORY MODULES
| | |
| --- | --- |
| The Power of Bacterial Genomics | 10 credits |
| Genetic Engineering | 10 credits |
| Cell Biology of Disease | 10 credits |
| Molecular Virology | 10 credits |
| Medical Bacteriology | 10 credits |
| Medical Immunology | 10 credits |
| Medical Virology | 10 credits |
| Skills for Microbiologists 2 | 40 credits |
Year 3
COMPULSORY MODULES
| | |
| --- | --- |
| Microbiology Research Project | 40 credits |
| Advanced Topics in Microbiology 1 | 20 credits |
| Advanced Topics in Microbiology 2 | 20 credits |
| Advanced Topics in Microbiology 3 | 20 credits |
| Skills for Microbiologists 3 | 20 credits |
For more information on typical modules, read Microbiology BSc in the course catalogue
Broadening your academic horizons
At Leeds we want you to benefit from the depth and breadth of the University's expertise, to prepare you for success in an ever-changing and challenging world. On this course you broaden your learning through core and/or optional modules. Find out more on the Broadening webpages.
Learning and teaching
Our degrees are delivered through a combination of lectures, tutorials and practicals. The first and second year will see a focus these three teaching methods, building your skill, understanding and knowledge for your final year research project, which will see independent research and learning complemented with the guidance of leading experts.
A typical week in year one includes nine to twelve hours of lectures, a three hour practical session in the lab, additional tutorials, workshop and seminar sessions, plus use of computer-based learning exercises and private study.
Year two consists of (typically) eight lectures per week, a tutorial, laboratory classes lasting between three and six hours, plus use of computer-based learning exercises and private study time.
In year three you will do project work, which takes about two and a half days (mainly in Semester 1). You will also attend lectures, seminars, small-group teaching exercises (mostly in Semester 2) and occasional workshops, together with private study time.
Independent study and research are also crucial to every year of the course. We have excellent library and computing facilities to support your learning, and the University Library offers training to help you make the most of them.
Assessment
We use a variety of assessment methods to help you develop a broad range of skills. These include practical work, data handling and problem-solving exercises, multiple-choice tests, group work, online and face-to-face discussion groups, computer-based simulations, essays, posters and oral presentations.
Entry requirements, fees and applying
Entry requirements
A-level: AAA - ABB
Including Chemistry or Biology and another science or science-related subject. Critical Thinking and General Studies excluded.
We accept the following science subjects: biology, human biology, chemistry, mathematics, physics. Science-related subjects: PE, geography, use of mathematics, psychology, statistics, geology and computing.
Applicants taking a Science A-level (in England) will be required to achieve a pass in the practical element in addition to the standard A-level grade requirement.
GCSE:
Typically Grade 6 (B) or above at GCSE Maths and Grade 4 (C) or above at GCSE English.
Alternative Qualifications
Access to HE Diploma
Pass 60 credits overall with 45 credits at Level 3, graded at D45M0P0 to D30M15P0 including distinctions in Biology and Mathematics or Chemistry. Accept Access courses in Applied Science. Will also consider (depending on subject content): Biochemical SciencesBiological and Envionmental ScienceBiological and Health ScienceBiological SciencesBiosciencesCombined SciencesEnvironmental ScienceLife and Biological ScienceLife ScienceMedical and Health Science ProfessionsNatural SciencesPhysical & Natural Sciences.
BTEC
Applicants with BTEC Diploma or Extended Diploma qualifications are required to have A2 level Biology or Chemistry. Applicants with BTEC Subsidiary Diploma qualifications must normally have at least 2 A2 levels and at least one of these should be biology or chemistry. The preferred BTEC qualification subject is Applied Science. Offers would be grade A in the A2 level science subject and Distinctions in the BTEC qualification. An offer will be made dependent on the BTEC subject and module choices.
Cambridge Pre-U
D3/D3/D3-D3/M1/M1 including D3 in Biology or Chemistry plus one other science or science-related subject.
International Baccalaureate
35-33 (with 18-17 at higher level) including 6 in higher level Chemistry or Biology and another science or science-related subject at higher level.
Irish Highers (Leaving Certificate)
H1,H1,H2,H2,H2,H2 - H2,H2,H2,H2,H2,H2 including H1-H2 in Chemistry or Biology and another science at higher level.
Scottish Highers / Advanced Highers
Advanced Higher: 5 x Highers AABBB-ABBBB, with AA-AB in 2 Advanced Highers including Biology and another science or science-related subject. General Studies and Critical Thinking excluded.
We accept the following science subjects: biology, human biology, chemistry, mathematics, physics. Science-related subjects: Science- related subjects: PE, geography, use of mathematics, psychology, statistics, geology and computing.
Scottish Higher: Scottish Highers not accepted on their own.
Welsh Baccalaureate
AAA-ABB including Biology and another science or science-related subject. General Studies and Critical Thinking excluded.

We accept the following science subjects: biology, human biology, chemistry, mathematics, physics. Science-related subjects: computing, environmental science, food science, geography, geology, PE, psychology, science in society, statistics, use of mathematics.
Read more about UK and Republic of Ireland accepted qualifications or contact the School's Undergraduate Admissions Team.
Alternative Entry
We're committed to identifying the best possible applicants, regardless of personal circumstances or background.
Access to Leeds is an alternative admissions scheme which accepts applications from individuals who might be from low income households, in the first generation of their immediate family to apply to higher education, or have had their studies disrupted.
Find out more about Access to Leeds and alternative admissions.
International
We welcome students from around the world and consider a range of qualifications. If your qualification or country does not appear on our entry requirements page, please contact us at fbsadmissions@leeds.ac.uk
Foundation year
If you have the ability to study for a degree but don't have the qualifications to enter directly to level one, you might consider studying a foundation year. We have formal links with the following foundation year programmes:
University of Leeds International Foundation Year (IFY)
Northern Consortium of UK Universities (NCUK)
Study Group Leeds International Study Centre (LISC)
If you are applying from an alternative foundation year provider, please contact our admissions team to find out if your qualification is suitable for entry to our courses.
English language requirements
IELTS 6.0 overall, with no less than 5.5 in any component.. For other English qualifications, read English language equivalent qualifications.

Improve your English
International students who do not meet the English language requirements for this programme may be able to study our undergraduate pre-sessional English course, to help improve your English language level.

How to apply
Apply to this course through UCAS. The institution code for the University of Leeds is L23. Check the deadline for applications on the UCAS website.
International students apply through UCAS in the same way as UK/EU students. Our network of international representatives can help you with your application. If you're unsure about the application process, contact the admissions team for help.
Read about visas, immigration and other information in International students. We recommend that international students apply as early as possible to ensure that they have time to apply for their visa.
Admissions policy
Faculty of Biological Sciences Undergraduate Admissions Policy
Fees
UK/EU: See fees section below
International: £21,500 (per year)
For UK and non-UK EU full-time students starting in 2018, the fee for 2018/19 will be £9,250.
The fee for undergraduate students starting in 2019 will be confirmed in September 2018.
The fee may increase in future years of your course in line with inflation, and as permitted by law. For example, the increase of 2.8% in 2017/18 was based on the government's forecast for the RPI-X measure of inflation.
The UK government has confirmed that non-UK EU students in 2018-19 will have home fee status and be eligible for UK government student loans. The UK government has not confirmed the situation for future years, so keep checking our website for updates.
If you take a study abroad or work placement year, you'll pay a reduced tuition fee during this period. For more information, see Study abroad and work placement tuition fees and loans.
Read more about paying fees and charges.
Additional cost information
There may be additional costs related to your course or programme of study, or related to being a student at the University of Leeds. Read more about additional costs
Scholarships and financial support
The Faculty of Biological Sciences offer a range of scholarships for UK, EU and International students. Find out more about our scholarships
Career opportunities
In addition to providing subject-specific knowledge, we equip all our students with the best possible skills for future careers. All of our degrees have a strong emphasis on practical based teaching, small group teaching, online learning and problem solving. Throughout the degree, students gain a wide range of transferable skills which are highly valued by employers. The Leeds for Life scheme, and the academic personal tutor, are ideally placed to assist with academic and personal development and help students to make the most of their time at university.
Career prospects for microbiology graduates are good and the reason for this is to be found in the economic importance of microbes as well as their impact on human health and well-being. 96% of our graduates are employed or in further study six months after graduation (DLHE 2014/15).
The majority of our graduates pursue a career in which they make direct use of their degree in microbiology. Many of our graduates work in medically related posts in the National Health Service, the Health Protection Agency or medical research establishments. Some choose to embark on a scientific career in the Scientific Civil Service or in industry, where their skills are much in demand. Most popular are the food, drinks, brewing, water and pharmaceutical industries. A smaller number opt for careers in teaching or may take a law conversion course. About a quarter of our students go on to study for a higher degree (Doctorate or Masters) in microbiology or related subjects such as biochemistry, biotechnology, bioinformatics, immunology, ecology or genetics. Research and technical posts in universities are also popular and often allow the possibility of part-time registration for a higher degree.
Microbiology graduates also take graduate entry jobs in non sciences based areas such as finance, administration and management consultancy.
Careers support
We have a dedicated Employability Officer in the Faculty of Biological Sciences who works closely with the University's Careers Centre. We offer a host of additional opportunities beyond core course content, including volunteering and placements. We also organise regular careers workshops designed specifically for sport sciences students to develop their career opportunities. These include our annual Bioscience Networking Event, which gives you the chance to meet bioscience employers, speak to alumni, attend workshops and get masses of information.
We encourage you to prepare for your career from day one. That's one of the reasons Leeds graduates are so sought after by employers.
Leeds for Life is our unique approach to helping you make the most of University by supporting your academic and personal development. Find out more at the Leeds for Life website.
The Careers Centre and staff in your faculty provide a range of help and advice to help you plan your career and make well-informed decisions along the way, even after you graduate. Find out more at the Careers website.
Study abroad and work placements
Study abroad
On this course you have the opportunity to apply to spend time abroad, usually as an extra academic year. The University has partnerships with more than 400 universities worldwide and popular destinations for our students include Europe, the USA, Canada, Australia, New Zealand, Singapore, Hong Kong, South Africa and Latin America.
Find out more at the Study Abroad website.
If you choose to undertake a study abroad option, you will spend the third year of the BSc studying abroad. This will extend your studies by 12 months.
Work placements
Practical work experience can help you decide on your career and improve your employability. On this course you have the option to apply to take a placement year module with organisations across the public, private and voluntary sectors in the UK, or overseas.
Find out more about work experience on the Careers website.
Industrial placements are typically taken between your second and final year. If you choose to undertake a placement year, this will extend your studies by 12 months. For your work placement in industry, staff at Leeds will help you with your CV and application letters and provide a list of organisations which may offer industrial placements.
Placements abroad are possible. We work together with your industrial supervisors to make sure you get the most out of this year. A year working in industry gives you an excellent opportunity to get used to the demands of the world of work, to develop new skills and to augment your CV.
Some of the places Microbiology students have been placed are:
Moslon Coors Brewers, Burton-on-Trent
AstraZeneca
Mayo Clinic, Florida
Novartis, San Francisco
Covance, Leeds