Faculty of Biological Sciences
Dr Simon Harrison
BSc, Leeds, PhD 1985, Glasgow
Senior Lecturer
School of Biomedical Sciences

Background: BSc (Leeds), PhD (Glasgow). Senior Lecturer (1999-)
Contact: Garstang 7.56a | +44(0) 113 34 34262 |
Research Interests
Heart function in health and disease
My research interests lie in understanding the mechanisms of normal excitation-contraction coupling in the heart, how these processes are regulated and how a variety of 'disease states' (hypertrophy, sepsis, etc) affect the strength of contraction of the heart.
High blood pressure or 'hypertension' affects 10 million people in the UK (http://en.wikipedia.org/wiki/ )Hypertension. In hypertensive patients the heart has to work harder to pump blood around the body and this causes the walls of the heart to thicken (hypertrophy). Eventually hypertrophy can lead to heart failure and associated with this progression are changes at the cellular level in the way heart cells contract. We have been studying the mechanisms associated with altered contraction and calcium regulation in normal and hypertrophied heart cells. In collaboration with Prof Ed White's group we also compare 'bad' hypertrophy (above) with 'good' hypertrophy which occurs in athletes involved in endurance training. We aim to understand why bad hypertrophy leads to heart failure whereas good hypertrophy does not.
Sepsis (http://en.wikipedia.org/wiki/sepsis) is a potentially life-threatening condition associated with the release of inflammatory cytokines like tumour necrosis factor (TNF). These cytokines have direct inhibitory effects on the heart and contribute to cardiovascular complications. We have shown that combinations of TNF and interleukin-1ß dramatically increase the leakiness of the internal store of calcium so that it cannot contribute properly during the heart beat. From confocal imaging of treated cells (Figure below) it is evident that cytokine treatment leads to an increase in spark frequency, and both localised and propagated calcium waves. Sparks are even evident in the descending phase of the calcium transient (figure taken from Duncan et al., 2010, Cell Calcium 47, 378-386).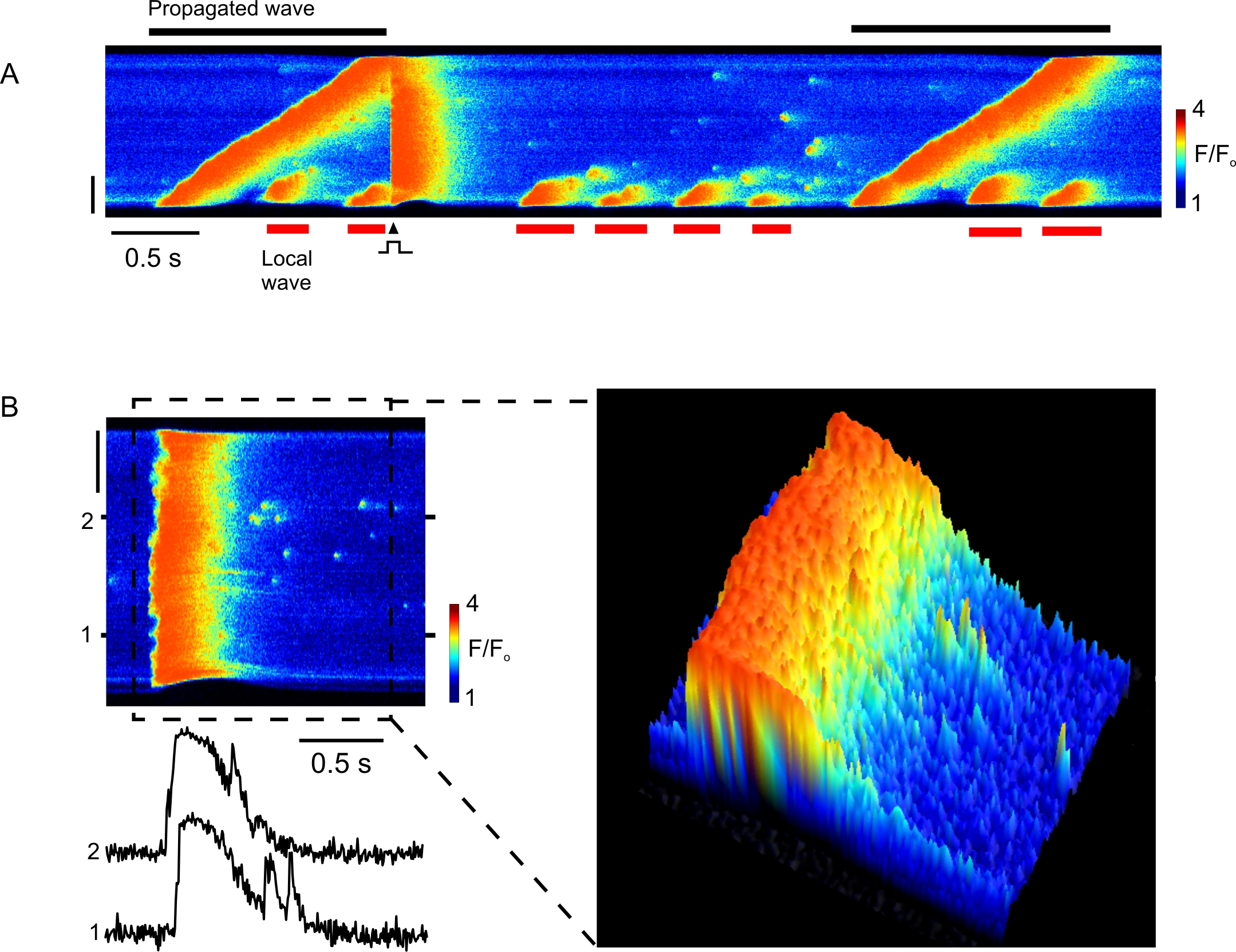 One consequence of severe sepsis is cell necrosis or death, and the contents of dying cells can be released into the vicinity of healthy cells. We are currently investigating the effects of histones (the normal function of which is to organise DNA in the nucleus) on cardiac function. Our initial experiements suggest that histones H3 and H4 induce very deleterious effects on the regulation of cytosolic calcium and therefore contractility in isolated ventricular myocytes. We aim to characterise their effects and identify a novel means of inhibiting these proteins which may prove therapeutically useful in patients suffering from severe sepsis.
Funding sources for these projects include The British Heart Foundation, Wellcome Trust, Royal Society and the Medical Research Council.
Studentship information
Postgraduate studentship areas:
Regulation of excitation-contraction coupling in the heart in normal and pathological conditions (e.g. hypertrophy and experimental sepsis).
See also:
FindaPhD Project details:
Admin roles
Director of Undergraduate Student Education
FBS Exective Committee
FBS Faculty Board
FBS FTSEC
FBS Student Recruitment Committee
FBS UGTSEC (Chair)

Modules managed
BMSC3138 - Cellular Cardiology

Modules taught
BMSC1103 - Basic Laboratory and Scientific Skills
BMSC1110 - Foundations of Biomedical Sciences
BMSC1213 - Basic Laboratory and Scientific Skills 2
BMSC1214 - Human Endocrinology
BMSC2117/3302 - Cardio-respiratory Phys & Med Phar
BMSC2120 - Scientific Skills
BMSC2223/BMSC3302 - Neuropharmacology/Medical Pharmacology
BMSC3138 - Cellular Cardiology
BMSC3233/34/35/36 - ATUs - BMS specific

Committees
Chair of Undergraduate School Taught Student Education CommitteeMember of Faculty Taught Student Education Committee
Centre membership: The Multidisciplinary Cardiovascular Research Centre (MCRC)
Group Leader Dr Simon Harrison (Senior Lecturer)


Heart function in health and disease
---
Duncan DJ; Yang ZK; Hopkins PM; Steele DS; Harrison SM TNF-alpha and IL-1 beta increase Ca2+ leak from the sarcoplasmic reticulum and susceptibility to arrhythmia in rat ventricular myocytes CELL CALCIUM 47 378-386, 2010
DOI:10.1016/j.ceca.2010.02.002
Duncan DJ; Yang Z; Hopkins PM; Steele DS; Harrison SM TNF-α and IL-1β increase Ca2+ leak from the sarcoplasmic reticulum and susceptibility to arrhythmia in rat ventricular myocytes Cell Calcium 47 378-386, 2010
DOI:10.1016/j.ceca.2010.02.002
View abstract
Stones R; Billeter R; Zhang HG; Harrison S; White E The role of transient outward K+ current in electrical remodelling induced by voluntary exercise in female rat hearts BASIC RES CARDIOL 104 643-652, 2009
DOI:10.1007/s00395-009-0030-6
Zhang HG; Tao T; Kharche S; Harrison SM Modelling changes in transmural propagation and susceptibility to arrhythmia induced by volatile anaesthetics in ventricular tissue J THEOR BIOL 257 279-291, 2009
DOI:10.1016/j.jtbi.2008.12.004
Stones R; Natali A; Billeter R; Harrison S; White E Voluntary exercise-induced changes in beta(2)-adrenoceptor signalling in rat ventricular myocytes EXP PHYSIOL 93 1065-1075, 2008
DOI:10.1113/expphysiol.2008.042598
Stones R; Calaghan SC; Billeter R; Harrison SM; White E Transmural variations in gene expression of stretch-modulated proteins in the rat left ventricle PFLUG ARCH EUR J PHY 454 545-549, 2007
DOI:10.1007/s00424-007-0237-z
Fowler MR; Naz JR; Graham MD; Orchard CH; Harrison SM Age and hypertrophy alter the contribution of sarcoplasmic reticulum and Na+/Ca2+ exchange to Ca2+ removal in rat left ventricular myocytes J MOL CELL CARDIOL 42 582-589, 2007
DOI:10.1016/j.yjmcc.2006.12.003
Duncan DJ; Hopkins PM; Harrison SM Negative inotropic effects of tumour necrosis factor-alpha and interleukin-1 beta are ameliorated by alfentanil in rat ventricular myocytes BRIT J PHARMACOL 150 720-726, 2007
DOI:10.1038/sj.bjp.0707147
Fowler MR; Orchard CH; Harrison SM Cellular distribution of calcium current is unaltered during compensated hypertrophy in the spontaneously hypertensive rat PFLUG ARCH EUR J PHY 453 463-469, 2007
DOI:10.1007/s00424-006-0147-5
Graham MD; Hopkins PM; Harrison SM Antagonistic actions of halothane and sevolurane on spontaneous Ca2+ release in rat ventricular myocytes ANESTHESIOLOGY 105 58-64, 2006
Bru-Mercier G; Hopkins PM; Harrison SM Halothane and sevoflurane inhibit Na/Ca exchange current in rat ventricular myocytes. Br J Anaesth 95 305-309, 2005
DOI:10.1093/bja/aei185
View abstract
Fowler MR; Naz JR; Graham MD; Mercier GB; Harrison SM; Orchard CH Decreased Ca2+ extrusion via Na+/Ca2+ exchange in epicardial left ventricular myocytes during compensated hypertrophy AM J PHYSIOL-HEART C 288 H2431-H2438, 2005
DOI:10.1152/ajpheart.01069.2004
Stones R; Billeter-Clark R; Harrison SM; White E Heterogenic contractile response of rat left ventricular myocytes to beta(1)-adrenoceptor stimulation European Journal of Pharmacology 512 117-120, 2005
DOI:10.1016/j.ejphar.2005.02.020
View abstract
Graham MD; Bru-Mercier G; Hopkins PM; Harrison SM Transient and sustained changes in myofilament sensitivity to Ca2+ contribute to the inotropic effects of sevoflurane in rat ventricle. Br J Anaesth 94 279-286, 2005
DOI:10.1093/bja/aei053
View abstract
Yang Z; Harrison SM; Steele DS ATP-dependent effects of halothane on SR Ca2+ regulation in permeabilized atrial myocytes. Cardiovasc Res 65 167-176, 2005
DOI:10.1016/j.cardiores.2004.09.008
View abstract
Rithalia A; Hopkins PM; Harrison SM The effects of halothane, isoflurane, and sevoflurane on Ca2+ current and transient outward K+ current in subendocardial and subepicardial myocytes from the rat left ventricle ANESTH ANALG 99 1615-1622, 2004
DOI:10.1213/01.ANE.0000138422.40560.A9
Graham M; Qureshi A; Noueihed R; Harrison S; Howarth FC Effects of halothane, isoflurane, sevoflurane and desflurane on contraction of ventricular myocytes from streptozotocin-induced diabetic rats MOLECULAR AND CELLULAR BIOCHEMISTRY 261 209-215, 2004
DOI:10.1023/B:MCBI.0000028758.21617.44
Fowler MR; Dobson RS; Orchard CH; Harrison SM Functional consequences of detubulation of isolated rat ventricular myocytes. Cardiovasc Res 62 529-537, 2004
DOI:10.1016/j.cardiores.2004.02.008
View abstract
Lancaster MK; Jones SA; Harrison SM; Boyett MR Intracellular Ca2+ and pacemaking within the rabbit sinoatrial node: heterogeneity of role and control. J Physiol 556 481-494, 2004
DOI:10.1113/jphysiol.2003.057372
View abstract
Graham MD; Hopkins PM; Harrison SM Effects of Alfentanil on cytosolic calcium and contraction in rat ventricular myocytes. Anesthesia and Analgesia 98 1013-1016, 2004
DOI:10.1213/01.ANE.0000104481.20813.35
View abstract
Rithalia A; Qureshi MA; Howarth FC; Harrison SM Effects of halothane on contraction and intracellular calcium in ventricular myocytes from streptozotocin-induced diabetic rats. Br J Anaesth 92 246-253, 2004
View abstract
Rithalia A; Hopkins PM; Harrison SM Effects of halothane on action potential configuration in sub-endocardial and sub-epicardial myocytes from normotensive and hypertensive rat left ventricle. Br J Anaesth 90 501-503, 2003
View abstract
Natali AJ; Wilson LA; Peckham M; Turner DL; Harrison SM; White E Different regional effects of voluntary exercise on the mechanical and electrical properties of rat ventricular myocytes Journal of Physiology 541 863-875, 2002
DOI:10.1113/jphysiol.2001.013415
Rithalia AD; Gibson CN; Hopkins PM; Harrison SM Halothane Inhibits Contraction and Action Potential Duration to a Greater Extent in Subendocardial than Subepicardial Myocytes from the Rat Left Ventricle Anesthesiology 95 1213-1219, 2001
DOI:10.1097/00000542-200111000-00027
View abstract
Lancaster MK; Jones SA; Harrison SM; Boyett MR Differences in the intracellular Ca2+ transient within the rabbit sinoatrial node J PHYSIOL-LONDON 533 30P-30P, 2001
Natali AJ; Turner DL; Harrison SM; White E Regional effects of voluntary exercise on cell size and contraction-frequency responses in rat cardiac myocytes J EXP BIOL 204 1191-1199, 2001
McDonald RL; Colyer J; Harrison SM Quantitative analysis of Na+-Ca2+ exchanger expression in guinea-pig heart. European Journal of Biochemistry 267 5142-5148, 2000
Hamilton DL; Boyett MR; Harrison SM; Davies LA; Hopkins PM The concentration-dependent effects of propofol on rat ventricular myocytes. Anesthesia and Analgesia 91 276-282, 2000
Davies LA; Hopkins PM; Boyett MR; Harrison SM Effects of halothane on the transient outward K+ current in rat ventricular myocytes. British Journal of Pharmacology 131 223-230, 2000
Davies LA; Gibson CN; Boyett MR; Hopkins PM; Harrison SM Effects of isoflurane, sevoflurane and halothane on myofilament Ca2+ sensitivity and SR Ca2+ release in rat ventricular myocytes Anesthesiology 93 1034-1044, 2000
Harrison SM; Davies LA; Hopkins PM; Boyett MR Mechanisms underlying the inotropic action of halothane on intact rat ventricular myocytes. British Journal of Anaesthesia 82 609-621, 1999
Davies LA; Boyett MR; Hopkins PM; Harrison SM Concentration-dependent inotropic effects of halothane, isoflurane and sevoflurane on rat ventricular myocytes British Journal of Anaesthesia 82 723-730, 1999
Fawcett JM; Harrison SM; Orchard CH A method of reversible permeabilisation of isolated ventricular myocytes Experimental Physiology 83.3 293-304, 1998
McMorn SO; Harrison SM; Boyett MR The effect of temperature on the rate-dependent decrease of the rat ventricular calcium current Experimental Physiology 83 49-63, 1998
Lancaster MK; Harrison SM Changes in contraction, cytosolic Ca2+ and pH during metabolic inhibition and upon restoration of mitochondrial respiration Experimental Physiology 83 349-360, 1998
Janvier NC; McMorn SO; Harrison SM; Taggart P; Boyett MR The role of Na(+)-Ca2+ exchange current in electrical restitution in ferret ventricular cells. The Journal of physiology 504 -, 1997
View abstract
Davies LA; Harrison SM; Boyett MR; Hopkins PM Dose-dependent effects of halothane on contraction of rat ventricular myocytes British Journal of Anaesthesia 79 -, 1997
Janvier NC; Harrison SM; Boyett MR The role of inward Na+-Ca2+ exchange current in the ferret ventricular action potential Journal of Physiology 498 611-625, 1997
Janvier NC; McMorn SO; Harrison SM; Taggart SM; Boyett MR The role of Na-Ca exchange current in electrical restitution in ferret ventricular cells. Journal of Physiology 504.2 301-314, 1997
McMorn SO; Harrison SM; Boyett MR The temperature dependence of inactivation of the L-type Ca2+ current in isolated rat ventricular myocytes, 1996
Boyett MR; Harrison SM; Janvier NC; McMorn SO A list of vertebrate cardiac ionic currents: Nomenclature, properties, function and cloned equivalents Cardiovascular Research 32 455-481, 1996
McMorn SO; Harrison SM; Boyett MR Comparison of ultra-slow, voltage-dependent inactivation of the cardiac L-type Ca2+ channel with Ca2+ or Ba2+ as the charge carrier Experimental Physiology 81 565-575, 1996
LUCKCUCK T; ORCHARD CH; HARRISON SM; WALKER JH SUBCELLULAR-LOCALIZATION OF ANNEXIN-V AND ANNEXIN-VI IN ISOLATED RAT VENTRICULAR MYOCYTES AND PORCINE LEFT-VENTRICLE, 1995
Luckcuck T; Orchard CH; Harrison SM; Walker JH Subcellular localization of annexins V and VI in isolated rat ventricular myocytes and porcine left ventricle. Biochem Soc Trans 23 28S-, 1995
Harrison SM The voltage-dependence of contraction at different stimulation rates in guinea-pig ventricular myocytes Experimental Physiology 80 941-958, 1995
Harrison SM; Boyett MR The role of the Na-Ca exchanger in the rate-dependent increase in contraction in guinea-pig ventricular myocytes Journal of Physiology 482 555-566, 1995
HOEY A; HARRISON SM; BOYETT MR; RAVENS U EFFECTS OF THE ANEMONIA-SULCATA TOXIN (ATX-II) ON INTRACELLULAR SODIUM AND CONTRACTILITY IN RAT AND GUINEA-PIG MYOCARDIUM PHARMACOL TOXICOL 75 356-365, 1994
Boyett MR; Honjo H; Harrison SM; Zang WJ; Kirby MS Ultra-slow voltage-dependent inactivation of the calcium current in guinea-pig and ferret ventricular myocytes. Pflugers Arch 428 39-50, 1994
View abstract
McMorn SO; Harrison SM; Zang WJ; Yu XJ; Boyett MR A direct negative inotropic effect of acetylcholine on rat ventricular myocytes. Am J Physiol 265 H1393-H1400, 1993
View abstract
Cannings I; Harrison S; White E; Boyett M The effect of a range of alcohols on the contraction of guinea-pig ventricular myocytes. Eur J Pharmacol 248 213-216, 1993
View abstract
Harrison S; Milner R; Boyett M Influence of Ca2+ channel agonists and antagonists on the post-rest staircase. Eur J Pharmacol 237 83-92, 1993
View abstract
Harrison SM; McCall E; Boyett MR The relationship between contraction and intracellular sodium in rat and guinea-pig ventricular myocytes. J Physiol 449 517-550, 1992
View abstract
Harrison SM; Frampton JE; McCall E; Boyett MR; Orchard CH Contraction and intracellular Ca2+, Na+, and H+ during acidosis in rat ventricular myocytes. Am J Physiol 262 C348-C357, 1992
View abstract
Frampton JE; Harrison SM; Orchard CH [Ca2+] and [Na+] in rat ventricular myocytes showing negative and positive force frequency relationships. Adv Exp Med Biol 311 335-336, 1992
View abstract
Frampton JE; Harrison SM; Boyett MR; Orchard CH Ca2+ and Na+ in rat myocytes showing different force-frequency relationships. Am J Physiol 261 C739-C750, 1991
View abstract
Bers DM; Hryshko LV; Harrison SM; Dawson DD Citrate decreases contraction and Ca current in cardiac muscle independent of its buffering action. Am J Physiol 260 C900-C909, 1991
View abstract
Harrison SM; Bers DM Temperature dependence of myofilament Ca sensitivity of rat, guinea pig, and frog ventricular muscle. Am J Physiol 258 C274-C281, 1990
View abstract
Harrison SM; Bers DM Modification of temperature dependence of myofilament Ca sensitivity by troponin C replacement. Am J Physiol 258 C282-C288, 1990
View abstract
BERS D; HRYSHKO L; HARRISON S CITRATE INHIBITS CARDIAC CONTRACTION BY AN EFFECT ON CA CURRENT AND NOT BY SIMPLE CAO BUFFERING BIOPHYSICAL JOURNAL 57 A177-A177, 1990
BERS D; HARRISON S TROPONIN-C REPLACEMENT MODIFIES THE TEMPERATURE-DEPENDENCE OF MYOFILAMENT CA-SENSITIVITY OF SKINNED CARDIAC-MUSCLE ISOLATED FROM THE RAT JOURNAL OF PHYSIOLOGY-LONDON 418 P166-P166, 1989
FRY CH; MILLER DJ; HARDING DP; HARRISON SM THE CONTRIBUTION OF MITOCHONDRIAL CALCIUM-ION EXCHANGE TO RELAXATION OF TENSION IN CARDIAC-MUSCLE MOL CELL BIOCHEM 89 127-133, 1989
HARRISON S; BERS D CORRECTION OF PROTON AND CA ASSOCIATION CONSTANTS OF EGTA FOR TEMPERATURE AND IONIC-STRENGTH AMERICAN JOURNAL OF PHYSIOLOGY 256 C1250-C1250, 1989
Harrison SM; Bers DM Influence of temperature on the calcium sensitivity of the myofilaments of skinned ventricular muscle from the rabbit. J Gen Physiol 93 411-428, 1989
View abstract
Harrison SM; Lamont C; Miller DJ Hysteresis and the length dependence of calcium sensitivity in chemically skinned rat cardiac muscle. J Physiol 401 115-143, 1988
View abstract
HARRISON S; BERS D THE INFLUENCE OF TEMPERATURE ON THE CALCIUM SENSITIVITY OF SKINNED VENTRICULAR MUSCLE FROM THE RABBIT BIOPHYSICAL JOURNAL 53 A435-A435, 1988
BERS D; HARRISON S RAPID REWARMING OF CARDIAC-MUSCLE DURING RAPID COOLING CONTRACTURES SUGGEST SPECIES-DIFFERENCES IN MYOFILAMENT CA SENSITIVITY BIOPHYSICAL JOURNAL 53 A435-A435, 1988
HARRISON S; BERS D THE EFFECT OF TEMPERATURE AND IONIC-STRENGTH ON THE APPARENT CA-AFFINITY OF EGTA AND THE ANALOGOUS CA-CHELATORS BAPTA AND DIBROMO-BAPTA BIOCHIMICA ET BIOPHYSICA ACTA 925 133-143, 1987
DOI:10.1016/0304-4165(87)90102-4
BERS D; HARRISON S COMPARISON OF THE NEW CALCIUM BUFFERS BAPTA AND DI-BROMO-BAPTA WITH EGTA - EVALUATION OF PURITY AND SENSITIVITY TO TEMPERATURE AND IONIC-STRENGTH JOURNAL OF PHYSIOLOGY-LONDON 386 P58-P58, 1987
HARRISON S; BERS D THE MEASUREMENT OF K'CA OF EGTA, BAPTA, AND DI-BROMO-BAPTA AT A RANGE OF IONIC STRENGTHS AND TEMPERATURES BIOPHYSICAL JOURNAL 51 A102-A102, 1987