Transcellular Chaperone Signaling in the Regulation of Organismal Proteostasis during Stress and Protein Conformational Diseases
Every cell within an organism is faced with a variety of stresses throughout its life-time, that can be potentially harmful for a functional proteome. Failure to maintain a functional proteome and thus protein homeostasis (proteostasis) leads to the accumulation of damaged proteins with devastating consequences for many essential cellular processes, resulting in tissue pathology and increased susceptibility for protein misfolding diseases (Huntington's disease, Alzheimer's disease, Parkinson's disease etc). To protect against the toxic consequences of protein misfolding, cells have evolved ancient stress response and protein quality control mechanisms allowing for the targeted induction of a network of chaperones, clearance mechanisms and signaling components.
The current knowledge and understanding of cellular stress responses and protein quality control mechanisms is however largely based on single-cell studies. In metazoans, such as the nematode C. elegans, cellular stress responses are organized coordinately between and across somatic tissues by transcellular chaperone signaling. An imbalance of proteostasis within one cell-type or tissue is sensed and signaled to other tissues to adjust chaperone levels and minimize the risk of proteotoxic damage and to promote organismal stress resistance and survival. This form of integrated stress signaling functions between cells and tissues within the organism to accommodate a dynamic proteome throughout lifespan and in response to diverse (acute and chronic) stress conditions, aging and protein misfolding diseases.
Our research aims to uncover the molecular signaling mechanisms metazoans use to coordinate induction of protective stress response mechanisms between different tissues within an organism.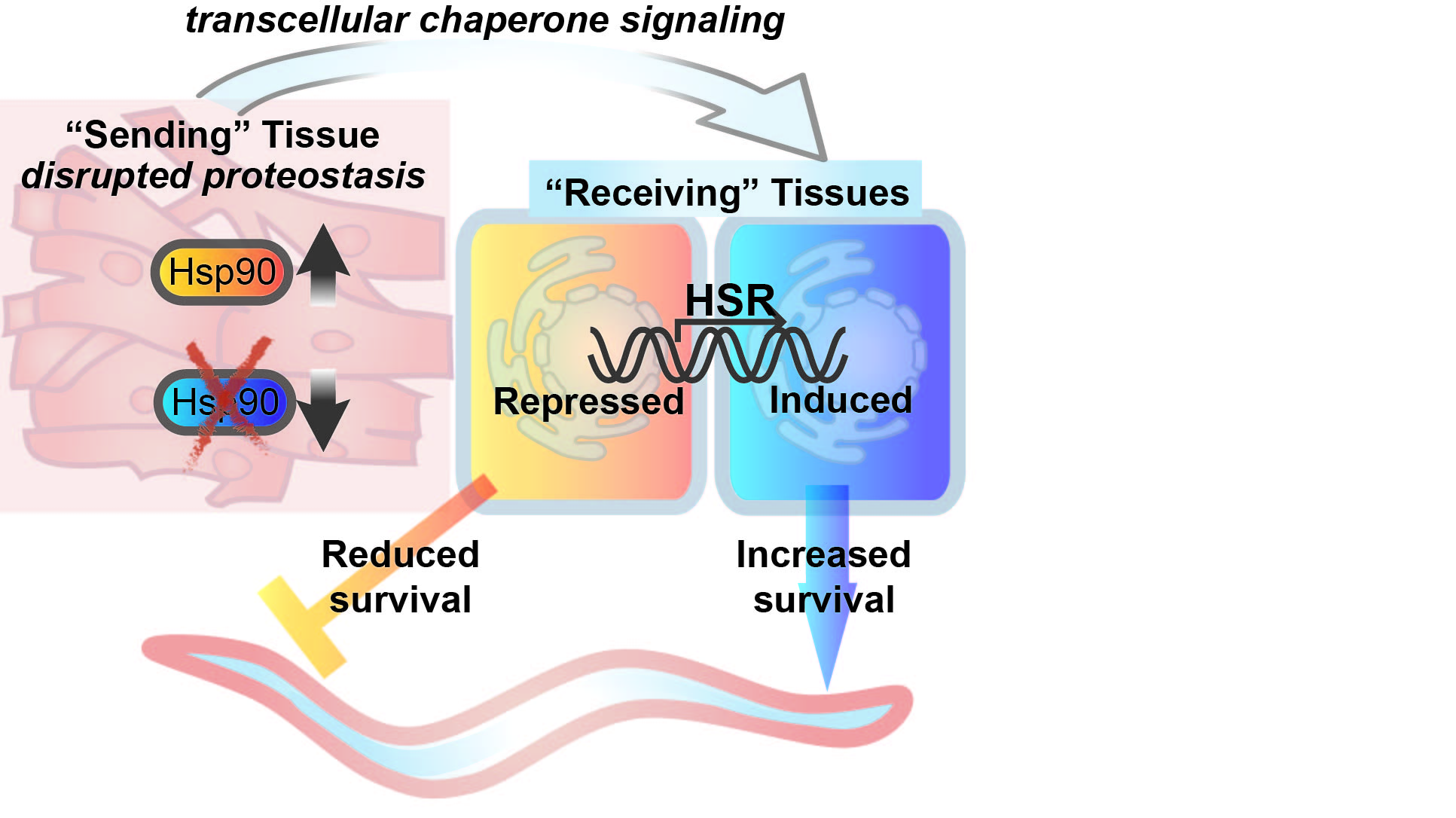 Figure 1. Representation of Transcellular Chaperone Signalling. An imbalance of proteostasis in a sender tissue is sensed and recognized by adjacent and distal tissues in an organism leading to compensatory transcriptional responses, such as the heat shock response (HSR).
The model organism of C. elegans provides a powerful genetic and cell biology tool to understand how transcellular chaperone signaling is organized between a stressed "sender" tissue and responding "receiving" tissues in vivo and in real-time. We employ C. elegans models of protein conformational diseases as well as fluorescent stress response reporters to address questions on the source and nature of the "transcellular" signal, how these are transmitted and the functional and physiological consequences they induce.
PhD and MSc studentship applications
We are currently seeking applications for PhD and MSc students. We are looking for highly motivated candidates with a passion and curiosity to understand how protein homeostasis is maintained in an organism and how these mechanisms can be used to fight ageing and neurodegenerative diseases. Ideally you have some background in molecular biology, genetics and biochemistry.
Please see the link below for more information on currently available projects.
http://www.vanoostenhawlelab.com

For informal enquiries please contact:
p.vanoosten-hawle@leeds.ac.uk
Faculty Research and Innovation
---
Studentship information
See also:
FindaPhD Project details:
Modules managed
BIOL5383M - Specialised Research Topics and Skills for Biotechnology
BIOL5394M - Specialised Research Topics and Skills

Modules taught
BIOC1303 - Introductory Biochemistry: Problem Solving and Data Handling
BIOC2303 - Intermediate Biochemistry: Skills
BIOC3221/22/BIOL3210 A - ATU - aging pathways
BIOL2301/03/05/MICR2320 - Intermediate Skills - BIOL/MICR
BIOL3305 - Advanced Skills in the Biosciences
BIOL3306 - Biological Sciences Research Project
BIOL3397 - Biotechnology Research Project
BIOL3399 - Extended Research Project Preparation
BIOL5294M - MSc Bioscience Research Project Proposal
BIOL5382M - Extended Research Project
BIOL5390M - Bioscience MSc Research Project
BIOL5392M - Bioscience MSc Research Project
BIOL5394M - Specialised Research Topics and Skills
BIOW5905X - Membrane proteins
FOBS1201/BIOL1214 - Molecular Physiology/Multicellular Systems

Centre membership: The Astbury Centre for Structural Molecular Biology
Group Leader Dr Patricija van Oosten-Hawle (Lecturer in Cell Biology)

Postgraduates
Sarah Good (Primary supervisor) 50% FTE
Jay Miles (Primary supervisor) 75% FTE
Daniel O'Brien (Primary supervisor) 70% FTE

O'Brien D, Jones LM, Good S, Miles J, Vijayabaskar MS, Aston R, Smith CE, Westhead DR, van Oosten-Hawle P A PQM-1-Mediated Response Triggers Transcellular Chaperone Signaling and Regulates Organismal Proteostasis Cell Reports 23 3905-3919, 2018
DOI:10.1016/j.celrep.2018.05.093
View abstract
Van Oosten-Hawle P, Bolon DNA, LaPointe P The diverse roles of Hsp90 and where to find them Nature Structural&Molecular Biology 24 1-4, 2017
DOI:10.1038/nsmb.3359
O'Brien D, van Oosten-Hawle P Regulation of cell-non-autonomous proteostasis in metazoans PROTEOSTASIS 60 133-142, 2016
DOI:10.1042/EBC20160006
Tipping KW, van Oosten-Hawle P, Hewitt EW, Radford SE Amyloid Fibres: Inert End-Stage Aggregates or Key Players in Disease? Trends in Biochemical Sciences 40 719-727, 2015
DOI:10.1016/j.tibs.2015.10.002
View abstract
van Oosten-Hawle P, Morimoto RI Organismal proteostasis: Role of cell-nonautonomous regulation and transcellular chaperone signaling Genes and Development 28 1533-1543, 2014
DOI:10.1101/gad.241125.114
View abstract
Millson S, van Oosten-Hawle P, Alkuriji MA, Truman A, Siderius M, Piper PW Cdc37 engages in stable, S14A mutation-reinforced association with the most atypical member of the yeast kinome, Cdk-activating kinase (Cak1) Cell Stress and Chaperones 1-9, 2014
DOI:10.1007/s12192-014-0497-4
View abstract
Van Oosten-Hawle P, Porter RS, Morimoto RI Regulation of organismal proteostasis by transcellular chaperone signaling Cell 153, 2013
DOI:10.1016/j.cell.2013.05.015
View abstract
Hawle P, Horst D, Bebelman JP, Yang XX, Siderius M, Van Der Vies SM Cdc37p is required for stress-induced high-osmolarity glycerol and protein kinase C mitogen-activated protein kinase pathway functionality by interaction with Hog1p and Slt2p (Mpk1p) Eukaryotic Cell 6 521-532, 2007
DOI:10.1128/EC.00343-06
View abstract
Hawle P, Siepmann M, Harst A, Siderius M, Reusch HP, Obermann WMJ The middle domain of Hsp90 acts as a discriminator between different types of client proteins Molecular and Cellular Biology 26 8385-8395, 2006
DOI:10.1128/MCB.02188-05
View abstract