Faculty of Biological Sciences
Research Bulletin
Declining into failure: the loss of ion channels in aging.
15th March 2007
Research on aging reveals loss of ion channel in the heart.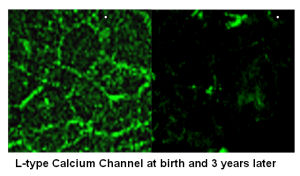 Work by Dr Sandra Jones and Dr Matthew Lancaster (IMSB) has shown that incrementing age is associated with a loss of electrical junctions between cells in the pacemaker of the heart and a loss of ion channels responsible for the electrical activity of the heart. The results have been published in this month edition of Circulation, and was featured in the Yorskhire Post. Age is the biggest risk factor for developing cardiac problems in the form of heart-disease but also arrhythmias. We know the former is frequently a consequence of ischemia and cardiac damage but the increasing occurrence of arrhythmias with ageing appears to be due to changes in the conduction system of the heart and a progressive failure of the normal cardiac pacemaker - the sinoatrial node. This leads to an increasing necessity for pacemaker implants in the elderly. Combined, these two effects disable the normal origin of the heart beat leading to arrhythmias, and potentially sudden death. An editorial article in the leading cardiac journal Circulation has highlighted this work as important progress in understanding how to tackle the increasing problems of the beleaguered ageing heart. Implications of this work are that it may be possible to protect the ageing heart from arrhythmias by reversing the loss of the electrical junctions and ion channels, but also that common drugs used to treat hypertension may actually exacerbate this problem in the elderly.
---
Recent Grants
Dave Westhead and colleagues in Experimental Haematology, Cancer Research UK (Jan 2015), £700,521
Sheena Radford, Mark Harris, Peter Stockley, Alan Berry, Alex O'Neill, Thomas Edwards, Adrian Goldman, Anastasia Zhuravleva, Wellcome Trust (Jan 2015), £443,015
Bill Kunin, EU (Jan 2015), £157,490
John Colyer, Leeds Teaching Hospitals Charitable Fund (Jan 2015), £40,000
Chris Hassall, Royal Society (Dec 2014), £14,500
Ryan Seipke, Royal Society (Nov 2014), £13,700
Alan Berry, Wellcome Trust (Oct 2014), £749,865
Ian Hope, Marie-Anne Shaw, BBSRC (Oct 2014), £396,565
Alison Ashcroft, Peter Stckley, Sheena Radford, Nic Stonehouse, David Brockwell, Darren Tomlinson, BBSRC (Oct 2014), £340,937
Les Firbank, Joe Holden, BBSRC (Oct 2014), £210,302
Darren Tomlinson and colleagues in Chemistry and Pathology, anatomy and Tumour Biology, Dr Hadwen Trusy (Oct 2014), £194,475
Paul Knox, EU (Oct 2014), £167,229
Martin Stacey and colleagues in Medicine & Health, Pfizer (Oct 2014), £90,453
Darren Tomlinson and colleagues in Experimental Oncology, YCR (Oct 2014), £69,480
Andrew Macdonald, Jamel Mankouri, Kidney Research Fund UK (Oct 2014), £58,878
Mike McPherson and colleagues in Dentistry and Engineering, Wellcome Trust (Oct 2014), £58,437
Dave Westhead and colleagues in Experimental Haemotology, Leukaemia & Lymphoma Research (Sep 2014), £281,424
Emmanuel Paci and colleagues in Chemistry, BBSRC (Sep 2014), £636,759
Andrew Peel, BBSRC (Sep 2014), £371,598
Lars Jeuken, Stephen Evans, BBSRC (Sep 2014), £333,684
Lars Jeuken, BBSRC (Sep 2014), £313,463
Michelle Peckham, Mark Harris, Rao Sivaprasadarao, Eileen Ingham, Nic Stonehouse, Nikita Gamper, Wellcome Trust (Sep 2014), £192,763
Neil Ranson, BBSRC (Aug 2014), £355,253
Stuart Egginton, BHF (Aug 2014), £271,094
Darren Tomlinson, Mike McPherson, Technology Strategy Board (Aug 2014), £98,665
Peter Henderson, Leverhulme Trust (Aug 2014), £15,222
Mike McPherson (and colleagues in the School of Chemistry), EPSRC (Jul 2014), £819,880
Peter Stockley, Neil Ranson, BBSRC (Jul 2014), £455,787
Sheena Radford, Univesity of Michigan (Jul 2014), £138,452
Ryan Seipke, British Society Antimicrobial Chemistry (Jun 2014), £11,960
John Trinick, BHF (Jun 2014), £222,614
Chris West, Leverhulme Trust (Jun 2014), £181,241
Jon Lippiat, Darren Tomlinson, BBSRC (May 2014), £125,174
Christine Foyer, Royal Society (May 2014), £24,000
David Brockwell, Sheena Radford, Medimmune Ltd (Apr 2014), £337,661
Peter Stockley, Wellcome Trust (Apr 2014), £251,019
Mike McPherson, Wellcome Trust (Apr 2014), £146,596
Andrew Macdonald, Kidney Research Fund UK (Apr 2014), £127,237
Elwyn Isaac, DEFRA (Apr 2014), £126,512
Mike McPherson (and colleagues in School of Design), Technology Strategy Board (Apr 2014), £114,350
Paul Millner, Peter Stockley, Darren Tomlinson, YCR (Apr 2014), £95,874
Carrie Ferguson, Karen Birch, Shaunna Burke, Heart Research UK (Apr 2014), £60,140
Tim Benton, Technology Strategy Board (Apr 2014), £24,969
Bill Kunin, Technology Strategy Board (Apr 2014), £21,244
Dave Westhead, MRC (Apr 2014), £18,304
Brendan Davies, BBSRC (Mar 2014), £451,829
Jim Deuchars, MRC (Mar 2014), £300,000
Urwin, Howard Atkinson, British Potato Council (Mar 2014), £69,953
Adam Kupinski, Children with Cancer (Mar 2014), £50,000
Anastasia Zhuravleva, Royal Society (Mar 2014), £14,973
Urwin, Howard Atkinson, Agriculture & Horticulture Develpmnt Brd (Mar 2014), £13,990
Alison Baker, Steve Baldwin, BBSRC (Feb 2014), £403,439
Sarah Zylinski, BBSRC (Feb 2014), £355,869
Dave Lewis, Nigel Hooper, Tony Turner, Hugh Pearson, James Duce, Alzheimer's Society (Feb 2014), £29,871
Recent News
Impact Stories