Faculty of Biological Sciences
Research Bulletin
"Sidelined scientist who came close to discovering DNA is celebrated at last"
27th November 2010
Leeds scientist William Astbury appears in the Guardian and the BBC's History of the world in 100 Objects.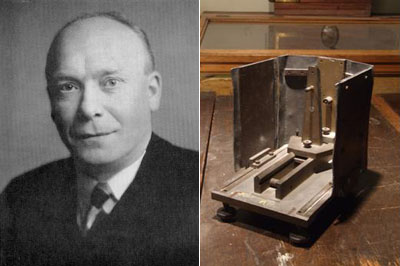 Leeds scientist William Astbury appears in the
Guardian
and the BBC's
History of the world in 100 Objects
. The item appearing in A History of the World is the camera used by William Astbury to take the first X-ray photographs of DNA. Astbury also worked in the Textile Industries and studied the properties of fibrous substances with a view to creating artificial alternatives to natural fibres. He was actually appointed by Professor Barker in 1928, who said of him in a 1956 article A Historical sketch prepared for the Clothworkers' Company: "Professor Astbury's achievements in the X-ray analysis of protein substance seem quite likely to throw some light upon both rheumatoid arthritis and cancerous growths, and thus is the first of my own ideals of Textile Technology contributing to fundamental scientific knowledge coming to fruition." Emily Winterburn, who is curating a forthcoming exhibition about Astbury, explained: "The camera was put together in the workshops at the University following Astbury's specifications. It's similar to a regular plate camera except that the light coming in is not visual light from the sun but X-rays. It's made of lead - as you would expect, given that it uses X-rays - and while it doesn't look that spectacular, is important because it was the camera Astbury and his research assistant, Florence Bell, used to take the first ever photograph of DNA. "Astbury coined the phrase 'molecular biology', and pioneered X-ray studies at the University throughout the 1930s, 40s and 50s. The discovery of the DNA double helix was made in 1953, and was dependent on the work of X-ray crystallographers like Astbury who were skilled in the taking and interpretation of patterns created when X-rays diffract though biological fibres in crystalline form. "Knowledge of the double helical structure of DNA is the basis of modern molecular biology and a range of applications, scientific, medical and forensic have grown up around it. You could say that Astbury's work was the catalyst that enabled all these applications to exist."
---
Recent Grants
Dave Westhead and colleagues in Experimental Haematology, Cancer Research UK (Jan 2015), £700,521
Sheena Radford, Mark Harris, Peter Stockley, Alan Berry, Alex O'Neill, Thomas Edwards, Adrian Goldman, Anastasia Zhuravleva, Wellcome Trust (Jan 2015), £443,015
Bill Kunin, EU (Jan 2015), £157,490
John Colyer, Leeds Teaching Hospitals Charitable Fund (Jan 2015), £40,000
Chris Hassall, Royal Society (Dec 2014), £14,500
Ryan Seipke, Royal Society (Nov 2014), £13,700
Alan Berry, Wellcome Trust (Oct 2014), £749,865
Ian Hope, Marie-Anne Shaw, BBSRC (Oct 2014), £396,565
Alison Ashcroft, Peter Stckley, Sheena Radford, Nic Stonehouse, David Brockwell, Darren Tomlinson, BBSRC (Oct 2014), £340,937
Les Firbank, Joe Holden, BBSRC (Oct 2014), £210,302
Darren Tomlinson and colleagues in Chemistry and Pathology, anatomy and Tumour Biology, Dr Hadwen Trusy (Oct 2014), £194,475
Paul Knox, EU (Oct 2014), £167,229
Martin Stacey and colleagues in Medicine & Health, Pfizer (Oct 2014), £90,453
Darren Tomlinson and colleagues in Experimental Oncology, YCR (Oct 2014), £69,480
Andrew Macdonald, Jamel Mankouri, Kidney Research Fund UK (Oct 2014), £58,878
Mike McPherson and colleagues in Dentistry and Engineering, Wellcome Trust (Oct 2014), £58,437
Dave Westhead and colleagues in Experimental Haemotology, Leukaemia & Lymphoma Research (Sep 2014), £281,424
Emmanuel Paci and colleagues in Chemistry, BBSRC (Sep 2014), £636,759
Andrew Peel, BBSRC (Sep 2014), £371,598
Lars Jeuken, Stephen Evans, BBSRC (Sep 2014), £333,684
Lars Jeuken, BBSRC (Sep 2014), £313,463
Michelle Peckham, Mark Harris, Rao Sivaprasadarao, Eileen Ingham, Nic Stonehouse, Nikita Gamper, Wellcome Trust (Sep 2014), £192,763
Neil Ranson, BBSRC (Aug 2014), £355,253
Stuart Egginton, BHF (Aug 2014), £271,094
Darren Tomlinson, Mike McPherson, Technology Strategy Board (Aug 2014), £98,665
Peter Henderson, Leverhulme Trust (Aug 2014), £15,222
Mike McPherson (and colleagues in the School of Chemistry), EPSRC (Jul 2014), £819,880
Peter Stockley, Neil Ranson, BBSRC (Jul 2014), £455,787
Sheena Radford, Univesity of Michigan (Jul 2014), £138,452
Ryan Seipke, British Society Antimicrobial Chemistry (Jun 2014), £11,960
John Trinick, BHF (Jun 2014), £222,614
Chris West, Leverhulme Trust (Jun 2014), £181,241
Jon Lippiat, Darren Tomlinson, BBSRC (May 2014), £125,174
Christine Foyer, Royal Society (May 2014), £24,000
David Brockwell, Sheena Radford, Medimmune Ltd (Apr 2014), £337,661
Peter Stockley, Wellcome Trust (Apr 2014), £251,019
Mike McPherson, Wellcome Trust (Apr 2014), £146,596
Andrew Macdonald, Kidney Research Fund UK (Apr 2014), £127,237
Elwyn Isaac, DEFRA (Apr 2014), £126,512
Mike McPherson (and colleagues in School of Design), Technology Strategy Board (Apr 2014), £114,350
Paul Millner, Peter Stockley, Darren Tomlinson, YCR (Apr 2014), £95,874
Carrie Ferguson, Karen Birch, Shaunna Burke, Heart Research UK (Apr 2014), £60,140
Tim Benton, Technology Strategy Board (Apr 2014), £24,969
Bill Kunin, Technology Strategy Board (Apr 2014), £21,244
Dave Westhead, MRC (Apr 2014), £18,304
Brendan Davies, BBSRC (Mar 2014), £451,829
Jim Deuchars, MRC (Mar 2014), £300,000
Urwin, Howard Atkinson, British Potato Council (Mar 2014), £69,953
Adam Kupinski, Children with Cancer (Mar 2014), £50,000
Anastasia Zhuravleva, Royal Society (Mar 2014), £14,973
Urwin, Howard Atkinson, Agriculture & Horticulture Develpmnt Brd (Mar 2014), £13,990
Alison Baker, Steve Baldwin, BBSRC (Feb 2014), £403,439
Sarah Zylinski, BBSRC (Feb 2014), £355,869
Dave Lewis, Nigel Hooper, Tony Turner, Hugh Pearson, James Duce, Alzheimer's Society (Feb 2014), £29,871
Ronaldo Ichyama, Samit Chakrabarty, International Spinal Research Trust (Jan 2014), £304,600
Brendan Davies, BBSRC/Bayer Crop Science SA-NV (Jan 2014), £470,053
Adrian Goldman, Steve Baldwin, Stephen Muench, Thomas Edwards, Arwen Pearson , BBSRC (Jan 2014), £467,103
Stefan Kepinski, BBSRC (Jan 2014), £359,269
Elwyn Isaac, EU (Jan 2014), £179,445
Dave Westhead, Leukaemia & Lymphoma Research (Jan 2014), £105,937
Eileen Ingham, Joanne Tipper, Depuy International Ltd (Jan 2014), £48,121
Recent News
Impact Stories