Faculty of Biological Sciences
Research Bulletin
Is organic farming good for wildlife?
7th September 2010
Even though organic methods may increase farm biodiversity, a combination of conventional farming and protected areas could sometimes be a better way to maintain food production and protect wildlife.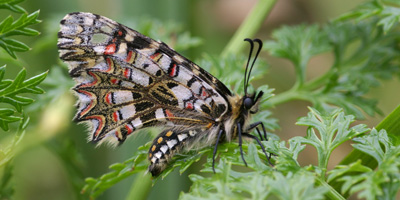 The findings come from a study of butterfly populations in UK landscapes by scientists at the Universities of Leeds and York. They found that organic farms have more butterflies than conventional farms, but that a conventional farm plus an area specifically managed for wildlife could support more butterflies, and produce the same amount of food, from the same area of land. However, the wildlife area would have to be similar in quality to a nature reserve, rather than similar to an uncultivated field margin. The study is the first to seek to establish the trade-off between the most efficient use of farmland and the most effective way to conserve wildlife in our countryside and has important implications for how agricultural land in the UK should be managed. The research, which involved scientists from the Institute of Integrative and Comparative Biology, at the University of Leeds, and the Department of Biology at the University of York, is published in the online edition of Ecology Letters. Author Prof. Bill Kunin of the University of Leeds says: "It's not enough to know how much biodiversity an agricultural field supports, we also need to know how much food it produces. If 'sharing' our farmland with wildlife means that more total land will be taken into production to produce our food, then there may be a hidden cost of hurting wildlife somewhere else." The scientists measured the density and numbers of species of butterflies in organic farms, conventional farms and grassland nature reserves in 16 locations in the South of England, the Midlands and Yorkshire. They used butterflies as a wildlife example because of their sensitivity to small-scale habitat change, and focused on winter cereal and pasture fields because they are among the commonest crops. The team project that a combination of conventional farming and nature reserves would be better for butterflies if the organic yield per hectare falls below 87 per cent of conventional yield. But if the uncultivated land is not specifically managed for wildlife - being more like unmanaged field margins - organic farming would be better whenever organic yields rise above 35 per cent of conventional yields. The relative yield of organic farming is often somewhere between 35 per cent and 87 per cent of conventional yield, depending on the type of crop and landscape. The trade-off might also be different for other types of wildlife: for example wildflowers benefit more from organic farming than butterflies, and many birds do not benefit at all. The results suggest that organic farming will be better when organic yields are high and when spared land has low value to wildlife. Conventional farming will be better when organic yields are low and spared land is of high wildlife value. Lead author, Dr Jenny Hodgson, of the Department of Biology at York, said: "This research raises questions about how agri-environment schemes and incentives could be improved. There could be much more scope for restoring and maintaining permanent, high-quality wildlife habitat. This might involve neighbouring farmers clubbing together to achieve a larger area of restored habitat, or setting up a partnership with a conservation organisation." Author Prof Tim Benton says: "More effective agri-environment methods will strengthen the case for conventional farming. The real challenge is to develop better ways to manage AES areas on conventional farms, so they can come closer to nature reserve standards. The spared land could be in nature reserves, but if properly managed, the spared land could also be in strips at the margins of fields." One premise of this study was that we aim to maintain food yield and wildlife in the UK countryside, and that these cannot be traded off with food or wildlife further afield. However, in reality the situation is much more complicated. Author Prof Chris Thomas, of the University of York says: "It is hard to work out the best strategies to minimise the environmental impact of producing food in a global context. For example, if we adopt a low-intensity farming strategy in Europe, European citizens won't starve; we will simply import more food from other countries. This will potentially increase the area of land under cultivation, or the intensity of cultivation, in other countries, and hence accelerate biodiversity losses elsewhere in the world" The research was supported by UKPopNet, the British Ecological Society and the University of Leeds. The fieldwork was conducted on a sample of farms selected from a study supported by the Rural Economy and Land Use Programme (RELU).
For more information contact:
David Garner, University of York press office - 01904 432153;
dcg501@york.ac.uk
Guy Dixon, University of Leeds press office - 0113 343 8299; g.dixon@leeds.ac.uk Notes to Editor The paper Comparing organic farming and land sparing: optimising yield and butterfly populations at a landscape scale is published in Ecology Letters at http://onlinelibrary.wiley.com/journal/10.1111/(ISSN)1461-0248/earlyview The farms and nature reserves used in the study were in Derbyshire, East Riding of Yorkshire, Gloucestershire, Hampshire, Leicestershire, Lincolnshire, Nottinghamshire, Oxfordshire, Shropshire, Staffordshire, West Berkshire, West Sussex and Wiltshire This research was done in Leeds' Institute of Integrative and Comparative Biology http://www.fbs.leeds.ac.uk/institutes/iicb/iicb.htm, part of the Faculty of Biological Sciences. The Faculty of Biological Sciences at the University of Leeds is one of the largest in the UK, with over 150 academic staff and over 400 postdoctoral fellows and postgraduate students. The Faculty is ranked 4th in the UK (Nature Journal, 457 (2009) doi :10.1038/457013a) based on results of the 2008 Research Assessment Exercise (RAE). The RAE feedback noted that "virtually all outputs were assessed as being recognized internationally, with many (60%) being internationally excellent or world-leading" in quality. The Faculty's research grant portfolio totals some £60M and funders include charities, research councils, the European Union and industry. www.fbs.leeds.ac.uk More about the University of York's Department of Biology at www.york.ac.uk/depts/biol/ This work resulted from a pump-priming project sponsored by the UK Population Biology Network (UKPopNet) and funded by Natural England and the Natural Environment Research Council (Agreement R8-H12-01) with additional support from the Centre for Ecology & Hydrology. UKPopNet is a network of institutions founded by the universities of Aberdeen, East Anglia, Leeds, Sheffield and York, together with NERC's Centre for Ecology & Hydrology. It encompasses scientists, policy makers and practitioners tackling major environmental problems. The Rural Economy and Land Use Programme is an interdisciplinary collaboration between the Economic and Social Research Council (ESRC), the Biotechnology and Biological Sciences Research Council (BBSRC) and the Natural Environment Research Council (NERC), with additional funding provided by the Scottish Government and Defra. See www.relu.ac.uk The field work was supported by a Small Ecological Project Grant from the British Ecological Society. More about the British Ecological Society at www.britishecologicalsociety.org/about_bes/ Jenny Hodgson is a postdoctoral research associate at the University of York (previously at the University of Leeds). Doreen Gabriel is the postdoctoral research associate for the RELU project "scale" at the University of Leeds. Bill Kunin is Professor of Ecology at the University of Leeds, working on insect-plant interactions and spatial ecology. Tim Benton is Professor of Population Ecology and Pro-Dean for Research in the Faculty of Biological Sciences at the University of Leeds. Chris Thomas is Professor of Conservation Biology at the University of York.
---
Recent Grants
Dave Westhead and colleagues in Experimental Haematology, Cancer Research UK (Jan 2015), £700,521
Sheena Radford, Mark Harris, Peter Stockley, Alan Berry, Alex O'Neill, Thomas Edwards, Adrian Goldman, Anastasia Zhuravleva, Wellcome Trust (Jan 2015), £443,015
Bill Kunin, EU (Jan 2015), £157,490
John Colyer, Leeds Teaching Hospitals Charitable Fund (Jan 2015), £40,000
Chris Hassall, Royal Society (Dec 2014), £14,500
Ryan Seipke, Royal Society (Nov 2014), £13,700
Alan Berry, Wellcome Trust (Oct 2014), £749,865
Ian Hope, Marie-Anne Shaw, BBSRC (Oct 2014), £396,565
Alison Ashcroft, Peter Stckley, Sheena Radford, Nic Stonehouse, David Brockwell, Darren Tomlinson, BBSRC (Oct 2014), £340,937
Les Firbank, Joe Holden, BBSRC (Oct 2014), £210,302
Darren Tomlinson and colleagues in Chemistry and Pathology, anatomy and Tumour Biology, Dr Hadwen Trusy (Oct 2014), £194,475
Paul Knox, EU (Oct 2014), £167,229
Martin Stacey and colleagues in Medicine & Health, Pfizer (Oct 2014), £90,453
Darren Tomlinson and colleagues in Experimental Oncology, YCR (Oct 2014), £69,480
Andrew Macdonald, Jamel Mankouri, Kidney Research Fund UK (Oct 2014), £58,878
Mike McPherson and colleagues in Dentistry and Engineering, Wellcome Trust (Oct 2014), £58,437
Dave Westhead and colleagues in Experimental Haemotology, Leukaemia & Lymphoma Research (Sep 2014), £281,424
Emmanuel Paci and colleagues in Chemistry, BBSRC (Sep 2014), £636,759
Andrew Peel, BBSRC (Sep 2014), £371,598
Lars Jeuken, Stephen Evans, BBSRC (Sep 2014), £333,684
Lars Jeuken, BBSRC (Sep 2014), £313,463
Michelle Peckham, Mark Harris, Rao Sivaprasadarao, Eileen Ingham, Nic Stonehouse, Nikita Gamper, Wellcome Trust (Sep 2014), £192,763
Neil Ranson, BBSRC (Aug 2014), £355,253
Stuart Egginton, BHF (Aug 2014), £271,094
Darren Tomlinson, Mike McPherson, Technology Strategy Board (Aug 2014), £98,665
Peter Henderson, Leverhulme Trust (Aug 2014), £15,222
Mike McPherson (and colleagues in the School of Chemistry), EPSRC (Jul 2014), £819,880
Peter Stockley, Neil Ranson, BBSRC (Jul 2014), £455,787
Sheena Radford, Univesity of Michigan (Jul 2014), £138,452
Ryan Seipke, British Society Antimicrobial Chemistry (Jun 2014), £11,960
John Trinick, BHF (Jun 2014), £222,614
Chris West, Leverhulme Trust (Jun 2014), £181,241
Jon Lippiat, Darren Tomlinson, BBSRC (May 2014), £125,174
Christine Foyer, Royal Society (May 2014), £24,000
David Brockwell, Sheena Radford, Medimmune Ltd (Apr 2014), £337,661
Peter Stockley, Wellcome Trust (Apr 2014), £251,019
Mike McPherson, Wellcome Trust (Apr 2014), £146,596
Andrew Macdonald, Kidney Research Fund UK (Apr 2014), £127,237
Elwyn Isaac, DEFRA (Apr 2014), £126,512
Mike McPherson (and colleagues in School of Design), Technology Strategy Board (Apr 2014), £114,350
Paul Millner, Peter Stockley, Darren Tomlinson, YCR (Apr 2014), £95,874
Carrie Ferguson, Karen Birch, Shaunna Burke, Heart Research UK (Apr 2014), £60,140
Tim Benton, Technology Strategy Board (Apr 2014), £24,969
Bill Kunin, Technology Strategy Board (Apr 2014), £21,244
Dave Westhead, MRC (Apr 2014), £18,304
Brendan Davies, BBSRC (Mar 2014), £451,829
Jim Deuchars, MRC (Mar 2014), £300,000
Urwin, Howard Atkinson, British Potato Council (Mar 2014), £69,953
Adam Kupinski, Children with Cancer (Mar 2014), £50,000
Anastasia Zhuravleva, Royal Society (Mar 2014), £14,973
Urwin, Howard Atkinson, Agriculture & Horticulture Develpmnt Brd (Mar 2014), £13,990
Alison Baker, Steve Baldwin, BBSRC (Feb 2014), £403,439
Sarah Zylinski, BBSRC (Feb 2014), £355,869
Dave Lewis, Nigel Hooper, Tony Turner, Hugh Pearson, James Duce, Alzheimer's Society (Feb 2014), £29,871
Ronaldo Ichyama, Samit Chakrabarty, International Spinal Research Trust (Jan 2014), £304,600
Brendan Davies, BBSRC/Bayer Crop Science SA-NV (Jan 2014), £470,053
Adrian Goldman, Steve Baldwin, Stephen Muench, Thomas Edwards, Arwen Pearson , BBSRC (Jan 2014), £467,103
Stefan Kepinski, BBSRC (Jan 2014), £359,269
Elwyn Isaac, EU (Jan 2014), £179,445
Dave Westhead, Leukaemia & Lymphoma Research (Jan 2014), £105,937
Eileen Ingham, Joanne Tipper, Depuy International Ltd (Jan 2014), £48,121
Recent News
Impact Stories