Faculty of Biological Sciences
Research Bulletin
Could your pond offer a home to the crays?
13th August 2008
Scientists at the University of Leeds are on the look out for willing volunteers who could provide a home for a dying breed of aquatic invertebrates.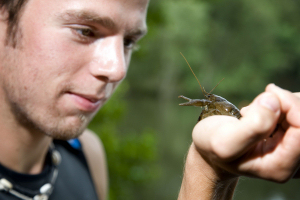 The white-clawed crayfish is native to British waters and scientists believe it plays a vital role in preserving the natural biodiversity of our inland waters. Researchers from the University of Leeds now need to find several large ponds into which the animal can be introduced and then study the effect their presence has over several months. Neal Haddaway, a PhD student at the Faculty of Biological Sciences says; "This is a great opportunity to take part in a unique backyard conservation project. Our studies will help us understand the role this creature plays in keeping water clean, keeping the numbers of unwelcome pests down and generally managing local ecosystems. Volunteers who offer up the use of their ponds will be making a real difference to a British conservation project." Declining numbers of the crayfish are found in the several areas of Yorkshire including the Wharfe, Upper Aire, Upper Ure, Swale and some streams to the north of Leeds. In the 1970's new species were introduced to these waters in the hope of enhancing food supplies for fish but the American signal crayfish eat vast quantities of snails and mayfly larvae, disrupting the existing food-chain. In addition to being more predatory in this way, they also brought with them a plague that has devastated the local population. The white-clawed crayfish now faces extinction if researchers fail to find a way to save it. Dr Alison Dunn says; "We believe that these creatures play a fundamental part in maintaining the ecosystems contained within our streams and rivers, if the white crayfish are lost then plant and animal biodiversity could be badly affected. It could become extinct within the next ten years if we do not act now." Neal Haddaway is hoping to find ponds in gardens and on farms that already have some wildlife in them and do not have a plastic lining. The ponds need to be between two to five metres across, but less than 15 metres and be at least five years old. After the white-clawed crayfish have been introduced then the pond-life and water quality will be tested on a regular basis for any changes that seem to occur as a result of their being there. Anyone who is interested in taking part in this project can contact Neal by emailing crayfish.science@googlemail.com.
---
Recent Grants
Dave Westhead and colleagues in Experimental Haematology, Cancer Research UK (Jan 2015), £700,521
Sheena Radford, Mark Harris, Peter Stockley, Alan Berry, Alex O'Neill, Thomas Edwards, Adrian Goldman, Anastasia Zhuravleva, Wellcome Trust (Jan 2015), £443,015
Bill Kunin, EU (Jan 2015), £157,490
John Colyer, Leeds Teaching Hospitals Charitable Fund (Jan 2015), £40,000
Chris Hassall, Royal Society (Dec 2014), £14,500
Ryan Seipke, Royal Society (Nov 2014), £13,700
Alan Berry, Wellcome Trust (Oct 2014), £749,865
Ian Hope, Marie-Anne Shaw, BBSRC (Oct 2014), £396,565
Alison Ashcroft, Peter Stckley, Sheena Radford, Nic Stonehouse, David Brockwell, Darren Tomlinson, BBSRC (Oct 2014), £340,937
Les Firbank, Joe Holden, BBSRC (Oct 2014), £210,302
Darren Tomlinson and colleagues in Chemistry and Pathology, anatomy and Tumour Biology, Dr Hadwen Trusy (Oct 2014), £194,475
Paul Knox, EU (Oct 2014), £167,229
Martin Stacey and colleagues in Medicine & Health, Pfizer (Oct 2014), £90,453
Darren Tomlinson and colleagues in Experimental Oncology, YCR (Oct 2014), £69,480
Andrew Macdonald, Jamel Mankouri, Kidney Research Fund UK (Oct 2014), £58,878
Mike McPherson and colleagues in Dentistry and Engineering, Wellcome Trust (Oct 2014), £58,437
Dave Westhead and colleagues in Experimental Haemotology, Leukaemia & Lymphoma Research (Sep 2014), £281,424
Emmanuel Paci and colleagues in Chemistry, BBSRC (Sep 2014), £636,759
Andrew Peel, BBSRC (Sep 2014), £371,598
Lars Jeuken, Stephen Evans, BBSRC (Sep 2014), £333,684
Lars Jeuken, BBSRC (Sep 2014), £313,463
Michelle Peckham, Mark Harris, Rao Sivaprasadarao, Eileen Ingham, Nic Stonehouse, Nikita Gamper, Wellcome Trust (Sep 2014), £192,763
Neil Ranson, BBSRC (Aug 2014), £355,253
Stuart Egginton, BHF (Aug 2014), £271,094
Darren Tomlinson, Mike McPherson, Technology Strategy Board (Aug 2014), £98,665
Peter Henderson, Leverhulme Trust (Aug 2014), £15,222
Mike McPherson (and colleagues in the School of Chemistry), EPSRC (Jul 2014), £819,880
Peter Stockley, Neil Ranson, BBSRC (Jul 2014), £455,787
Sheena Radford, Univesity of Michigan (Jul 2014), £138,452
Ryan Seipke, British Society Antimicrobial Chemistry (Jun 2014), £11,960
John Trinick, BHF (Jun 2014), £222,614
Chris West, Leverhulme Trust (Jun 2014), £181,241
Jon Lippiat, Darren Tomlinson, BBSRC (May 2014), £125,174
Christine Foyer, Royal Society (May 2014), £24,000
David Brockwell, Sheena Radford, Medimmune Ltd (Apr 2014), £337,661
Peter Stockley, Wellcome Trust (Apr 2014), £251,019
Mike McPherson, Wellcome Trust (Apr 2014), £146,596
Andrew Macdonald, Kidney Research Fund UK (Apr 2014), £127,237
Elwyn Isaac, DEFRA (Apr 2014), £126,512
Mike McPherson (and colleagues in School of Design), Technology Strategy Board (Apr 2014), £114,350
Paul Millner, Peter Stockley, Darren Tomlinson, YCR (Apr 2014), £95,874
Carrie Ferguson, Karen Birch, Shaunna Burke, Heart Research UK (Apr 2014), £60,140
Tim Benton, Technology Strategy Board (Apr 2014), £24,969
Bill Kunin, Technology Strategy Board (Apr 2014), £21,244
Dave Westhead, MRC (Apr 2014), £18,304
Brendan Davies, BBSRC (Mar 2014), £451,829
Jim Deuchars, MRC (Mar 2014), £300,000
Urwin, Howard Atkinson, British Potato Council (Mar 2014), £69,953
Adam Kupinski, Children with Cancer (Mar 2014), £50,000
Anastasia Zhuravleva, Royal Society (Mar 2014), £14,973
Urwin, Howard Atkinson, Agriculture & Horticulture Develpmnt Brd (Mar 2014), £13,990
Alison Baker, Steve Baldwin, BBSRC (Feb 2014), £403,439
Sarah Zylinski, BBSRC (Feb 2014), £355,869
Dave Lewis, Nigel Hooper, Tony Turner, Hugh Pearson, James Duce, Alzheimer's Society (Feb 2014), £29,871
Ronaldo Ichyama, Samit Chakrabarty, International Spinal Research Trust (Jan 2014), £304,600
Brendan Davies, BBSRC/Bayer Crop Science SA-NV (Jan 2014), £470,053
Adrian Goldman, Steve Baldwin, Stephen Muench, Thomas Edwards, Arwen Pearson , BBSRC (Jan 2014), £467,103
Stefan Kepinski, BBSRC (Jan 2014), £359,269
Elwyn Isaac, EU (Jan 2014), £179,445
Dave Westhead, Leukaemia & Lymphoma Research (Jan 2014), £105,937
Eileen Ingham, Joanne Tipper, Depuy International Ltd (Jan 2014), £48,121
Recent News
Impact Stories