Faculty of Biological Sciences
Student Education News
The heat is on for GB athletes at Leeds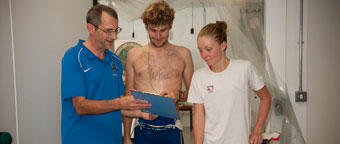 Dr Mark Hetherington with GB triathlon team members
Members of the GB triathlon squad have been acclimatising to the heat and humidity of Japan with the help of the Faculty's environment chamber.
The environment chamber can replicate the heat and humidity of training and competing in a hot climate and was used by the athletes ahead of the ITU World Triathlon Series races in Yokohama, Japan.
The triathletes using the facility include Non Stanford from the GB team and a member of the 2012 World Mixed Relay Championship winning team. Also training at Leeds was fellow GB teammate David McNamee and Australian triathlete Felicity Abram.
Their training has been supervised by Dr Mark Hetherington, Visiting Senior Research Fellow at the Faculty of Biological Sciences. Mark said: "I've been working with the athletes to help them to acclimatise to the heat and humidity that they will experience in Japan. This facility allows us to replicate the conditions and put them in the best position ahead of competing in the race. Throughout their training, we monitor their fluid intake and sweat losses, as well as changes in core temperature and heart rate during exercise in the heat. We work closely with the athletes' coaches to develop effective pacing and hydration strategies for optimal performance in challenging environmental conditions."
Discover more about the ITU World Triathlon Series.
8th October 2012
---
---
---
---
---
---
---
---
---
---
---
---
---
---
---
---
---
---
---
---
---
---
---
---
---
---
---
---
---
---
---
---
---
---
---
---
---
---
---
---
---
---