Faculty of Biological Sciences
Student Education News
Faculty celebrates at graduation ceremonies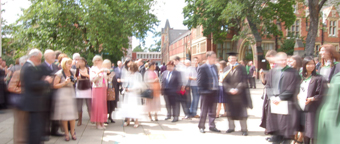 Congratulations to all our graduates
Over 600 students graduated from Biological Sciences last week and embark upon a new chapter in their lives.
The graduation ceremonies took place at the historic Great Hall on the University campus where students were joined by friends, family and academics from across the Faculty to receive their degree certificates.
Professor Mike McPherson, Pro-Dean for Student Education in the Faculty of Biological Sciences, said: "I'd like to take this opportunity to congratulate all of our graduates. The graduation ceremonies recognise the achievements and accomplishments of our final year students and are a chance to celebrate their success.
"Our students carry with them in-depth scientific knowledge, excellent transferable skills and amazing experiences from their time in Leeds. The knowledge, expertise and skills they have gained at Leeds will ensure they stand out in the graduate job market and will be advantageous to their future success. We wish our graduates all the very best for the future, and hope to keep in touch with them and hear of their achievements."
All the university graduation ceremonies can be viewed online.
Several students from across the Faculty won prizes recognising their dedication and hard work throughout their degree study.
Final year prize winners. [PDF]
Year 1 and Year 2 prize winners. [PDF]
16th July 2012
---
---
---
---
---
---
---
---
---
---
---
---
---
---
---
---
---
---
---
---
---
---
---
---
---
---
---
---
---
---
---
---
---
---
---
---
---
---
---
---
---
---