Faculty of Biological Sciences
Student Education News
PhD students present research in Parliament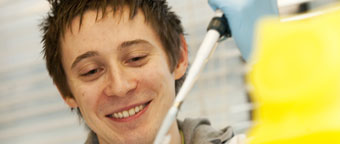 Tom Benians is one of the PhD students shortlisted
Two of our PhD students in the Faculty of Biological Sciences have been shortlisted to present their work in Parliament. Tom Benians and James Lloyd will attend Parliament on Monday 12 March and present their research to a range of politicians and a panel of expert judges, as part of SET for Britain.
On presenting his science in Parliament, Tom said, "It's a great opportunity to be able to present my work to MPs and fellow PhD students in the houses of parliament. The competition is going to be fierce, but even if I don't win anything, the whole day will be a really useful experience for me".
James said: "It is an important part of being a scientist to communicate the community's important work to the public and this is a great chance to showcase our work to people in Parliament and celebrate the achievements made by scientists."
Andrew Miller MP, Chairman of the Parliamentary and Scientific Committee, said, "This annual competition is an important date in the parliamentary calendar because it gives MPs an opportunity to speak to a wide range of the country's best young researchers.
"These early career scientists are the architects of our future and SET for Britain is politicians' best opportunity to meet them and understand their work."
SET for Britain is a poster competition in the House of Commons – involving approximately 180 early stage or early career researchers – judged by professional and academic experts.
The Parliamentary and Scientific Committee runs the event in collaboration with The Royal Academy of Engineering, The Institute of Physics, the Society of Biology, The Royal Society of Chemistry, the Physiological Society, the Wellcome Trust and the Society of Chemical Industry, with financial support from BP, Airbus/EADS, The Institution of Engineering and Technology, AgChem Access, Oxford Instruments, IBMS and GE Hitachi.

7th March 2012
---
---
---
---
---
---
---
---
---
---
---
---
---
---
---
---
---
---
---
---
---
---
---
---
---
---
---
---
---
---
---
---
---
---
---
---
---
---
---
---
---