Faculty of Biological Sciences
Student Education News
Student Education Fellowships awarded to Faculty staff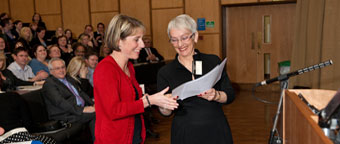 Dr Charlotte Haigh (left) with Professor Vivien Jones
The Faculty of Biological Sciences enjoyed great success in the recent awarding of University Student Education Fellowships. Dr Charlotte Haigh, Dr Al Pickles and Dr Ian Wood were all awarded Developmental Fellowships at the 2012 Student Education Conference.
Dr Charlotte Haigh said: "I am delighted that the University has rewarded my commitment to student education by awarding me this scholarship. I look forward to developing a project, with the money, which will support level 1 students on the transition from school/college to academic life at the University of Leeds."
The University Student Education Fellowships were established in 2001, to recognise and reward excellence in teaching. Fellowship holders receive funding for projects aiming to develop the excellence of teaching and the student experience at Leeds. Eighty nine fellowships have been awarded over the last 10 years, demonstrating the University's commitment to delivering an exceptional student experience.
Dr Al Pickles said: "Through my roles at both Faculty and University level, I'm engaged in enhancing student employability which is vital in helping students achieve their career goals. This funding will provide a great boost for my role as industrial placement manager for the Faculty of Biological Sciences, by supporting a project aimed at increasing student engagement and support for industrial years."
Dr Ian Wood has been running a scheme for several years to enable first year undergraduates to gain experience in research laboratories. He said: "We are leading the way in this area and it really gives our students a boost over their competitors. I was very pleased to get this fellowship which will be used to identify ways we can improve this scheme and provide more such opportunities for our students."
Find out more about research opportunities for undergraduate students.
14th February 2012
---
---
---
---
---
---
---
---
---
---
---
---
---
---
---
---
---
---
---
---
---
---
---
---
---
---
---
---
---
---
---
---
---
---
---
---
---
---
---
---
---