Faculty of Biological Sciences
Student Education News
Student success at European science awards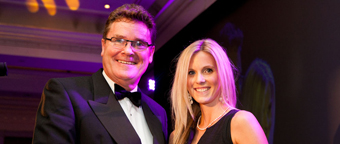 Charlotte Cooper with Malcolm Turner, President of the SET awards
University of Leeds graduate Charlotte Cooper was announced as one of the winners at the European Science Engineering & Technology Student of the Year awards in London on Friday 30th September. Charlotte was awarded the award for the "Best Pharmacology Student". The prize recognised her final year undergraduate project on "Orexinergic modulation of postinspiratory upper airway patency in rat" supervised by Dr Matt Dutschmann. Fellow Leeds student, Ben Durham, was also nominated and shortlisted in the Biology category.
Nominees for the awards had to produce a written synopsis or poster on their project followed by a final interview with the judging panel. Dr Dave Lewis, who nominated Charlotte, said: "The SET judges praised her, not only for her scientific knowledge, but also for her passion for science and ability to communicate this, which set her apart from the other nominees."
Charlotte graduated this year with a BSc Medical Sciences degree, having spent a year working in industry with AstraZeneca's Cardiovascular Safety Pharmacology team. This is not her first time in the limelight; during her year in industry she won a Student Travel Award to present her work at the annual Safety Pharmacology Society conference in Boston, where she also won their Junior Investigator poster presentation prize.
Charlotte said: "The SET awards were a fantastic and really enjoyable experience for me. The awards ceremony was great fun, and I was so pleased to hear my name announced for the Best Pharmacology student. It's been an incredible end to my undergraduate degree at Leeds, and I now intend to pursue my interests in science by working towards a PhD. I'm really looking forward to seeing what the future has in store!"
The SET awards are widely recognised as one of the most important awards for science, engineering and technology students, and this is the second year in a row that a student from the Faculty of Biological Sciences has been awarded the prize for Pharmacology.
The University of Leeds has a history of success at this event, this is the second year in a row that a student from the Faculty has won the award for Pharmacology. Rebecca Barlow won the prestigious award for her final year project in 2010.

10th October 2011
---
---
---
---
---
---
---
---
---
---
---
---
---
---
---
---
---
---
---
---
---
---
---
---
---
---
---
---
---
---
---
---
---
---
---
---
---
---
---
---
---